Scorpions v Tigers preview *rained off*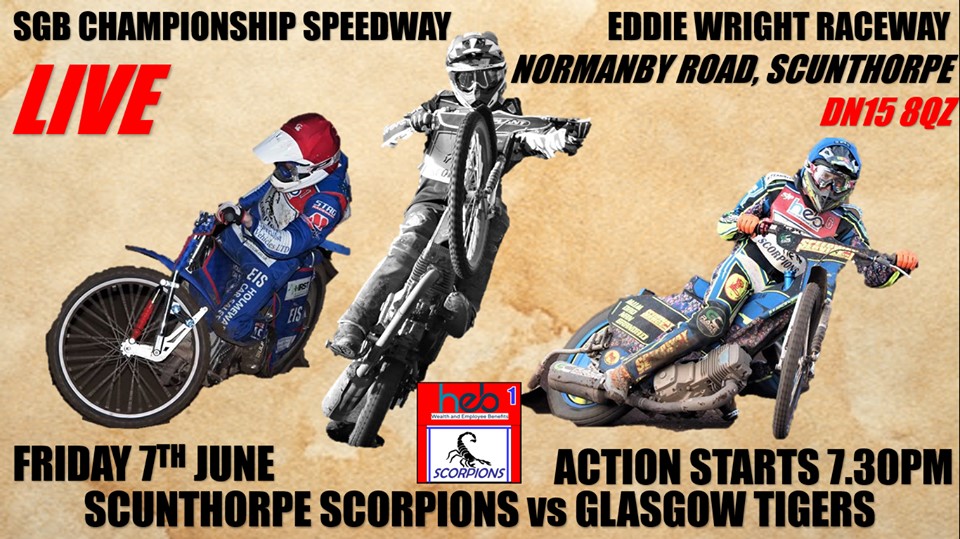 *Please note that this meeting has now been rained off*
HEB Scunthorpe Scorpions are looking to record their first league win of the season, when they host Glasgow Tigers at the Eddie Wright Raceway tonight (Friday, 7.30pm).
Scorpions put up a strong fight away at Sheffield on Sunday, but eventually lost 44-45 in an exciting encounter.
Jake Allen is back on the sidelines, since he requires more time to recover from his shoulder injury, while Jason Garrity is still out with a broken bone in his hand.
Scorpions will utilise rider replacement for Allen, while they have booked a couple of strong guests for Garrity and the retired Josh Bailey.
2018 skipper Steve Worrall comes in for Garrity, while Anders Rowe, who scored 8+1 at the EWR for Somerset three weeks ago, will replace Bailey.
Scunthorpe promoter Rob Godfrey said: "I think it's going to be a terrific night of speedway at the Eddie Wright Raceway.
"I think we've picked our guests wisely, as have Glasgow with Ryan Douglas. It all adds up to what should be a cracker evening of action."
Admission prices for tonight:
Adult: £16.00
Student/OAP: £14.00
Child (10 – 17): £5.00
Child (0 – 9) Free (accompanied by paying adult)
Family Ticket £37 (2 adults, 2 Children 10-17)
Match Programme: £1.00
Expected teams for tonight:
HEB Scunthorpe Scorpions: 1. Josh Auty, 2. Danny Ayres, 3. Jason Garrity, 4. Stefan Nielsen, 5. Rider replacement for Jake Allen, 6. Anders Rowe (guest), 7. Ryan Kinsley.
Glasgow Tigers: 1. Craig Cook, 2. James Sarjeant, 3. Ryan Douglas (guest), 4. Paul Starke, 5. Claus Vissing, 6. Connor Bailey 7. Kyle Bickley.
Related Posts By Category