Scunthorpe Scorpions v Sheffield Tigers preview
Jun 19th, 2019
1699 Views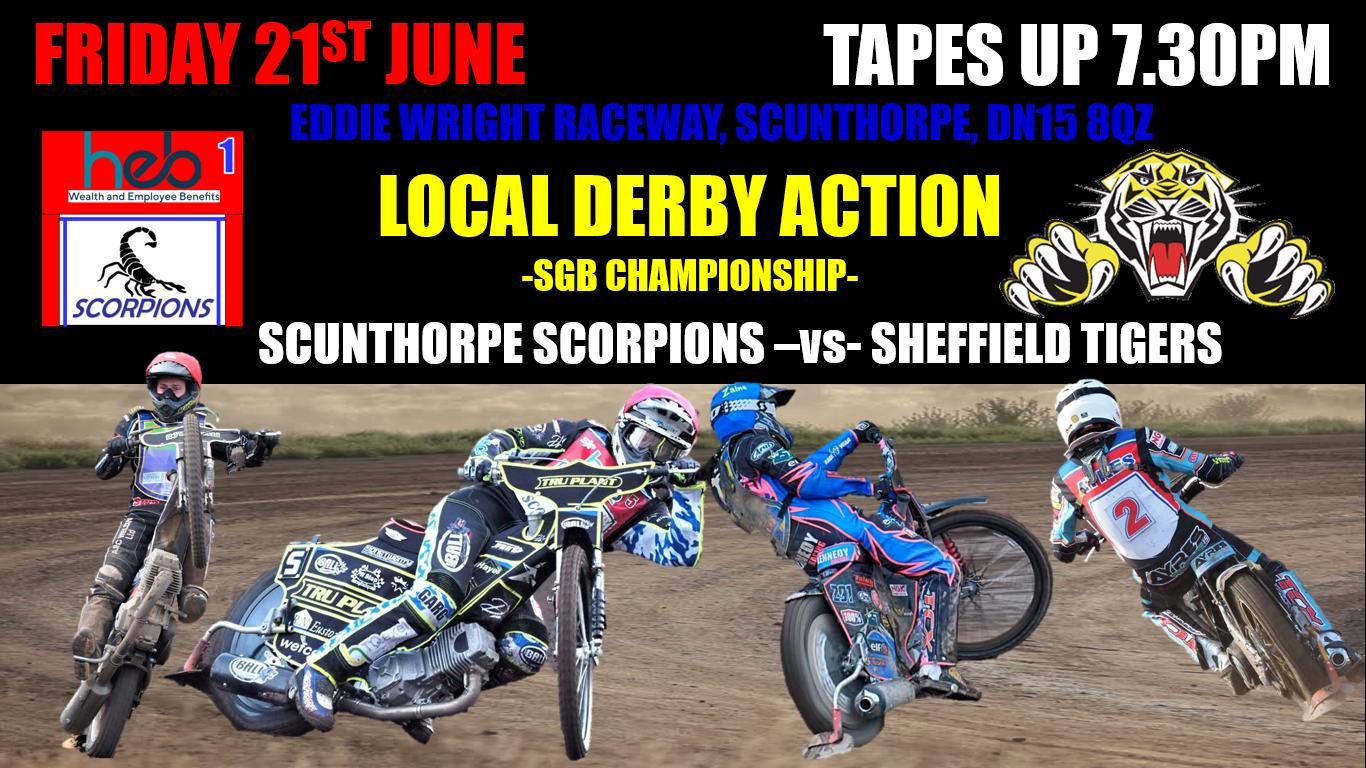 ONE of the biggest meetings of the season at the Eddie Wright Raceway takes place on Friday evening (7.30pm) – the huge derby match between HEB Scunthorpe Scorpions and local rivals Sheffield Tigers.
Scorpions were very unlucky to be pipped by 44-45 at Sheffield earlier this month, and they will be looking to gain revenge for that defeat.
Jake Allen has been going physiotherapy on his injured shoulder, but he is not quite ready to return. Meanwhile, Jason Garrity is still ruled out with a broken hand.  Some good news is that Danny Ayres is fit to return, after a knock to his shoulder.
Scunthorpe have brought in two top guests in ex-Scorpions Ryan Douglas and Tero Aarnio, who certainly know the fastest way around the Eddie Wright Raceway.
In addition, Alfie Bowtell will ride in place of the retired Josh Bailey at No 6.
Scunthorpe promoter Rob Godfrey said: "We really need to get our first league victory on the board.
"I think we've picked our guests wisely. Ryan Douglas was superb for us at Sheffield, and we know how well both he and Tero Aarnio can ride our track.
"It was a thrilling meeting at Owlerton earlier in the month and hopefully this will be another cracking derby encounter – but with us coming out on top this time around!
"This meeting is always a highlight of the season and I'm sure it will be again on Friday."
Admission prices for Friday:
Adult: £16.00
Student/OAP: £14.00
Child (10 – 17): £5.00
Child (0 – 9) Free (accompanied by paying adult)
Family Ticket £37 (2 adults, 2 Children 10-17)
Match Programme: £1.00
Expected teams for Friday:
HEB Scunthorpe Scorpions: 1. Josh Auty, 2. Danny Ayres, 3. Tero Aarnio (guest), 4. Stefan Nielsen, 5. Ryan Douglas (guest), 6. Alfie Bowtell (guest), 7. Ryan Kinsley.
Sheffield Tigers: 1. Danny King, 2. Drew Kemp, 3. Ty Proctor, 4. Broc Nicol, 5. Kyle Howarth, 6. Zaine Kennedy, 7. Josh MacDonald.
Related Posts By Category