Scunthorpe v Berwick: big match preview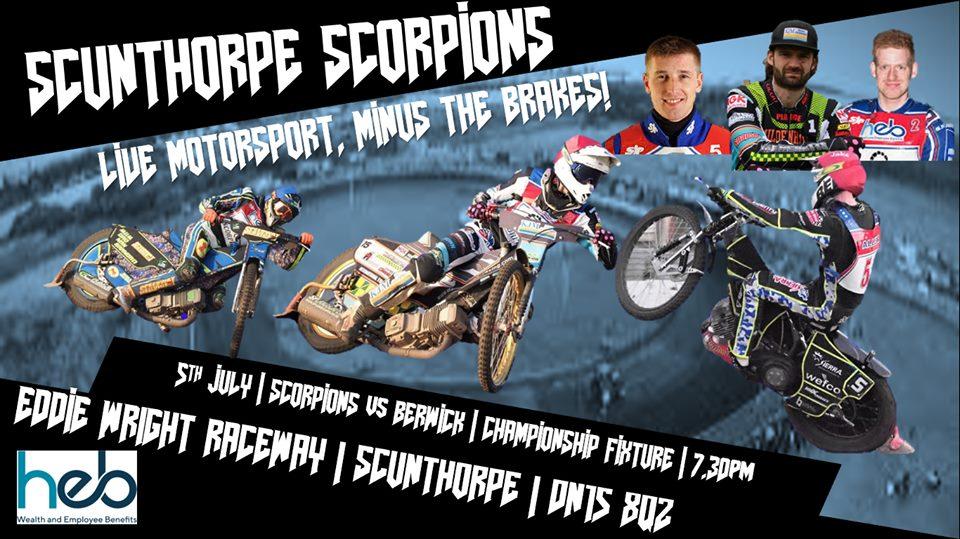 SCORPIONS OUT TO RESIST BANDITS' RAID
HEB Scunthorpe Scorpions are looking for another positive home performance, when the Berwick Bandits ride into town at the Eddie Wright Raceway on Friday (7.30pm).
Victory would take Scunthorpe into the top half of the league table.
Scorpions have won their last two home meetings by convincing margins against Sheffield (55-35) and Eastbourne (54-35), and they are hoping for a repeat showing.
Both Ben Barker and Simon Lambert are set to make their home debuts for the club, and the two riders scored 16 points between them in the 35-55 defeat at Somerset on Wednesday.
Scorpions use rider replacement for Stefan Nielsen, who is ruled out with torn knee ligaments, after a crash at King's Lynn on Monday, with everyone except Josh Auty and Jake Allen eligible to take a ride.
Scunthorpe promoter Rob Godfrey says: "Our recent form at the Eddie Wright Raceway has been pretty good, and we know that we need to keep that going.
"We won't under-estimate Berwick, but if we ride to our potential, I know we are capable of taking the three league points.
"It is a blow not having Stefan, but I feel we can cover for him at home, where our whole team is capable of scoring the points.
"It's going to be a great night of speedway, I'm sure of that."
Raffle tickets are now available in the kiosk not far from the turnstiles, where the programmes used to be on sale.
Admission prices for Friday:
Adult: £16.00
Student/OAP: £14.00
Child (10 – 17): £5.00
Child (0 – 9) Free (accompanied by paying adult)
Family Ticket £37 (2 adults, 2 Children 10-17)
Match Programme: £1.00

Expected teams for Friday:
HEB Scunthorpe Scorpions: 1. Josh Auty, 2. Danny Ayres, 3. Ben Barker, 4. Rider replacement for Stefan Nielsen, 5. Jake Allen (captain), 6. Ryan Kinsley, 7. Simon Lambert.
Berwick Bandits: 1. Aaron Summers, 2. Jye Etheridge, 3. Kevin Doolan, 4. Dany Gappmaier, 5. Nikolaj Busk Jakobsen, 6. Jason Edwards (guest), 7. Coty Garcia.
Related Posts By Category