Scorpions win on a night of thrilling action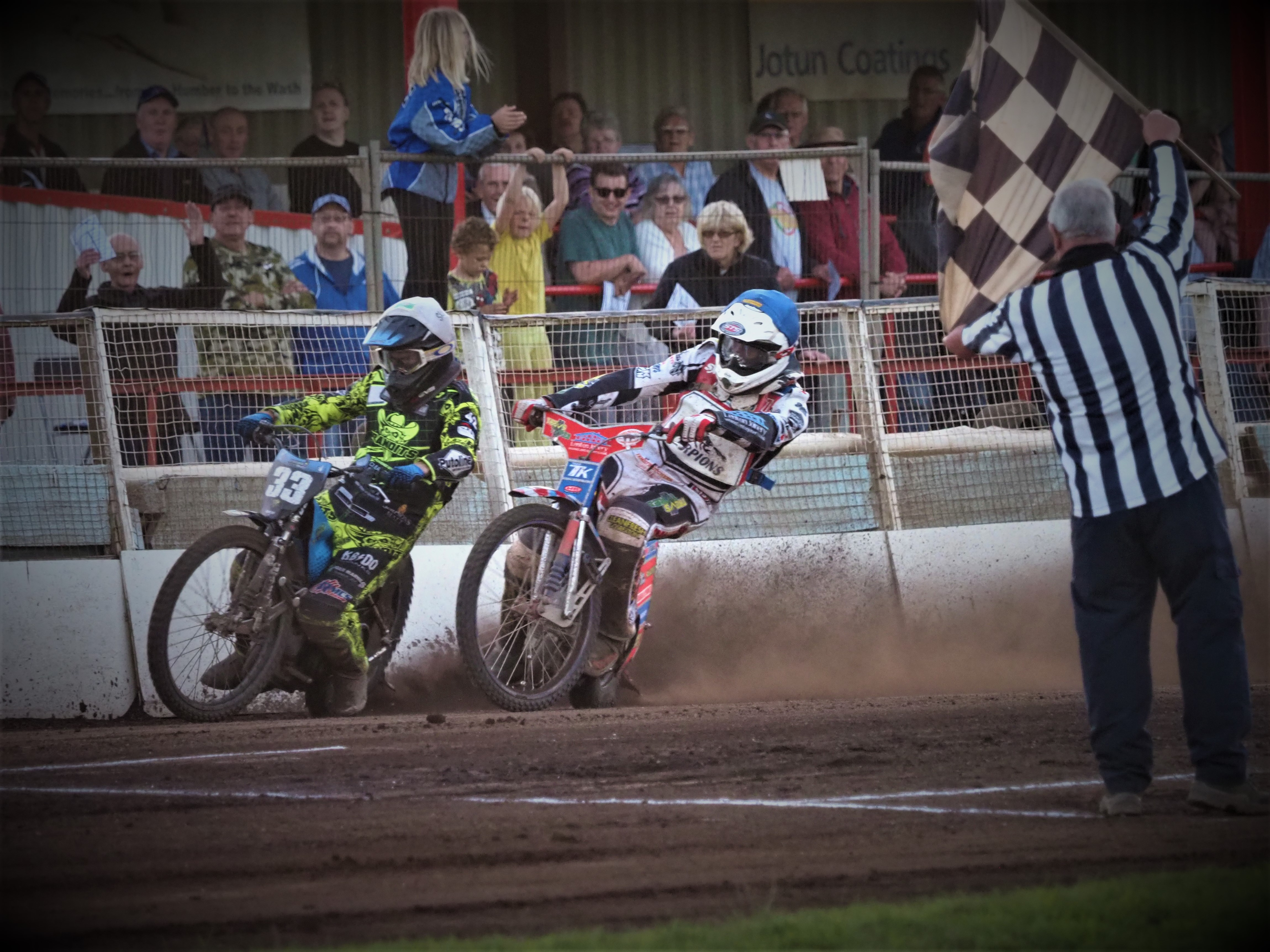 SCUNTHORPE SCORPIONS 56 BERWICK BANDITS 34 (CHAMPIONSHIP)
HEB Scunthorpe Scorpions moved up to fifth in the Championship league table, after a hugely entertaining 56-34 victory over Berwick Bandits at the Eddie Wright Raceway last night (Friday).
Scunthorpe quickly took control of the meeting, which was over as a contest by the halfway stage, with Scorpions holding a 32-16 lead after eight races.
If the racing for the previous week's meeting against Eastbourne wasn't up to the usual standard at Scunthorpe, last night more than made amends, with some superb action throughout the meeting.
In particular, there were two thrilling races with an identical four riders – new signings Ben Barker and Simon Lambert for Scorpions and Kevin Doolan and Jason Edwards for Bandits.
Heat 9 had so much action it's hard to summarise. It saw Lambert and Doolan passing and re-passing throughout the race, as they jostled for the lead. On the third lap, a move by Lambert also opened the door for Barker, who moved from third to first. Just when Scorpions looked set for a 5-1, Doolan pounced to pass Lambert around the final two bends, to snatch second.
The rematch in Heat 12 saw Doolan and Edwards make the early running. On the third bend of the second lap, Barker and Lambert went either side of Edwards, and both set after race-leader Doolan. Lambert caught him, and thrust inside Doolan on the final bend, just taking the verdict in a close finish. A delighted Lambert celebrated with a couple of victory laps.
Earlier on, a cracking Heat 3 had seen both Danny Ayres and Barker pass Doolan, only for the Australian to fight back and get back past both Scorpions.
Ayres top-scored for Scorpions with 12+3 in his best-ever meeting at second tier level, with the Suffolk man showing his delight to the crowd in typical fashion, while Josh Auty (11+2), Lambert (10+1) and Barker (9+1) were also paid for double figures.
But it was a rock-solid performance by Scorpions, with all six riders contributing, and only two last places in 15 races.
For Bandits, the star men were Doolan, who scored 15 from seven rides, and Aaron Summers, who contributed 11+1.
Speaking post-meeting, Simon Lambert said: "It was a mega night for me, while we put in a good team performance.
"I was trying a new engine, and I gave it a tweak after my first race. I felt I made a few clever moves on the bike, and I was putting myself in the right place.
"I go back a long way with Kev (Doolan) – we know we can trust each other out on the track. We have respect for each other – in the race where he beat me, I patted him on the back, and he did the same after I beat him. He was fantastic tonight and showed he's still got it.
"It's a shame we didn't have the TV cameras for this meeting, because there was some really cracking racing – it would have made quite a show for BT Sport.
"I was really happy with my performance. It's been a tough year for me, and it's good to be finding my feet again. I can walk away from the meeting feeling like a different person.
"I do enjoy coming here. Scunthorpe is local to me, so my wife and my kids can come when I'm racing here. I'm now looking forward to the rest of the season."
SCUNTHORPE 56: Danny Ayres 12+3, Josh Auty 11+2, Simon Lambert 10+1, Ben Barker 9+1, Jake Allen 9, Ryan Kinsley 5, Stefan Nielsen r/r
BERWICK 34: Kevin Doolan 15, Aaron Summers 11+1, Coty Garcia 5, Dany Gappmaier 2, Jason Edwards 1, Jye Etheridge 0, Nikolaj Busk Jakobsen r/r
* HEB Scunthorpe Scorpions are next in action at Newcastle on Sunday evening (6.30pm).

PHOTO: The exciting conclusion to Heat 12, as Simon Lambert and Kevin Doolan cross the line in a very tight finish (photo by IAN RISPIN).
Related Posts By Category