Jake seals great away win at Redcar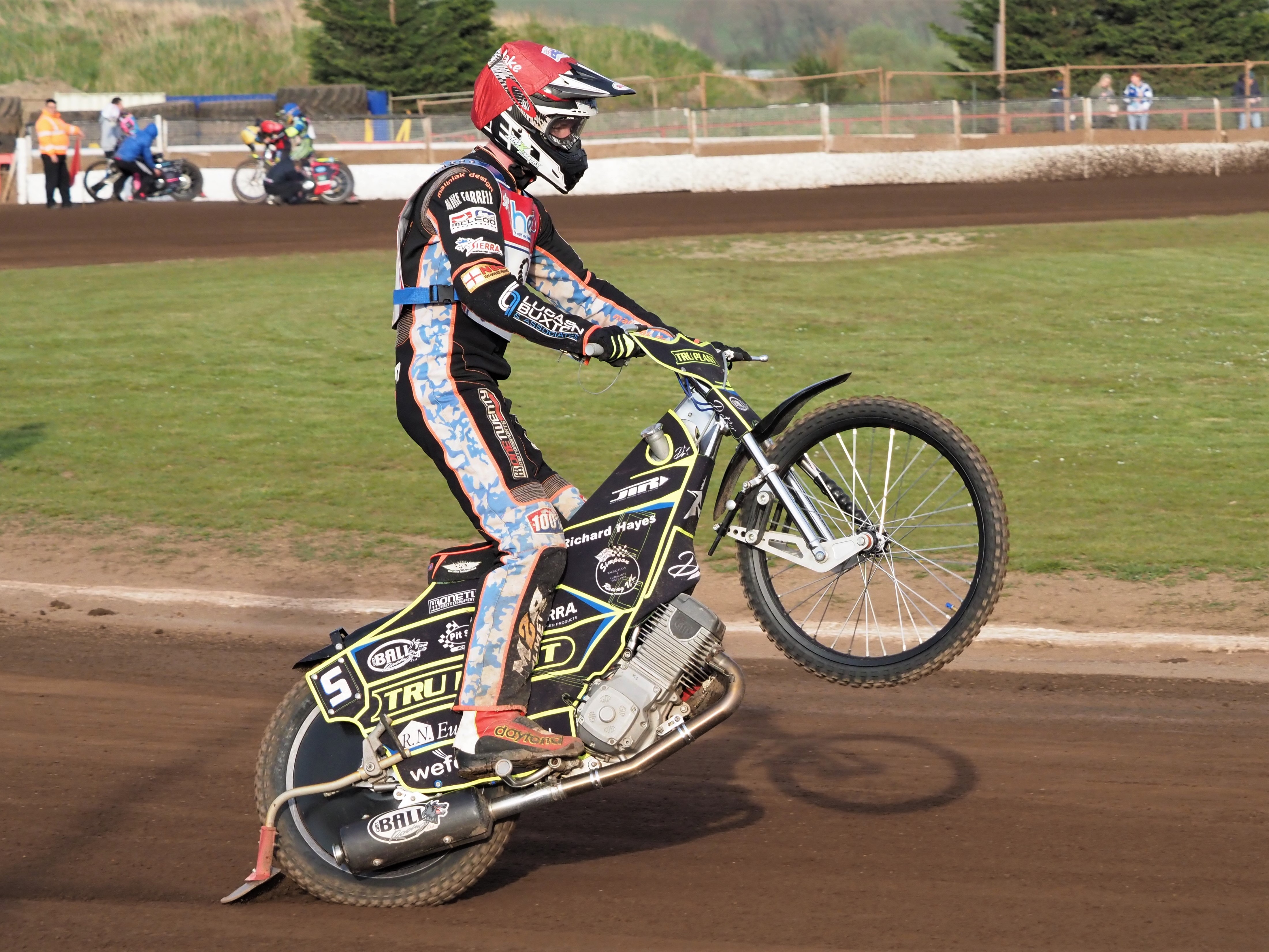 REDCAR BEARS 43 SCUNTHORPE SCORPIONS 47 (CHAMPIONSHIP)
HEB Scunthorpe Scorpions moved into play-off contention in the Championship with a well-taken 47-43 away victory at Redcar last night (Friday).
Scorpions are now in fifth, just one place outside the top four and four points behind fourth-placed Sheffield, with two (home) meetings in hand.
Scorpions took an early 14-10 lead, but Bears hit back and were 29-25 ahead after Heat 9.
But Danny Ayres and Jake Allen ended the winning run of Charles Wright in Heat 10, after Wright fell in pursuit, and Scorpions levelled with a 5-1.
Scorpions edged ahead with 4-2s in Heats 12 and 13, courtesy of Ayres and Simon Lambert in the former, and Ben Barker and Josh Auty in the latter, with Barker completing a brace of victories over opposite number Michael Palm Toft, despite an enforced change to his second bike during the meeting.
It was then to skipper Allen to complete the victory for Scorpions, and he duly delivered.
The Australian cut underneath Kasper Andersen on the final bend of Heat 14, to snatch the race win and keep Scorpions four points to the good.
And, in the decisive final race, Allen and Ayres hit the front, and although Wright and Palm Toft eventually picked off Ayres, Allen had built up an unassailable match-winning lead.
Allen top-scored for Scorpions with 13+1, dropping just a single point to the opposition, while Barker (11) and Ayres (8+1) both won two races, and Lambert (7+1), Auty (6+1) and Ryan Kinsley (2+1) all picked up crucial points during the night.
For Bears, Palm Toft (15), reserve Nathan Greaves (10+2) and Wright (10+1) were their top men.
Scorpions' team manager Dave Peet said: "Redcar definitely made it difficult for us, but we stuck in there and got the job done.
"I think a lot of people were expecting us to win this match due to Bears missing Erik Riss, but I knew it was a potential banana skin, because Redcar are still the home team, and that gives them a certain advantage, especially early in the meeting.
"We took a while to get going, but all our riders scored the points when we needed them to.
"Jake Allen was simply superb in this meeting, while both Danny Ayres and Ben Barker ended up on their second bikes at one point, but still delivered the goods at the crucial time.
"In Danny's case, he was completely blameless, because Kasper Andersen took him out in one race (Heat 3). It was amazing how Danny stayed on his bike to finish third in that race, but it damaged his exhaust and he had to change bikes while his first bike was mended.
"Ben had a very good claim on going out in the final race after he held off Michael Palm Toft in Heat 13, but I felt I needed two riders who could gate on the Bears. It worked, because Jake and Danny did gate, and Danny kept Charles Wright and Palm Toft occupied for a couple of laps, and by then Jake was gone.
"Danny and Jake made a really good partnership at No 3 and No 4. They had the beating of Charles Wright in Heat 10 – he came off chasing them.
"It was a very tactical meeting and Redcar made us dig deep, and it was up to us to win the meeting, and every single one of our riders put a good shift in."
REDCAR 43: Michael Palm Toft 15, Nathan Greaves 10+2, Charles Wright 10+1, Kasper Andersen 7+1, Ben Rathbone 1, Tom Woolley 0, Jordan Stewart r/r
SCUNTHORPE 47: Jake Allen 13+1, Ben Barker 11, Danny Ayres 8+1, Simon Lambert 7+1, Josh Auty 6+1, Ryan Kinsley 2+1, Stefan Nielsen r/r
* HEB Scunthorpe Scorpions entertain league leaders Leicester Lions in what is sure to be a cracker at the Eddie Wright Raceway next Friday (July 19th, 7.30pm).
Related Posts By Category