Ryan MacDonald makes it two for Stags
Feb 20th, 2014
2314 Views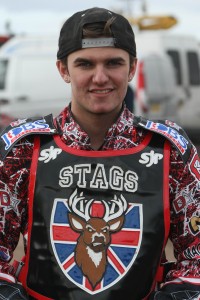 THE Scunthorpe Stags are delighted to announce that 19-year old Scot Ryan MacDonald is the second rider to join the club's re-launched National League side. The former Motocross rider made the switch to speedway a couple of years ago and made significant progress through 2013. He is set to start the season wearing the number two race jacket, in a side likely to have just one rider with significant experience.
Commenting on the signing Stags' Chairman Richard Hollingsworth declared: "Ryan first came along with Tommy Fenwick a couple of years and, had we had a team last year, I'm sure they would have both been in the team. Without a National League place, Ryan concentrated on the northern tracks second halves and the Northern Junior League. He was one of the best riders at that level and when he returned to ride in our Winter Series, it was quite clear how far he had come on.
"He is more than ready for the National League and has an excellent attitude to his racing. He has invested in decent equipment and at one point we thought he would be making the trip down for Stags meetings with Tommy, who rode for the Saints' side in 2012. Unfortunately Tommy didn't accept our offer of a team place, but Ryan has bought a van and will travel down from Glasgow to race for the Stags and try and take his racing to the next level.
"That is what the Stags team is all about", continued Hollingsworth. "Taking riders with potential and trying to get them to the next level. Some will make it, some will fail but at least we will give six the opportunity next month. We could fill two or three teams of riders with little or no National League experience, yet some clubs suggest there is no one around. It seems crazy but it once again goes back to the points limit in the National League, which means the teams are full of riders who have been riding for years.
"It's such a shame for British speedway because not only will the short-sighted criticise the lower budget clubs like our own for not competing with the big boys of the league, but the chances of the league expanding are seriously diminished."
The Stags will don their race-jackets for the first time when they open their season at home to the Kent Kings on Sunday, March 30, following the Scunthorpe Scorpions' opening fixture against Sheffield.
Related Posts By Category