Scorpions held in thriller
Mar 21st, 2016
1724 Views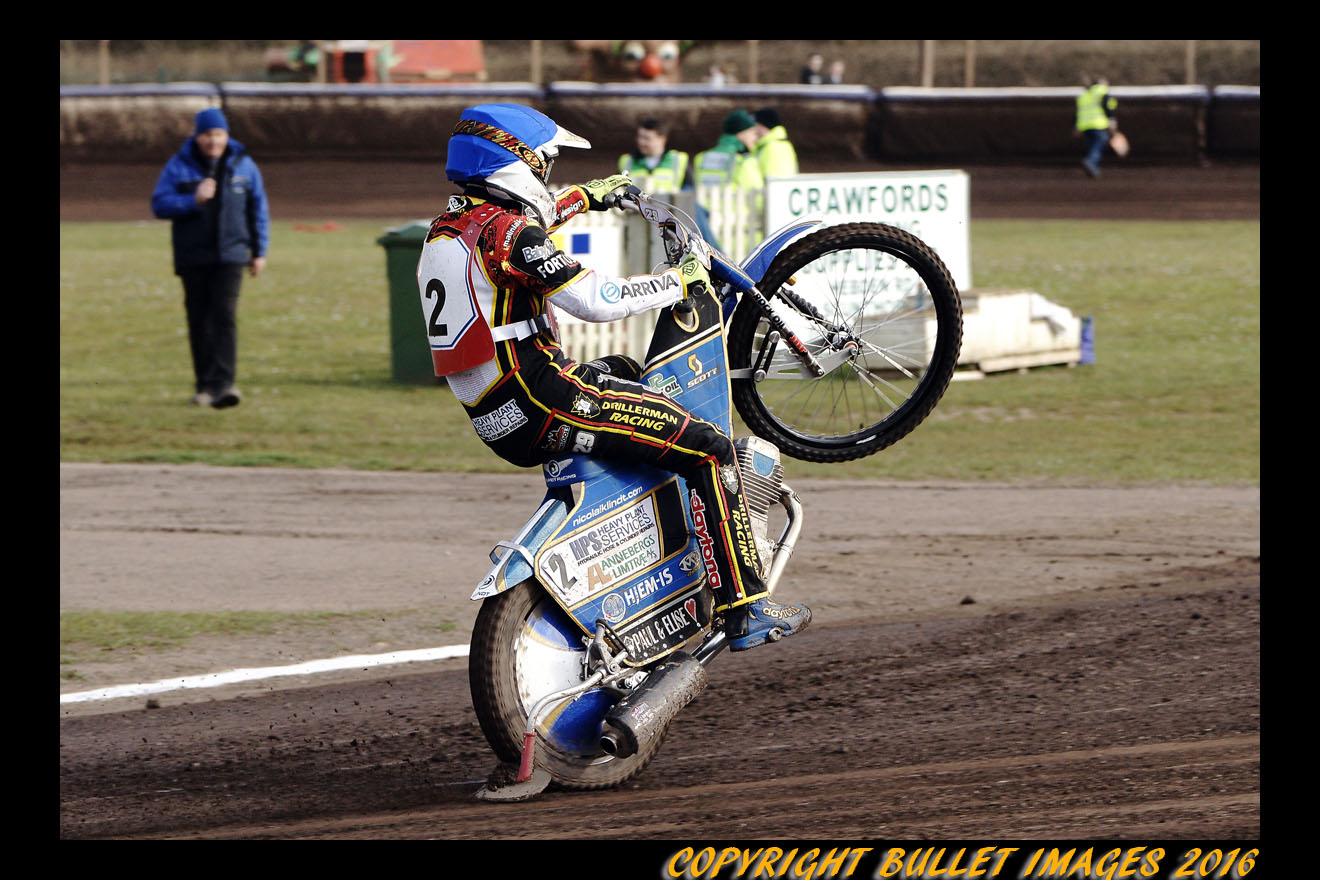 SCUNTHORPE SCORPIONS 45 IPSWICH WITCHES 45 (LEAGUE CUP)
HENDERSON INSURANCE Scunthorpe Scorpions were just one bend away from completing an early-season double over Ipswich Witches, before having to settle for a 45-45 draw after a pulsating opening meeting of 2016 at the Eddie Wright Raceway yesterday afternoon (Sunday).
Meanwhile, a major concern is a possible broken collarbone for Carl Wilkinson. Scunthorpe's trump-card reserve took an awkward fall, after clipping the back of team-mate Zdenek Holub's bike in Heat 14. Wilkinson is awaiting the results to initial X-rays to confirm whether there is a break.
The Scorpions led by 43-41 going into what proved to be a thrilling final race. For a moment, as the riders streaked from the starting tapes, it appeared that Nico Covatti & Danny King may take the 5-1 to clinch the meeting for the Witches.
Nicolai Klindt (pictured) used the inside line to great effect to overhaul the Witches, but Covatti was riding the outside line to perfection to regain the advantage. Attention then switched to a ding-dong battle between King and Ryan Douglas for third, with the two passing and repassing. Douglas appeared to have done just about enough, only for King to launch one last outside charge coming off the final bend, and snatch the verdict on the line.
It was a suitable climax to a brilliant afternoon of speedway. On no less than four occasions, there were desperately close finishes, which meant the programme could not be filled in, until referee Darren Hartley gave his verdict.
18-year-old Scorpion Josh Bailey was involved in two of the photo-finishes. He grabbed third place from Darryl Ritchings in Heat 8 after a final bend swoop around the outside, while an inside charge to dislodge Paco Castagna from third in Heat 12 just failed.
It was an afternoon for wheel-to-wheel racing. Covatti snatched the win on the line from Douglas in Heat 4; Klindt passed Covatti in Heat 6, in what proved the only point dropped by the exciting Italian during the afternoon; Alex Davies and Lewis Kerr passed and re-passed in Heat 12; and Covatti won a complete humdinger against Douglas in an outstanding Heat 13.
The Scorpions led 31-23 after nine races, but a 5-1 for the visitors in Heat 10 enabled them to get back into the match.
On an afternoon with a plethora of overtaking moves, it was a tapes-to-flag win for Holub in the re-run of Heat 14 – after the exclusion of the unfortunate Wilkinson – that proved so important in saving the Scorpions from a home defeat.
Skipper Josh Auty will have to wait to beat David Howe's record as all-time Scunthorpe top scorer – he levelled Howe's tally of 2120 points after a 4-point return. The Yorkshireman started the afternoon with a spectacular pass of King on the final lap to win Heat 1, but was down on power after that.
Team manager Dave Peet said: "I'm disappointed that we didn't complete the double over Ipswich, but on reflection a draw was a fair result.
"The first home meeting of the season is always a tough one, and we had a couple of riders whose machinery wasn't completely firing, but we'll get that right for next week against Sheffield.
"The lads were giving it 100% to win the meeting, right up until the last bend of the last lap, and certain things didn't go our way, but I can't take anything away from Ipswich.
"Alex Davies wasn't out in Heat 15, because the back end of his bike was damaged and he was also feeling a little shaken, after Paco Castagna accidentally took him off after the finish of Heat 12.
"Best wishes to Carl Wilkinson – we've got our fingers crossed that there's no break to his collarbone and we should know more over the next few days."
HENDERSON INSURANCE SCUNTHORPE SCORPIONS 45
1. Josh Auty 3 1 0 0 (4)
2. Nicolai Klindt 1 3 3 1 2 (10)
3. Alex Davies 3 2 2 2 (9)
4. Zdenek Holub 0 0 1* 3 (4+1)
5. Ryan Douglas 2 3 3 2 0 (10)
6. Carl Wilkinson 3 1 1 FX (5)
7. Josh Bailey 1 1* 1 0 (3+1)
IPSWICH WITCHES 45
1. Danny King 2 3 2 1 1 (9)
2. Morten Risager R/R
3. Lewis Kerr 2 1 2 3 3 (11)
4. James Sarjeant 1* 0 2 2* 2 (7+2)
5. Nico Covatti 3 2 3 3 3 (14)
6. Paco Castagna 0 0 0 0 1 1* (2+1)
7. Darryl Ritchings 2 0 0 0 (2)
1: Auty, King, Klindt, Castagna, 59.43 (4-2) (4-2).
2: Wilkinson, Ritchings, Bailey, Castagna, 61.18 (4-2) (8-4).
3: Davies, Kerr, Sarjeant, Holub, 60.81 (11-7).
4: Covatti, Douglas, Bailey, Ritchings, 61.43 (14-10).
5: (Re-run) King, Davies, Kerr, Holub, 61.50 (2-4) (16-14).
6: Klindt, Covatti, Auty, Castagna, 60.69 (4-2) (20-16).
7: (Re-run) Douglas, Kerr, Wilkinson, Sarjeant, 60.56 (4-2) (24-18).
8: Klindt, Sarjeant, Bailey, Ritchings, 60.30 (4-2) (28-20).
9: Covatti, Davies, Holub, Castagna, 59.94 (3-3) (31-23).
10: Kerr, Sarjeant, Klindt, Auty, 60.19 (1-5) (32-28).
11: Douglas, King, Wilkinson, Ritchings, 59.37 (4-2) (36-30).
12: Kerr, Davies, Castagna, Bailey, 59.88 (2-4) (38-34).
13: Covatti, Douglas, King, Auty, 59.06 (2-4) (40-38).
14: (Re-run) Holub, Sarjeant, Castagna, Wilkinson (fell, excluded), 59.31 (3-3) (43-41).
15: Covatti, Klindt, King, Douglas, 59.19 (2-4) (45-45).
Related Posts By Category