Auty seals superb away win at Peterborough
Jul 12th, 2016
1521 Views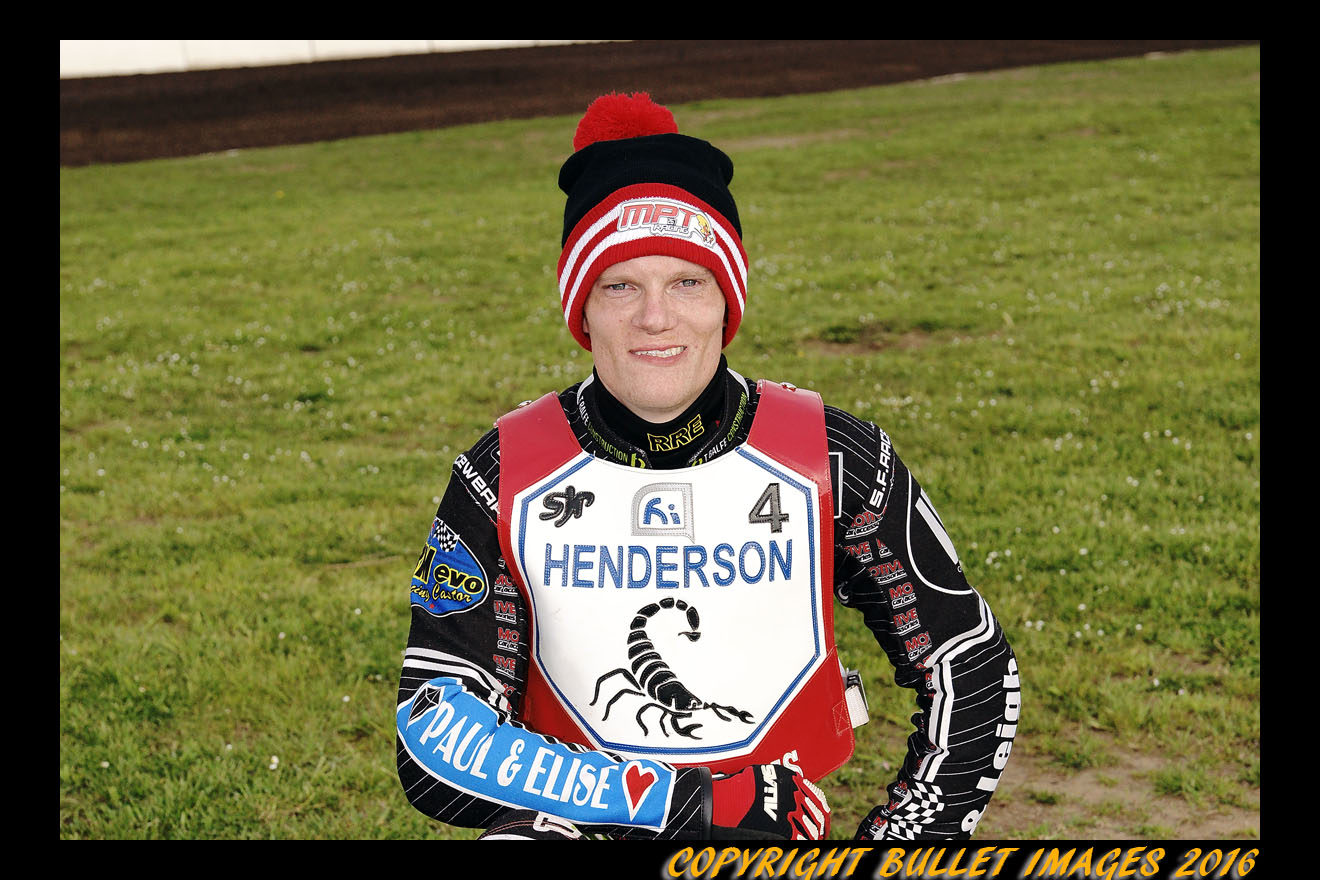 PETERBOROUGH PANTHERS 44 SCUNTHORPE SCORPIONS 46 (PREMIER LEAGUE)
HENDERSON INSURANCE Scunthorpe Scorpions pulled off a simply sensational 46-44 away win at Peterborough last night (Tuesday) – a result that pulls them off the bottom of the Premier League table.
Skipper Josh Auty sealed victory by thrusting himself past Craig Cook on the line in Heat 15, after a pulsating four-lap battle with Ulrich Ostergaard and Cook.
Scorpions demonstrated that they meant business the moment that Carl Wilkinson headed home Cook in the re-run of Heat 1, following a controversial exclusion for Ryan Douglas during the initial staging, after Cook had fallen.
A 4-2 from Michael Palm Toft (pictured) and Josh Bailey in Heat 2 followed by a 5-1 from Wilkinson and Lewis Kerr in Heat 3 moved Scorpions into a 12-6 lead.
It was obvious at this stage that the last result between the same two clubs at the East Of England Showground, a resounding League Cup 64-26 win for the Panthers on April 1, was not going to be repeated.
Panthers edged back into proceedings and levelled the scores, after second-placed Kerr suffered an engine failure late in Heat 7.
Palm Toft was probably looking to prove a point after being dropped by Peterborough earlier in the season, and he took a win in Heat 8 and a paid win in Heat 9, as Scorpions re-opened their six-point lead.
The Panthers hit back with a 5-1 in Heat 10, but Ryan Douglas snatched victory over Ulrich Ostergaard in Heat 11 after a brilliant last bend move, as Scorpions edged four points ahead.
Palm Toft produced two superb races to win Heats 12 & 14, while Kerr's continuing engine problems restricted his scoring in those races.
Ryan Douglas & Josh Auty ensured Heat 13 was shared, and it was this pair who were tasked with getting the two points needed for victory in Heat 15.
A humdinger of a race ensued, with Ostergaard leading, Auty in the crucial second place and Cook growing faster and faster around the outside line. On the final bend, Ostergaard blocked Auty and Cook seemed all set to grab Panthers a draw, but Auty refused to be beaten and with a switch of line, snatched second place back right at the death.
Scunthorpe promoter Rob Godfrey said: "We believed we could do it at Peterborough. You're only as good as your last result, and we wanted to put things right after the heavy cup defeat at Newcastle on Monday evening.
"Obviously Newcastle is something of a technical track, whereas at Peterborough we knew we could get stuck in and we knew we had someone at reserve in Michael Palm Toft who was capable of scoring a lot of points around the place.
"It was a great performance from the lads, and we held on, even though a couple of things went against us. We thought Ryan's exclusion in Heat 1 was harsh, while Lewis Kerr had all sorts of bike problems. He had a carb problem and then the clutch was playing up.
"Heat 15 was simply world class. We knew we needed a second place to win the meeting, but Craig Cook was riding such a wide line and it looked like it was going to pay off. But Josh (Auty) wasn't ready to give up that second place and grabbed it back on the line.
"Peterborough have turned us over twice at Scunthorpe this season, so it was nice to turn the tables on them.
"We're off the bottom of the table and we feel we're only going one way now and that is up. We haven't ruled out anything in terms of what we feel we can achieve this season."
Peterborough could have gone top of the Premier League with a victory, but instead remain fourth in the table.
Scunthorpe are now three points clear of Redcar, who replace them at the bottom, and furthermore Scorpions are only six points behind sixth-placed Rye House, currently in the last qualifying spot for the end-of-season play-offs.
PETERBOROUGH PANTHERS 44
1. Craig Cook 2 3 2* 3 1 (11+1)
2. Emil Grondal 1* 1 2 3 (7+1)
3. Nikolaj Busk Jakobsen 0 2 1 2 (5)
4. Tom Perry 1 0 0 2 (3)
5. Ulrich Ostergaard 3 3 2 0 3 (11)
6. Ashley Morris 2 2* 0 0 1* (5+2)
7. Tom Stokes (Guest) 0 1 1* (2+1)

HENDERSON INSURANCE SCUNTHORPE SCORPIONS 46
1. Ryan Douglas X 3 3 2 0 (8)
2. Carl Wilkinson 3 3 1 1 1 (9)
3. Alex Davies R/R
4. Lewis Kerr 2* R 0 0 0 (2+1)
5. Josh Auty 2 2 3 1* 2 (10+1)
6. Michael Palm Toft 3 0 3 2* 1 3 3 (15+1)
7. Josh Bailey 1 0 1 (2)
1: (Re-run) Wilkinson, Cook, Grondal, Douglas (excluded), 61.3 (3-3) (3-3).
2: Palm Toft, Morris, Bailey, Stokes, 62.0 (2-4) (5-7).
3: Wilkinson, Kerr, Perry, Jakobsen, 62.1 (1-5) (6-12).
4: Ostergaard, Auty, Stokes, Bailey, 62.0 (4-2) (10-14).
5: (Re-run) Douglas, Jakobsen, Wilkinson, Perry, 62.6 (2-4) (12-18).
6: (Re-run twice) Cook, Auty, Grondal, Palm Toft, 60.5 (4-2) (16-20).
7: Ostergaard, Morris, Bailey, Kerr (ret), 62.3 (5-1) (21-21).
8: Palm Toft, Grondal, Wilkinson, Morris, 62.2 (2-4) (23-25).
9: Auty, Palm Toft, Jakobsen, Perry, 62.6 (1-5) (24-30).
10: Grondal, Cook, Palm Toft, Kerr, 62.7 (5-1) (29-31).
11: Douglas, Ostergaard, Wilkinson, Morris, 63.0 (2-4) (31-35).
12: (Re-run) Palm Toft, Jakobsen, Stokes, Kerr (penalised 15m after starting offence), 63.5 (3-3) (34-38).
13: Cook, Douglas, Auty, Ostergaard, 62.7 (3-3) (37-41).
14: Palm Toft, Perry, Morris, Kerr, 63.6 (3-3) (40-44).
15: Ostergaard, Auty, Cook, Douglas, 63.6 (4-2) (44-46).
* HENDERSON INSURANCE Scunthorpe Scorpions are next in action when they entertain reigning Premier League champions Edinburgh Monarchs at the Eddie Wright Raceway on Sunday (6.30pm).
Related Posts By Category