Premier League Fours report – Ryan flies to victory
Jul 25th, 2016
1508 Views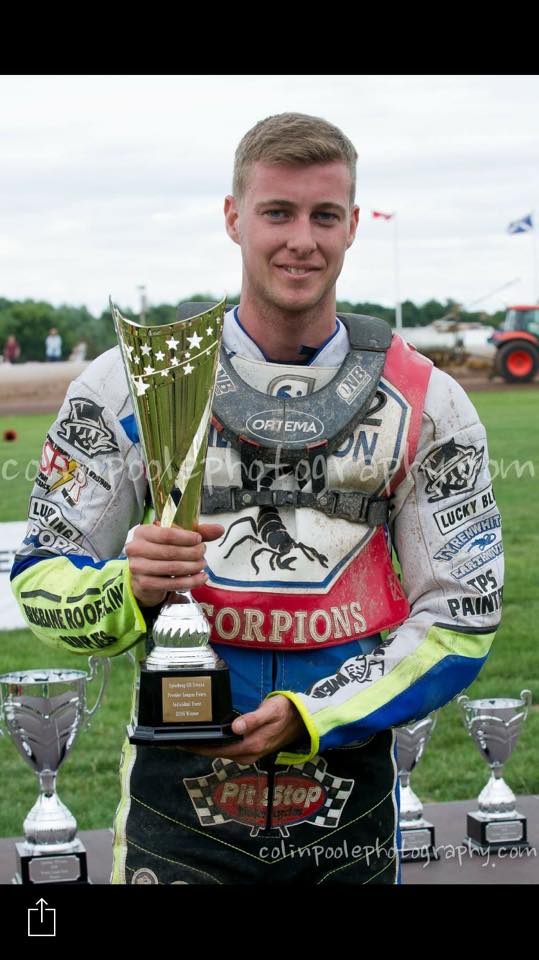 RYAN DOUGLAS, Henderson Insurance Scunthorpe Scorpions' Australian star, said he was 'stoked' after winning the individual event at the Premier League Fours at Peterborough yesterday (Sunday) afternoon.
Scorpions had bowed out of the fours in their semi-final on Saturday afternoon, after being drawn in what was termed 'The Group Of Death'.
Despite a fine six points from Michael Palm Toft (including a win in Heat 4) and four points from Douglas, Scorpions were never in contention, and they finished last in their semi-final, albeit just a couple of point behind mighty Somerset Rebels, the favourites for the 2016 Premier League championship.
Workington won the group in dramatic style, after edging out Glasgow on number of race wins, after an exciting final race.
Ryan's fine individual victory more than compensated for Scorpions' performance the previous afternoon. It meant that Scorpions took one of the two trophies on offer for the weekend, the other going to Plymouth Devils, who were deserving winners of the fours.
In the final of the individual event, Ryan showed first, but riders went inside and outside him. However, Steve Worrall fell on the fourth turn, and his twin brother, Richie Worrall was deemed at fault and excluded from the re-start.
The re-run saw Ryan again make a good start from gate two, and this time he made sure that no-one passed him on the opening lap. Meanwhile, Ben Barker and Steve Worrall were involved in a ding-dong scrap for second place. Worrall eventually won that, and headed out for the dirt on the outside. He closed in on Ryan on the final lap, but Ryan remained unflustered and held on for the win.
A grinning Ryan exclaimed while clutching his trophy: "I can't complain! I'm chuffed to win the meeting, because it was a strong field, with a lot of good riders in the line-up.
"I made the gate in the final, but rode the wrong line and I ended up getting swamped. But a rider fell off and the race was stopped.
"In the re-run, I made the start again, and I'd learnt from my previous mistake and make sure I stayed on the right line. I just rode that for four laps without making a mistake, and that was enough. I'm stoked."
Ryan's afternoon had started with a fall in his first qualifying race, while trying to pass Josh Bates for second place. He hit back with three straight wins, including a notable from-the-back triumph over the previously unbeaten Kyle Howarth, after a storming couple of opening bends in Heat 14.
"After my fall in my first race, I was a bit concerned I might not get through", Ryan admits.
"So I was stoked to win my next three races. I finished second in my semi-final, which is what I needed to do to get through, and then once you've reached the final, everyone has got a chance to win it, and I took mine."
The weekend provided great entertainment over a mammoth 73 races, with many fans coming away from Peterborough raving over what was a hugely enjoyable experience.
PREMIER LEAGUE FOURS CHAMPIONSHIP, Peterborough
SEMI-FINAL 1:
WORKINGTON 23: Kenneth Hansen 8, Ricky Wells 6, Rasmus Jensen 5, Claus Vissing 4.
GLASGOW 23: Richie Worrall 7, Rene Bach 6, Richard Lawson 5, Aaron Summers 5.
SOMERSET 14: Josh Grajczonek 6, Jake Allen (res) 4, Rohan Tungate 3, Paul Starke 1, Bradley Wilson-Dean 0.
SCUNTHORPE 12: Michael Palm Toft 6, Ryan Douglas 4, Josh Auty 1, Carl Wilkinson 1.
Workington qualify for the Final on count-back of race wins.
SEMI-FINAL 2:
PLYMOUTH 23: Brady Kurtz 8, Jack Holder 8, Kyle Newman 6, Todd Kurtz 1.
SHEFFIELD 18: Kyle Howarth 8, Dimitri Berge 4, Simon Stead 3, Josh Bates 3.
NEWCASTLE 17: Steve Worrall 7, Robert Lambert 5, Lewis Rose 3, Danny Phillips 2.
REDCAR 14: Lasse Bjerre 9, Jonas B Andersen 3, David Bellego 2, Hugh Skidmore 0.
SEMI-FINAL 3:
BERWICK 21: Thomas Jorgensen 8, Kevin Doolan 5, Theo Pijper 5, Matthew Wethers 3.
EDINBURGH 20: Sam Masters 9, Ryan Fisher 5, Kevin Wolbert 3, Erik Riss 3.
RYE HOUSE 17: Stuart Robson 8, Leigh Lanham 5, Cameron Heeps 3, Edward Kennett 1.
IPSWICH 14: Danny King 5, Nico Covatti 5, Ben Barker 2, Morten Risager 2.
PREMIER LEAGUE FOURS INDIVIDUAL
GROUP A: Ben Barker 9, Steve Worrall 8, Richie Worrall 7, Nico Covatti 6, Danny Phillips 3, Fernando Garcia 2.
GROUP B: Kyle Howarth 11, Ryan Douglas 9, Leigh Lanham 6, Josh Bates 5, Ben Morley 3, Carl Wilkinson 2.
GROUP C: Jonas B Andersen 9, Ryan Fisher 8, Lasse Bjerre 8, Rohan Tungate 7, Erik Riss 3, Jake Allen 2.
SEMI FINAL 1: R.Worrall, Douglas, Fisher, Howarth.
SEMI FINAL 2: S.Worrall, Barker, Bjerre, Andersen.
FINAL: Douglas, S.Worrall, Barker, R.Worrall (dq).
PREMIER LEAGUE FOURS CHAMPIONSHIP FINAL
PLYMOUTH 30: Jack Holder 11, Brady Kurtz 7, Todd Kurtz 7, Kyle Newman 5.
WORKINGTON 29: Kenneth Hansen 10, Claus Vissing 7, Ricky Wells 7, Rasmus Jensen 5.
PETERBOROUGH 25: Craig Cook 11, Nikolaj B Jakobsen 7, Ulrich Ostergaard 4, Tom Perry 2, Emil Grondal (res) 1.
BERWICK 12: Kevin Doolan 4, Matthew Wethers 4, Thomas Jorgensen 3, Theo Pijper 1
Fours champions: Plymouth
Fours individual champion: Ryan Douglas (Scunthorpe).
PHOTO courtesy of http://www.colinpoolephotography.com/
Related Posts By Category