Scorpions complete home fixtures with a bang
Sep 10th, 2016
1580 Views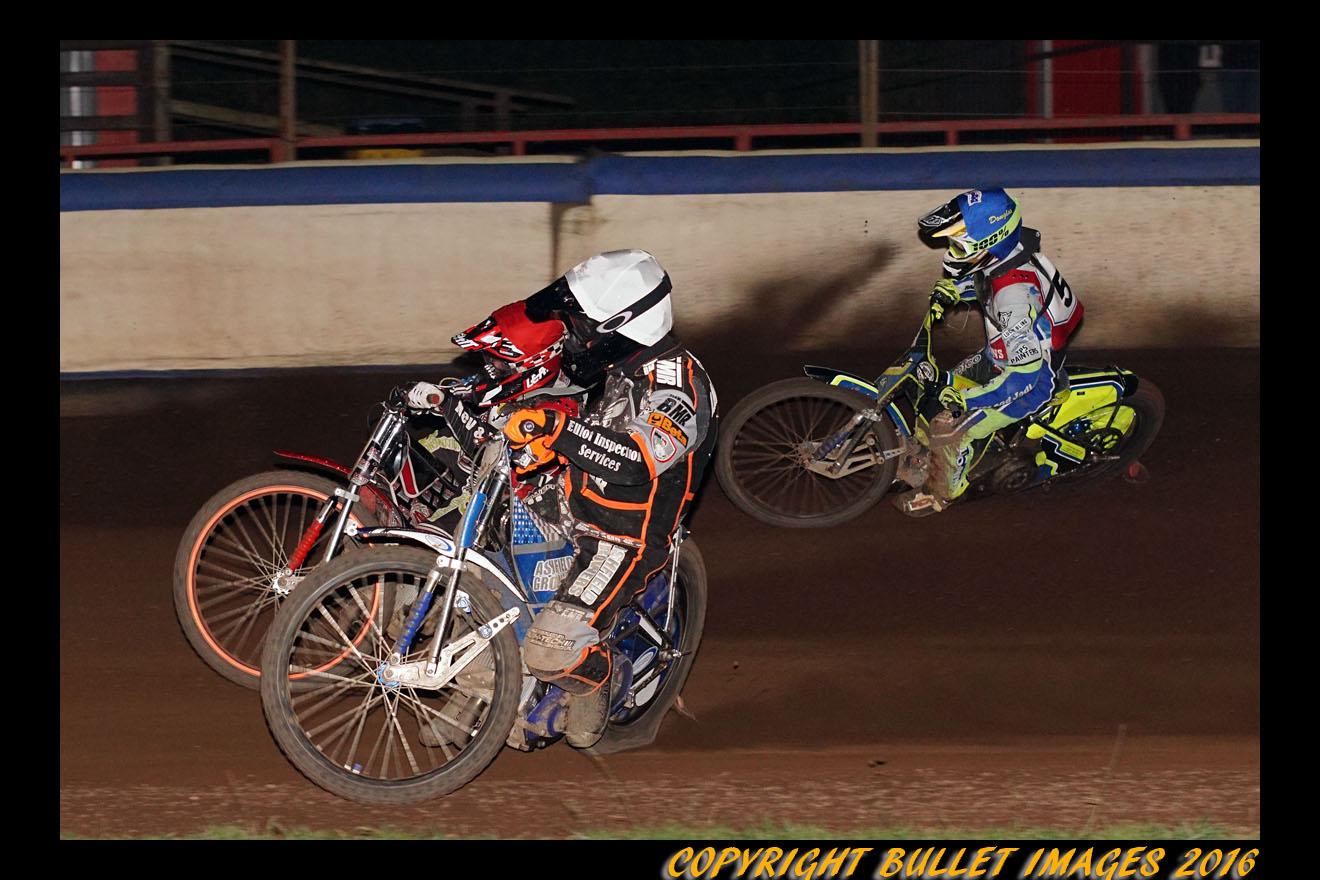 SCUNTHORPE SCORPIONS 51 RYE HOUSE ROCKETS 39 (PREMIER LEAGUE)
BIRTHDAY BOY Ryan Douglas celebrated his 23rd birthday with a paid maximum, as Henderson Insurance Scunthorpe Scorpions completed their 2016 home fixtures with a 51-39 victory over the Rye House Rockets at the Eddie Wright Raceway last night (Friday), with the night concluding with a firework display.
Scunthorpe took the lead with a 5-1 from Michael Palm Toft and Josh Auty in Heat 1, and provided 12 heat winners.
But Rye House packed the minor placings, with seven successive shared races between Heats 3 & 9, and the Scorpions were only four points clear with three heats remaining.
Auty came from behind to join Douglas for a 5-1 in Heat 13. And Heat 15 was an appropriate final race of the season at the EWR, as Palm Toft came inside Leigh Lanham on the opening lap to take the lead and Douglas stormed from fourth to second to register Scorpions' third maximum heat win of the night.
There were a couple of extremely close finishes. Auty pinched third from lively Rye House reserve Rob Branford in a photo finish in Heat 6, and Douglas spent four laps chasing Edward Kennett in a Heat 11, before cutting back off the final bend, and was given the verdict by referee Craig Ackroyd after a near dead-heat.
A strong wind resulted in a drier track than usual and meant the outside line was less profitable than it usually is, but there was still some excellent racing on display, especially in the closing stages.
Douglas came from behind in three of his races, including a stunning third to first in Heat 4, and Palm Toft made brilliant use of the inside line, including a fantastic last to first in Heat 10.
Lewis Kerr had another fine night and looked unbeatable after winning his opening three rides. Heat 12 was one hell of a scrap. Carl Wilkinson came good with a great ride when Scorpions really needed him to, winning a scrap with Branford for the lead. Kerr found himself at the back, charged around Cameron Heeps for third, and tried to blast around Branford on the final bends, only to lose third back to Branford.
Fritz Wallner put in 100%, but suffered two falls and an engine failure. Nevertheless, he featured in a 3-3 with Wilkinson in Heat 14 that secured victory on the night for Scorpions.
Results elsewhere combined with Scorpions' win, mean that the team have now moved up a further position in the league table to tenth place.
Ryan Douglas said: "I can't think of a much better way to celebrate my birthday than to get a maximum for the team!
"The team rode well, and it was good to finish off our home meetings with another win.
"We were winning plenty of races, but Rye House were packing the minor places. We weren't gaining or losing anything, and then at the end, we managed to pull clear.
"When I didn't make the starts, I felt I had the speed to come through, which is always a bonus. I was making some decent starts as well. Whichever position I came out of the gate, I felt I had the speed to do it.
"The ride with Eddie Kennett (Heat 11) was close – I wasn't even sure who had won it. I just kept on working, and on the last corner, I just when in a bit deeper and cut back and the referee thought I'd got it, so I'll take it!
"The team is gelling well and we've won four home meetings on the trot, so there's no reason why we can't go away and pick up some points.
"I've enjoyed the season. The fans are always great here. I had a rough year last season with injures and it's taken me most of this year to build my confidence back up. But, in particular around Scunthorpe, I now feel confident to go out and score big points every meeting.
"We've got a few away meetings to go, and then I'll go back to Australia and work hard and practice, and hopefully come back next year a lot better again."
HENDERSON INSURANCE SCUNTHORPE SCORPIONS 51
1. Josh Auty 2* 1* 1 2* (6+3)
2. Michael Palm Toft 3 2 3 3 3 (14)
3. Lewis Kerr 3 3 3 0 (9)
4. Fritz Wallner F R FX 2 (2)
5. Ryan Douglas 3 3 3 3 2* (14+1) PAID MAXIMUM
6. Carl Wilkinson 2 0 0 3 1* (6+1)
7. Scott Campos (Guest) FX F 0 (0)
RYE HOUSE ROCKETS 39
1. Edward Kennett 0 2 2 0 (4)
2. Kasper Lykke 1 1* 2 1* (5+2)
3. Cameron Heeps 1* 2 2 1* (6+2)
4. Leigh Lanham 2 1* 0 3 1 (7+1)
5. Stuart Robson 2 3 2 1 0 (8)
6. Robert Branford 3 0 1* 2 (6+1)
7. Ben Morley 1 1* 1* 0 (3+2)
1: Palm Toft, Auty, Lykke, Kennett, 56.69 (5-1) (5-1).
2: Branford, Wilkinson, Morley, Campos (fell, excluded), awarded – no time (2-4) (7-5).
3: Kerr, Lanham, Heeps, Wallner (fell), 56.50 (3-3) (10-8).
4: Douglas, Robson, Morley, Campos (fell), 57.81 (3-3) (13-11).
5: Kerr, Kennett, Lykke, Wallner (ret), 57.18 (3-3) (16-14).
6: Robson, Palm Toft, Auty, Branford, 57.12 (3-3) (19-17).
7: Douglas, Heeps, Lanham, Wilkinson, 57.68 (3-3) (22-20).
8: Palm Toft, Lykke, Morley, Campos, 57.69 (3-3) (25-23).
9: Kerr, Robson, Branford, Wallner (fell, excluded), 57.25 (3-3) (28-26).
10: Palm Toft, Heeps, Auty, Lanham, 58.06 (4-2) (32-28).
11: Douglas, Kennett, Lykke, Wilkinson, 58.25 (3-3) (35-31).
12: Wilkinson, Branford, Heeps, Kerr, 58.18 (3-3) (38-34).
13: Douglas, Auty, Robson, Kennett, 57.88 (5-1) (43-35).
14: Lanham, Wallner, Wilkinson, Morley, 58.51 (3-3) (46-38).
15: Palm Toft, Douglas, Lanham, Robson, 57.81 (5-1) (51-39).
PHOTO: The last race of the season at the EWR.  Leigh Lanham is the early race leader, but Michael Palm Toft (red) and Ryan Douglas (blue) came though for a 5-1.
Related Posts By Category