Worrall injury mars inspiring Scorpions display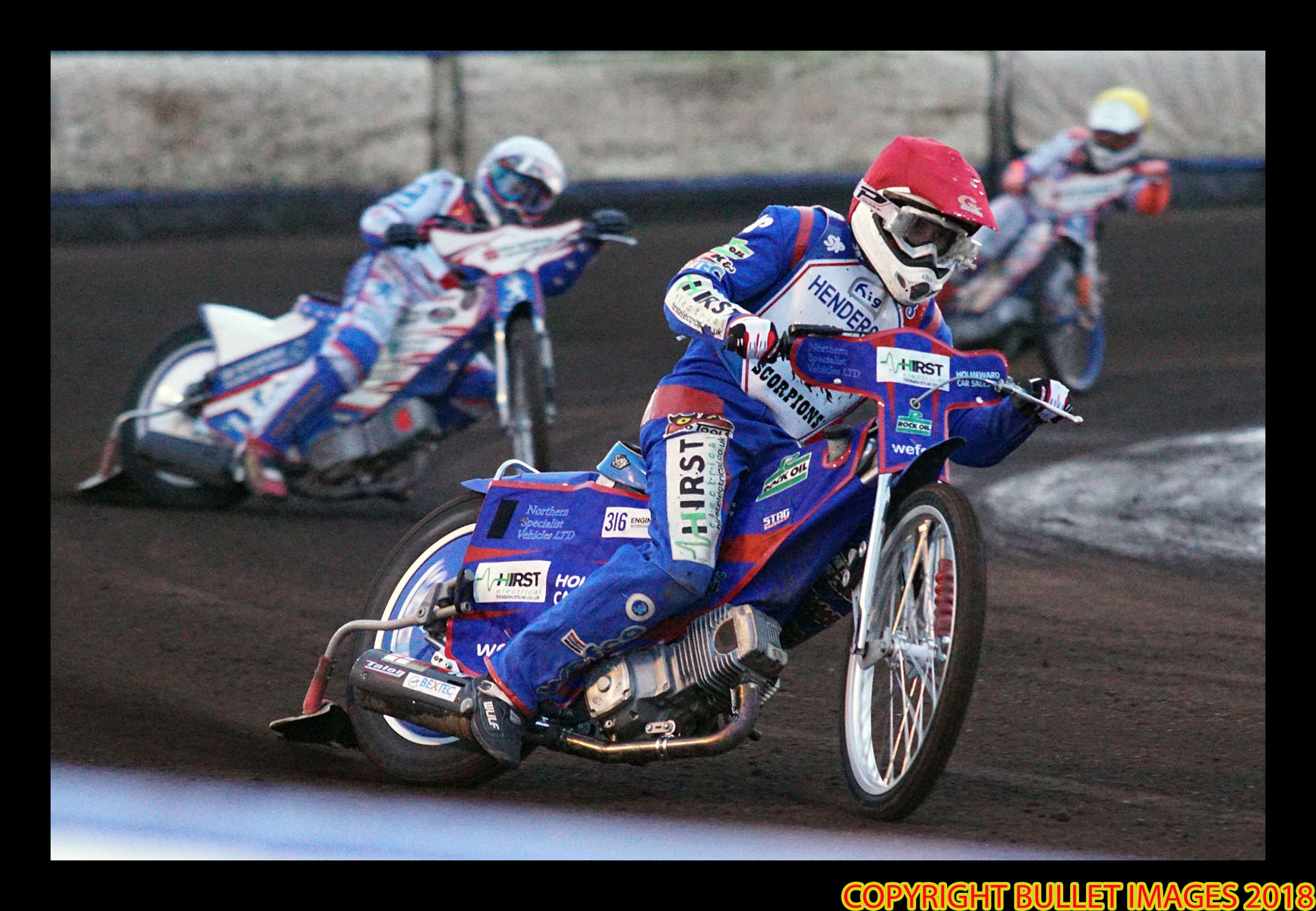 The Henderson Insurance Scunthorpe Scorpions routed the Redcar Bears 58-32 in their first official fixture of the 2018 season but the thrill of such a convincing victory was ruined by an injury, a suspected broken leg, to their new number one and captain, World Team Cup star Steve Worrall. Worrall did claim a three-ride maximum (8 points + 1 bonus point) as he was awarded the race win after the heat 10 crash whilst Jason Garrity (15), Josh Auty (13+2) and Stefan Nielsen (10+2) were also unbeaten by a Redcar rider. It was a thoroughly encouraging display but thoughts of everyone at the club are with Worrall.
After the meeting club promoter Rob Godfrey declared "I have such mixed emotions. We believed we had a great team and they went out there and proved that we do have one. That was so great to see but then that happens in heat 10. Stevie is not just the best rider in the league, but he is an amazing captain. He has done so much to help generate the tremendous team spirit we have, and I'm just so gutted for him.
"Whilst every single rider did so well tonight I must single out Stefan Nielsen, who has been out injured for so long. Most riders take a while to re-build their confidence, but Stefan claimed a maximum on his first night back. That is some achievement."
Although the Scorpions were only two points up after five races that was largely down to Redcar gaining a 5-1 in the reserves race and a slow start to the meeting for Jake Allen. Allen had an engine failure in heat 3 when destined for a 5-1 with Josh Auty and then, in heat 5, he ran a last place against the Bears' top pair of Theo Pijper and Ben Barker off gate 3 which proved almost impossible to score off during the first half of the meeting.
Allen finished the meeting in style with two race wins and his first two rides proved to be the only time that any of the Scorpions' top five were beaten by a Redcar rider. At reserve the Scorpions started slowly but Gino Manzares beat an opponent in his last four rides whilst Danny Phillips looked competitive in all his races and was unlucky to only score one point. It all augers well for the 2018 Scorpions but for now all at the club are hoping that their captain is soon on the mend.
The Scorpions are next in action at Redcar on Thursday night (12th April) and then at home to the Newcastle Diamonds, who will have former Scorpions Carl Wilkinson, Tero Aarnio and Ashley Morris in their side, on Friday night (13th April).
Henderson Insurance Scunthorpe Scorpions 58 – Jason Garrity 15 (5 rides, full maximum), Josh Auty 13+2 (5, paid maximum), Stefan Nielsen 10+2 (4, paid maximum), Steve Worrall 8+1 (3 rides, paid maximum), Jake Allen 6 (4), Gino Manzares 5+1 (5), Danny Phillips 1 (4)
Redcar Ecco Finishing Supplies Bears 32 – Theo Pijper 11 (6 rides), Ben Barker 6+2 (6), Tobias Busch 5+1 (4), Mikkel B. Andersen 4+1 (4), Jonas B. Andersen 3+1 (4), Matej Kus 2 (3), Jordan Stewart 1+1 (4)
1: Worrall, Nielsen, Barker, Stewart, 58.06 (5-1)(5-1)
2: Pijper, Busch, Phillips, Manzares (fell, remounted), 60.13, (1-5)(6-6)
3: Auty, J. Andersen, M. Andersen, Allen (retired), 59.43 (3-3)(9-9)
4: Garrity, Pijper, Manzares, Kus, 59.88 (4-2)(13-11)
5: Auty, Pijper, Barker, Allen, Stewart (excluded, tapes), 58.94 (3-3)(16-14)
6: Nielsen, Worrall, Busch, Kus, 59.69 (5-1)(21-15)
7: Garrity, M. Andersen, J. Andersen, Phillips, 60.00 (3-3)(24-18)
8: Nielsen, Pijper, Manzares, Stewart, 59.75 (4-2)(28-20)
9: Allen, Auty, Barker (T/S), Busch, 59.31 (5-1)(33-21)
10: Worrall, Nielsen, M. Andersen, J. Andersen (excluded, unfair riding), no time – race awarded (5-1)(38-22)
11: Garrity, Barker, Stewart, Phillips, 59.93 (3-3)(41-25)
12: Auty, Busch, Manzares, J. Andersen, 60.12 (4-2)(45-27)
13: Garrity, Kus, Barker, Phillips, 60.15 (3-3)(48-30)
14. Allen, Manzares, Pijper, M. Andersen, 61.75 (5-1)(53-31)
15. Garrity, Auty, Pijper, Barker, 60.19 (5-1)(58-32)

Related Posts By Category