Scunthorpe Scorpions v Newcastle Diamonds preview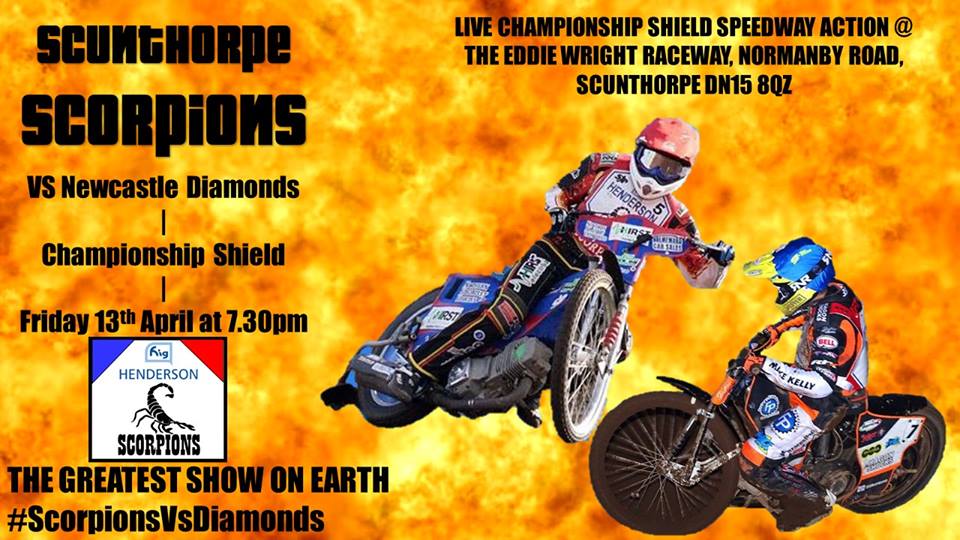 HENDERSON INSURANCE Scunthorpe Scorpions' promoter Rob Godfrey has insisted he is taking nothing for granted, ahead of the visit of Newcastle Diamonds to the Eddie Wright Raceway tonight (Friday, 7.30pm).
Scunthorpe commenced their season with a superb 58-32 home victory over Redcar last Friday, with no fewer than four riders unbeaten by an opposing rider.
But that victory was achieved at a huge cost, with captain and No 1 Steve Worrall suffering a broken tibia and fibula in a horror crash, after being sent sprawling by Redcar's Jonas B Andersen in Heat 10.
Scorpions will utilise the rider replacement facility for Worrall against Diamonds, with each of the remaining six Scorpions eligible to take one of his rides.
Godfrey says: "Given the way our lads rode last Friday, rider replacement should work out OK for us.
"The lads were superb last week and hit the ground running with a very comfortable win.
"Stefan Nielsen was unbelievable, coming back from basically a whole year out injured with a paid maximum, while I thought Jason Garrity – who scored a full maximum – was sensational.
"As for Josh Auty, who also scored a paid maximum, I've never seen him gate so well in his life.
"But there is no way we will taking Newcastle for granted, since they've got three former Scorpions in their line-up, who know the best way around our track.
"We cannot afford to under-estimate anyone, and our lads have still got to turn up and do the job.
"I think it will be another top night of speedway action, as we seek to consolidate our strong start to our Championship Shield campaign."
Meanwhile, Godfrey is keeping one eye on the fitness of Worrall.
He comments: "The injury was such a shame for both rider and club. This is arguably the biggest season of Steve's career to date and we have put together a team that I'm convinced will challenge very strongly for the league title, so to lose him this early is a real blow.
"Even more so for what he's done off-track. He's given us tremendous team spirit and I honestly don't think I've ever seen our team spirit as good as it is now, possibly only in 2012 which was the last time we won the league.
"I'm not exactly sure yet how long he will be out for, but the operation was a success and I'm certain it isn't going to be as long as people might think.
"Steve's commitment and fitness levels are second to none and if I know Steve, he will be back on a bike at the very earliest opportunity."
Admission prices for Friday:
Adult: £16.00
Student/OAP: £14.00
Child (10 – 17): £5.00
Child (0 – 9) Free (accompanied by paying adult)
Family Ticket £37 (2 adults, 2 Children 10-17)
Match Programme: £1.00
Expected teams for Friday:
Henderson Insurance Scunthorpe Scorpions: 1. Rider replacement for Steve Worrall, 2. Stefan Nielsen, 3. Josh Auty, 4. Jake Allen, 5. Jason Garrity (captain), 6. Danny Phillips, 7. Gino Manzares.
Newcastle Diamonds: 1. Ludvig Lindgren, 2. Tero Aarnio, 3. Lewis Rose, 4. Matthew Wethers, 5. Stuart Robson, 6. Carl Wilkinson, 7. Ashley Morris.
* SCORPIONS' match at Redcar last night (Thursday) was an early casualty of the weather, with the meeting called off in the morning.
Related Posts By Category