Scorpions win a magical encounter
Apr 21st, 2018
1267 Views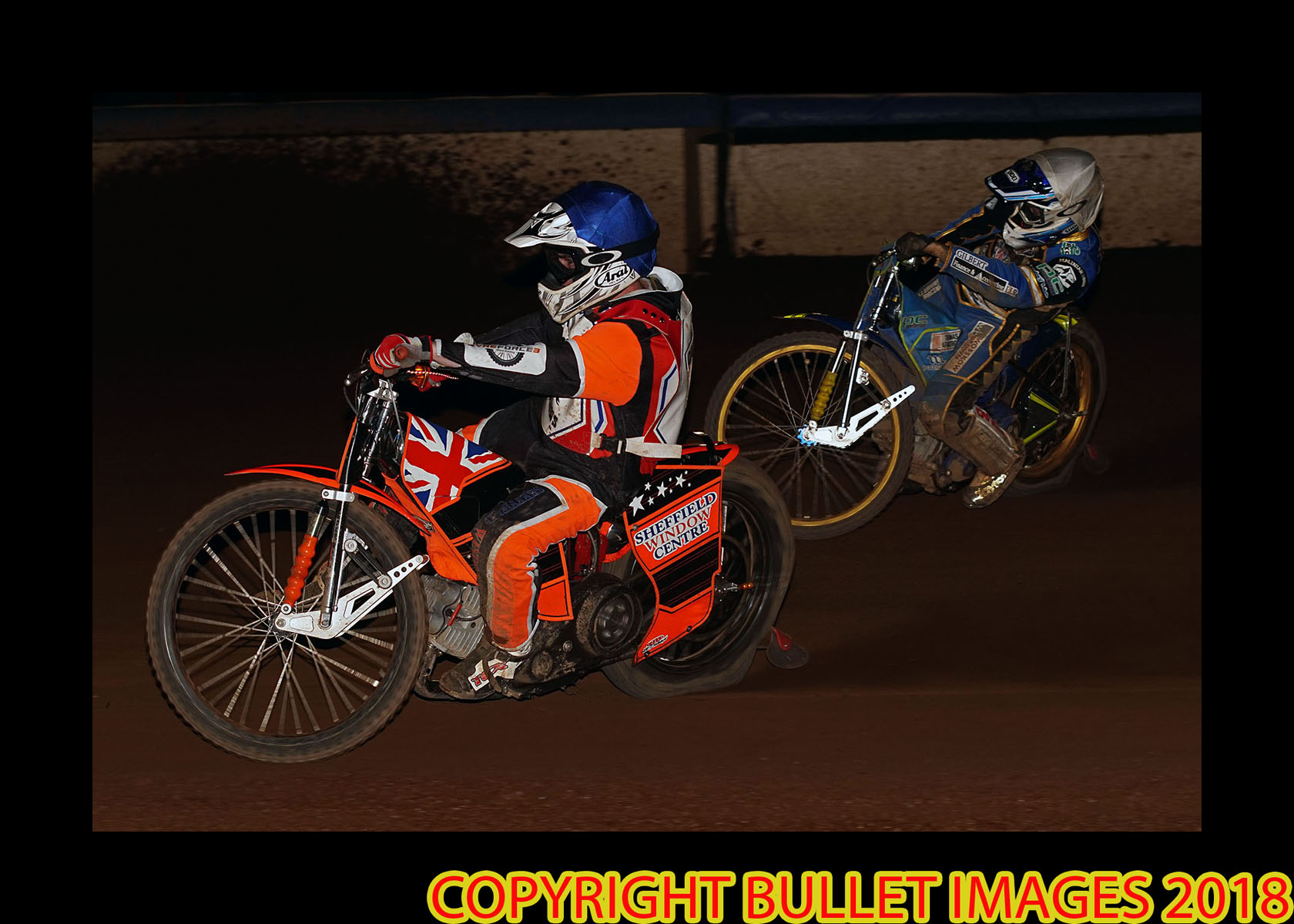 SCUNTHORPE SCORPIONS 49 SHEFFIELD TIGERS 41 (Championship Shield)
"SPEEDWAY simply doesn't getter any better than that!" was the proud claim of Scunthorpe promoter Rob Godfrey, after Henderson Insurance Scunthorpe Scorpions defeated Sheffield Tigers by 49-41 at the Eddie Wright Raceway last night (Friday), on a night of some superb speedway.
Scorpions bounced straight back from their defeat at Sheffield the previous night, to move back to the top of their Championship Shield group.
On a night where much of the racing was so incredible that it almost defied description, with multiple passing and re-passing, Sheffield took the early advantage at 8-4, before two 5-1s from a very strong Josh Auty and Jake Allen pairing moved Scorpions into a 18-12 lead.
Sheffield team manager Simon Stead placed Kyle Howarth into Heat 6 as a tactical substitute, but both Stefan Nielsen and guest Thomas Jorgensen fought past Lasse Bjerre to ensure a 3-3.
Tigers then reduced the deficit to two points, before Scunthorpe pulled away with a further 5-1 from Auty and Allen in Heat 9.
The Scunthorpe lead fluctuated between six and ten points for the rest of the evening.
Auty just missed out on a paid maximum, after being pipped to the post in a duel with Charles Wright in Heat 15, but his second place ensured Sheffield left with no points and that Scunthorpe reclaimed top spot. Allen was also unbeaten until the final race.
Stand-in skipper Jason Garrity scored 10 points, despite battling with a sickness bug. The race between Garrity and Howarth in Heat 11, containing pass after pass and won by Howarth on the line, was a titanic battle. Garrity gained his revenge over Howarth in Heat 13, in another thrilling race not decided until the chequered flag.
Speaking after the meeting, Garrity said: "The racing was brilliant out there, and that's why I wanted to come to Scunthorpe. This is what you call a RACETRACK.
"If you want to come to watch speedway racing, this is the place to come. There was a race there where me and Kyle (Howarth) must have swapped places five or six times.
"I was really in my element and enjoying riding my bike, even though, to be honest, I don't feel at all well. I haven't felt right all day and I'm glad I got through the meeting. It's not good when you're sick after your first ride.
"Before the meeting, I told Dave (Peet, Scunthorpe team manager) I'd complete all my races, because I don't like letting people down.
"I'm a man of my word and I've trained hard for this season and I did finish the meeting, even though I really didn't feel well after my first ride.
"I'm so happy being at Scunthorpe, and I think there are big things to come out of this club this season.
"Sheffield beat us last night, so we had to beat them back tonight, and it was a great performance by the lads. It was perfect and I'm over the moon, but I now need to get home!"
SCUNTHORPE 49: Josh Auty 13+1, Jake Allen 10+2, Jason Garrity 10, Gino Manzares 6, Thomas Jorgensen 5+1, Stefan Nielsen 5, Danny Phillips 0
SHEFFIELD 41: Charles Wright 13, Kyle Howarth 11+1, Todd Kurtz 6, James Shanes 5+1, Lasse Bjerre 4+1, Jack Smith 2, Josh Bates r/r
* A COLLECTION for injured skipper Steve Worrall last night raised in excess of £1,000.
Related Posts By Category