Seven British Amateur titles decided
Seventy-three races were competed well inside 5 hours and the feedback on the first ever British Amateur Championships was overwhelmingly positive from everyone involved. In the Formula 2 class, where former rider Pete Seaton provided 5 speedway bikes with 450cc Moto X engines, there was a half a dozen rider with a wide range of speedway experience. At one end there was Jack Parkinson-Blackburn who produced the quickest time of the day (66.3 seconds), Sheldon Davies who is waiting a National League opportunity and former pro Jamie Swales whilst at the other end there was Novice Class veteran Jeff Robinson and two flat tracker racers Odgie Danaan and Aaron Tuttlebee.
Parkinson-Blackburn understandably was the pick during qualifying but when he chose to sit out the final it was left to Swales to race to victory from Davies and Tuttlebee. Afterwards Seaton declared it a "fantastic day" whilst meeting organiser Richard Hollingsworth felt it was definitely something that could be built on for the future. "There was quite a bit of demand after entries closed so I can see it growing next year or if we run it again later this year and just maybe there will be enough interest to have two ability-related classes next year".
In the two other adult classes it was the Spencer family from Derby who were doing the celebrating as Tom defeated Sheldon Davies, Sam Chapman and Adam Barber in the 'A' Final of the Support Class whilst elder brother James raced home from Danny Wright, David Chiles and Bailey Fellows in the Novice Class. Fellows was one of the unlucky riders on the day as his bike stopped in the final after he had won all five of his qualifying rides.
In the Youth 500 Class there was little between the Thompson twins from Leicester despite only being able to race on 500cc bikes for a week. Joe won three qualifying races and Dan two but it looked like Dan was going to claim the British title until he shed a chain on the very last corner of the final and handed the title to his brother. Harry McGurk wasn't far behind the twins when claiming third.
The Youth 250 Class saw another upset after Nathan Ablitt had won all five qualifying races. However, in the final Jake Mulford kept him at bay to claim victory with Jacob Clayton finishing third.
The Youth 125/150 class was split into two and in the Open Class it was Sam McGurk who went through the card whilst Luke Harrison and Max Perry finished second and third. In the Support Class there was another shock and upset for Ben Trigger from Plymouth. He'd never raced at a track other than Plymouth but won all five qualifying rides in a strong eight-rider field. He made a very poor start to be left trailing at the back in the final only but picked his way through the field to lead coming off the last lap before an engine failure caused his bike to slow abruptly and the other three chasing riders came past him. William Cairns, who had only been beaten by Trigger during qualifying claimed the title ahead of Finley Dimmock and Taya Thirtle.
After the meeting Hollingsworth declared the meeting a huge success. "It pretty much went like clockwork today. It's just a shame yesterday didn't happen. All the feedback was great. There are lessons to learn but I'm sure demand will be higher next year because we plan to run it before the season has properly got started. We will run the classes over 3 days next year because 75 races in a day is about right. Any more and you have to have two session and riders don't like starting racing too late and to be honest it becomes too long for everyone involved with organising it. A 4pm finish is great for everyone. Next year it will be 24th, 30th and 31st March although which classes run on which days hasn't been decided yet. We will advertise it better next year and open entries towards the end of this season.
With regards yesterday's classes we've tried so hard to reschedule the day soon but we just couldn't for one reason or another. It means it will be on August 19th and that is the Pro, Open, 160cc, Upright Open, Upright Support and Quad classes."
The next amateur meeting activity at Scunthorpe is the second round of the club's Summer Championship for speedway classes on Sunday May 20th followed by the non-speedway classes on Saturday May 26th.
The full list of Summer Championship dates are below and bookings/enquiries can be made by texting 07832-402167 (Richard Hollingsworth).
Speedway classes – Open, Support, Novice, Upright Open, Upright Support, 160cc, Youth 500, Youth 250, Youth 125/150 Open, Youth 125/150 Support and Quads – Sunday May 20th, Sunday July 1st, Sunday July 29th, Sunday September 2nd, Sunday October 7th
Non-speedway classes – Flat Track, Pit Bikes, Inappropriate Road Bikes, Junior One, Junior Two – Saturday 26th May, Saturday 30th June, Sunday 12th August, Saturday 1st September and Sunday 23rd September
Day One – Saturday 28th April
Unfortunately, the day was cancelled the night before because of a poor weather forecast. It proved to be a great decision and now the Pro Class, Open Class, 160cc Class, Upright Open Class, Upright Support Class and Quad Class will compete for the 2018 titles on Sunday August 19th
Day Two – Sunday 29th April
Support Class
Qualifying scores: Tom Spencer 14, Adam Barber 9, Sam Chapman 9, Chris Watts 8, Sheldon Davies 5 (4 rides), Kieran Taylor 1 (2 rides)
B Final: Davies, Watts, 67.9
A Final: Spencer, Davies, Chapman, Barber, 68.8
2018 British Amateur Champion: Tom Spencer
2nd Sheldon Davies
3rd Sam Chapman
Heat winning times: 10. Spencer awarded, 20. Davies 65.1, 26. Spencer awarded, 32. Spencer 66.1, 39. Chapman 67.3, 46. Chapman 68.1, 51. Barber 69.6, 59. Spencer 68.3
Novice Class
Qualifying scores: Bailey Fellows 15, James Spencer 13, Danny Wright 11, Daniel Woodward 10, David Chiles 9, Jacob Fellows 8, Kieran Southon 7, Dean Douglas 5, James Blackwell 3, Andy Coles 2 (4 rides), James Jessop 2 (3 rides), Tony Raybould 1 (2 rides)
C Final: Douglas, Southon, Blackwell, 77.5
B Final: Chiles, J. Fellows, Woodward, Douglas, 73.1
A Final: Spencer, Wright, Chiles, B. Fellows (ret), 70.7
2018 British Amateur Champion: James Spencer
2nd Danny Wright
3rd David Chiles
Heat winning times: 1. Blackwell 77.4, 2. B. Fellows 74.1, 3. Chiles 80.3, 8. Woodward 79.0, 13. B. Fellows 74.3, 18. B. Fellows 70.8, 23. Spencer 71.4, 28. Spencer 74.6, 33. J. Fellows 70.9, 37. Douglas 72.0, 41. Woodward 74.6, 45. B. Fellows 69.4, 49. Wright 78.1, 53. Spencer 74.3, 57. B. Fellows 69.2
Formula 2 Class
Qualifying scores: Sheldon Davies 12, Jack Parkinson-Blackburn 11 (4 rides), Odgie Danaan 9, Jamie Swales 7, Aaron Tuttlebee 6, Jeff Robinson 2 (4 rides)
A Final: Swales, Davies, Tuttlebee, Danaan (ret), 70.4
2018 British Amateur Champion: Jamie Swales
2nd Sheldon Davies
3rd Aaron Tuttlebee
Heat winning times: 9. Parkinson-Blackburn 73.2, 16. Davies 68.1, 21. Swales awarded, 29. Parkinson-Blackburn 66.3, 34. Davies 69.7, 44. Davies 68.9, 50. Parkinson-Blackburn awarded, 58. Davies 72.6
Youth 500 Class
Qualifying scores: Joe Thompson 13, Dan Thompson 12, Harry McGurk 5
A Final: J. Thompson, D. Thompson, McGurk, 67.0
2018 British Amateur Champion: Joe Thompson
2nd Dan Thompson
3rd Harry McGurk
Heat winning times: 15. D. Thompson 62.4, 27. D. Thompson 63.4, 40. J. Thompson 65.5, 54. J. Thompson 66.7, 61. J. Thompson 65.6
Youth 250 Class
Qualifying scores: Nathan Ablitt 15, Jake Mulford 8, Jacob Clayton 7
A Final: Mulford, Ablitt, Clayton, 67.4
2018 British Amateur Champion: Jake Mulford
2nd Nathan Ablitt
3rd Jacob Clayton
Heat winning times (all Ablitt): 14. 64.7, 22. 63.9, 35. 65.6, 52. 66.5, 60. 67.1
Youth 125/150 Open Class
Qualifying scores: Sam McGurk 15, Luke Harrison 14, Max Perry 10, Gregor Millar 7, Max James 5, Callum Gill 2 ( 3 rides)
B Final: Millar, James, 70.3
A Final: McGurk, Harrison, Perry, Millar, 67.3
2018 British Amateur Champion: Sam McGurk
2nd Luke Harrison
3rd Max Perry
Heat winning times: 6. Harrison 72.3, 7. McGurk 72.4, 12. Harrison 70.2, 19. McGurk 67.6, 25. McGurk 67.4, 31. Harrison 68.4, 38. McGurk 68.4, 43. McGurk 68.1, 56. Harrison 68.3
Youth 125/150 Support Class
Qualifying scores: Ben Trigger 15, William Cairns 12, Finley Dimmock 8, Libby McConnell 8, Maddy Fellows 6, Taya Thirtle 6, Caydin Martin 3, Brandon Wroblewski 2
C Final: Wroblewski, Caydin (fell), 80.4
B Final: Thirtle, McConnell, Wroblewski, M. Fellows (excluded), 77.8
A Final: Cairns, Dimmock, Thirtle, Trigger (ret), 78.3
2018 British Amateur Champion: William Cairns
2nd Finley Dimmock
3rd Taya Thirtle
Heat winning times: 4. Trigger 75.9, 5. Fellows 87.9, 11. Trigger awarded, 17. Cairns 80.0 24. Trigger 72.6, 30. Dimmock 80.5, 36. Trigger 71.9, 42. McConnell 81.2, 47. Trigger 73.0, 55. Cairns 79.4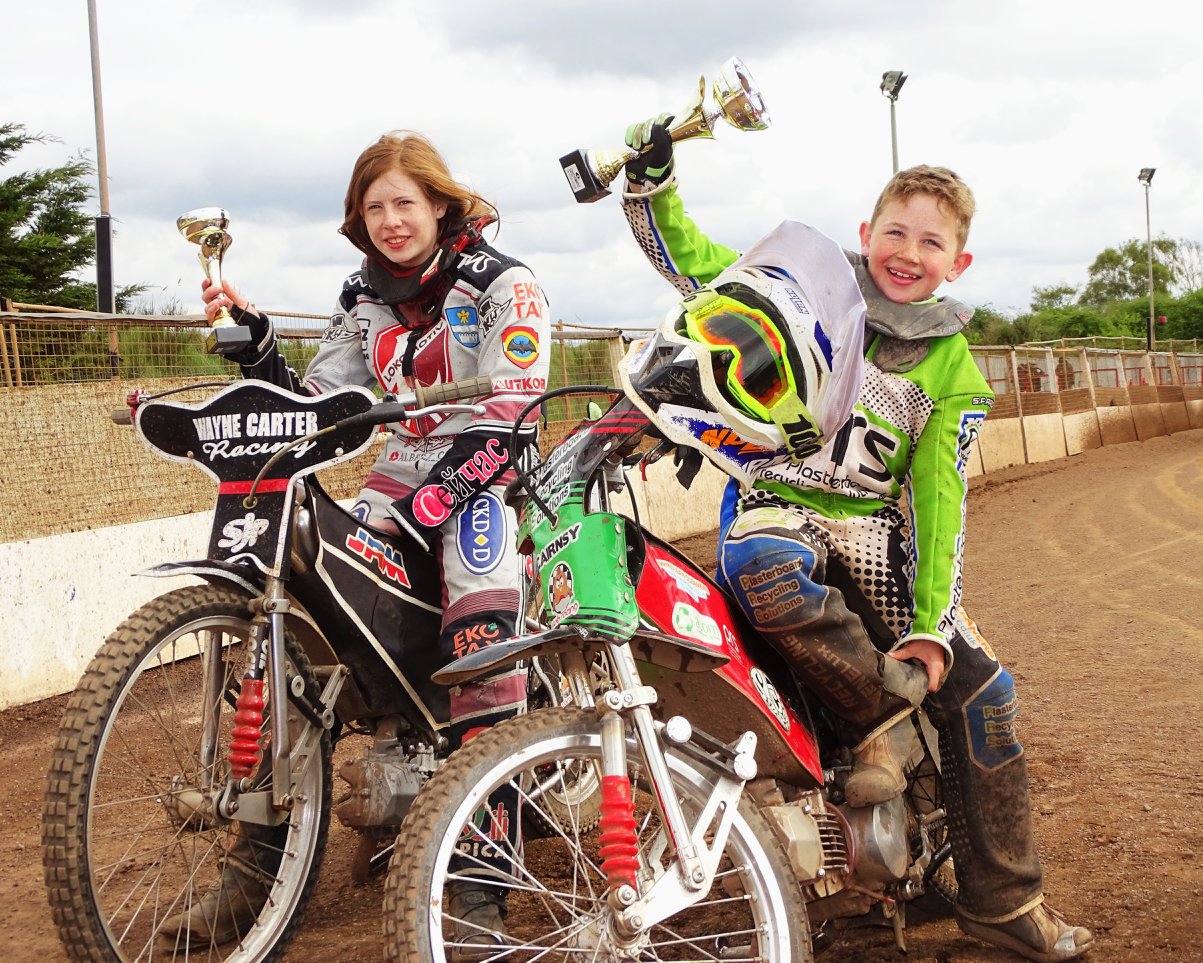 Taya Thirtle and William Cairns
After a washed out first day of the British Amateur Championships at Scunthorpe Speedway's Eddie Wright Raceway the second day saw seven British Champions crowned. The three adult classes were won by Jamie Swales (Formula 2), Tom Spencer (Support Class) and James Spencer (Novice Class) whilst the four youth titles were claimed by Joe Thompson (500cc), Jake Mulford (250cc), Sam McGurk (125/150cc) and William Cairns (125/150cc Support Class).
Related Posts By Category