Scorpions destroy Bears in league opener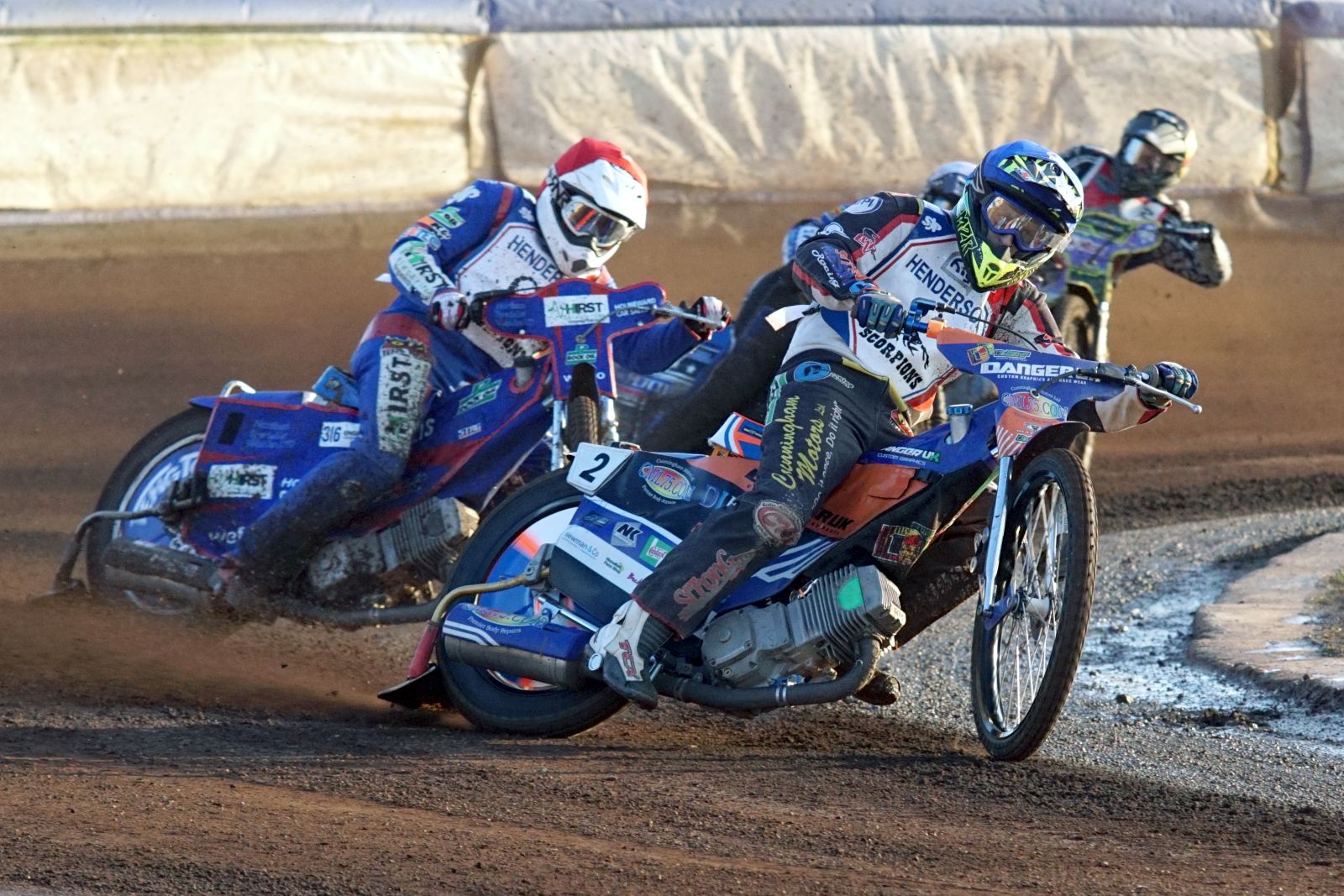 SCUNTHORPE SCORPIONS 65 REDCAR BEARS 25 (CHAMPIONSHIP)
HENDERSON INSURANCE Scunthorpe Scorpions got their league fixtures off to the perfect start, with a 65-25 destruction of Redcar Bears in the Championship at the Eddie Wright Raceway last night (Friday).
The result equals Scunthorpe's biggest-ever league victory at the Eddie Wright Raceway in second-tier league competition – as Scorpions also defeated Redcar by 65-25 back in 2011.
You have to go way, way back to 1983 for a larger league victory for Scunthorpe at this level – at the town's previous venue of Ashby Ville, when Scunthorpe defeated Edinburgh in 68-21 in 1983.
Last night, Scorpions simply tore into the opposition from the off, with Scorpions charging into a 28-8 lead after six races.
Despite the lop-sided scoreline, there was some excellent racing on offer, as Scorpions came from behind time-and-time again, including a thrilling Heat 9 which saw both Jake Allen and Josh Auty miss the start, but come through for a 5-1 in exciting fashion, with Allen racing from fourth to first within the length of a single straight!
Both Stefan Nielsen (16+2) and Jason Garrity (14+1) raced to paid maximums, and these two men combined to score a 5-1 over Ben Barker in a closely-fought and exciting Heat 13, a race worth the admission money alone.
Nielsen achieved his six-ride paid maximum, despite riding with bumps and bruises sustained in a heavy crash at Redcar the previous night.
Allen (16+1), Auty (10+3) and Gino Manzares (8+2) were also on top form, all unbeaten except race one apiece, while Danny Phillips was in the thick of the action and deserved more than one point for his efforts.
Nielsen said: "It was great and slightly unexpected to get a maximum. I just wanted to stay out of trouble, after my fall at Redcar the previous night. That left me a bit sore and bruised, while it wrote off my crash helmet, so I've had to borrow one from Jake Allen.
"I still feel battered and bruised, but there's nothing I can do about that, so I just kept on plugging away. I had to ride tonight, because we're already missing one rider, with Steve Worrall out injured.
"It is my second maximum of the season at Scunthorpe, but this one does feel a lot more accomplished, because I had to go out in Heat 13 and Heat 15 to achieve it. Nobody could say this wasn't a proper paid maximum!
"When the team are going as well as they did tonight, there's no guarantee that you'll be given those extra rides, so it was nice to be given that opportunity. It's good to go into those races and show that I can also mix it with the top riders.
"We were riding as a team, and that certainly happened in those races. Both Jason Garrity in Heat 13 and Jake Allen in Heat 15 combined with me and made sure we took the 5-1s.
"It was a really good team performance. We scored 65 tonight, while I think an ever bigger performance was scoring 54 on an away track (at Redcar). It's given us all a boost and we can take that forward into next week's meeting at Scunthorpe against Newcastle, where we can claim a place in the final stages of the Championship Shield."
SCUNTHORPE 65: Stefan Nielsen 16+2 (Paid maximum), Jake Allen 16+1, Jason Garrity 14+1 (Paid maximum), Josh Auty 10+3, Gino Manzares 8+2, Danny Phillips 1, Steve Worrall r/r
REDCAR 25: Tobias Busch 6, Mikkel B Andersen 5+1, Jonas B Andersen 5, Ben Barker 4+1, Theo Pijper 3, Jordan Stewart 1, Matej Kus 1
PHOTO: Stefan Nielsen and Josh Auty take a 5-1 from the opening race.
Related Posts By Category