The big match: Scorpions v Diamonds preview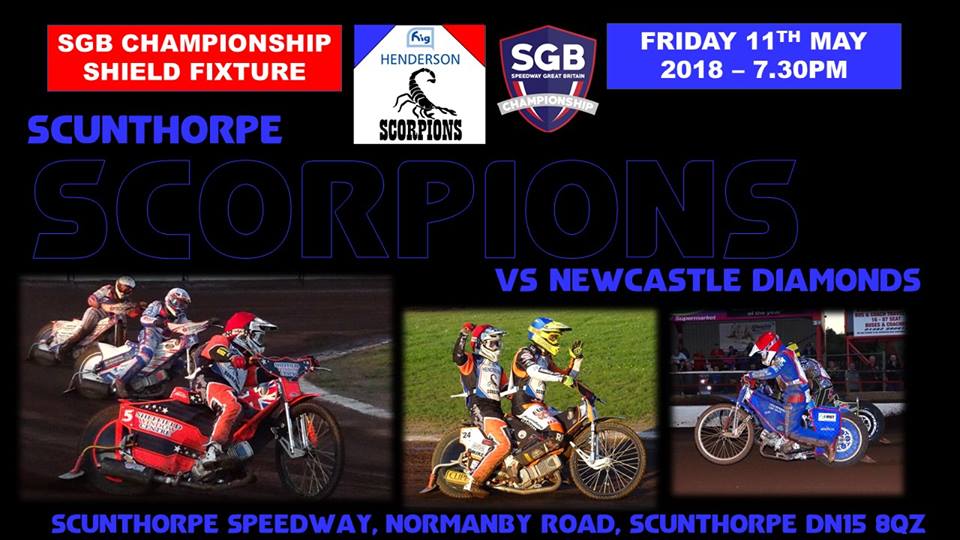 SCORPIONS' SECRET WEAPON!
HENDERSON INSURANCE Scunthorpe Scorpions need to take victory against the Newcastle Diamonds at the Eddie Wright Raceway this evening (Friday, 7.30pm) to top their group of the Championship Shield and qualify for the semi-finals of the competition.
In a key clash, a win for Scorpions would leave them on 14 points, one more than Sheffield on 13. Anything over than a victory and Scunthorpe would crash out of the competition.
Both Stefan Nielsen and Jake Allen have taken knocks during the week, but both are due to line-up for Scorpions tonight.
Scunthorpe will again utilise rider replacement for the injured skipper Steve Worrall – who will also be team manager for Scorpions against Diamonds!
Rob Godfrey explains: "It's all come about because the meeting against the Diamonds is a re-arranged fixture.
"There's actually a change of team manager on both sides, since Roy Clarke also comes in for Newcastle.
"Dave Peet would normally be at the helm for us and George English usually takes charge of the Diamonds, but the pair of them are out in Poland this weekend to watch the first Grand Prix of the season in Warsaw tomorrow.
"On the original fixture list, tonight was a free date for both teams but with the fixture being washed away by the terrible early season weather, this is the first opportunity we've had to restage it – by which time, both Dave and George had already booked up for their Polish expeditions.
"I couldn't think of a better temporary replacement for Dave than Steve Worrall. If anyone can help stand-in skipper Jason Garrity fire up the boys for this key fixture, it'll be Steve.
"At the same time, Steve will have to learn quickly when it comes to the team tactics, and who takes his rider replacement rides. That'll be a whole new side for him, but Steve is so motivated for Scunthorpe to have a successful season this year and he will pass that onto the rest of the side.
"I think he will be something of a secret weapon for us!"
Godfrey refuses to under-estimate Diamonds, despite Scorpions' run-away 65-25 victory over Redcar at the Eddie Wright Raceway last Friday.
He says: "It's not going to be easy, because you look at the Newcastle side and it is something of an 'Ex-Scunthorpe Select'.
"Newcastle have called in David Howe from Berwick as a guest for Lewis Rose and David has probably done as many laps around this place as anyone. The same can be said for Carl Wilkinson, whilst Tero Aarnio and Ashley Morris also know their way around the Eddie Wright Raceway.
"So, we need to be on our guard and make sure we ride to our capabilities to ensure we get the three points we need to go through to the semis. It's a must-win fixture and I'm sure the fans will get behind us."
Jason Garrity won the British Semi-Final at Sheffield last night with a superb 15-point maximum, maintaining his brilliant start to the season.
Josh Auty finished third on 12 points and also comfortably qualified for the British Final at Belle Vue on June 11.
Stefan Nielsen just missed out on 7 points, but qualified as reserve and will step in should any of the eight riders above him be unlucky enough to get injured in the lead-up to the final.
Admission prices for tonight:
Adult: £16.00
Student/OAP: £14.00
Child (10 – 17): £5.00
Child (0 – 9) Free (accompanied by paying adult)
Family Ticket £37 (2 adults, 2 Children 10-17)
Match Programme: £1.00
Expected teams for tonight:
Henderson Insurance Scunthorpe Scorpions: 1. Rider replacement for Steve Worrall, 2. Stefan Nielsen, 3. Josh Auty, 4. Jake Allen, 5. Jason Garrity (captain), 6. Danny Phillips, 7. Gino Manzares.
Newcastle Diamonds: 1. Ludvig Lindgren, 2. Dany Gappmaier (guest), 3. David Howe (guest), 4. Matthew Wethers, 5. Tero Aarnio, 6. Carl Wilkinson, 7. Ashley Morris.
Related Posts By Category