Children's night at EWR on May 25th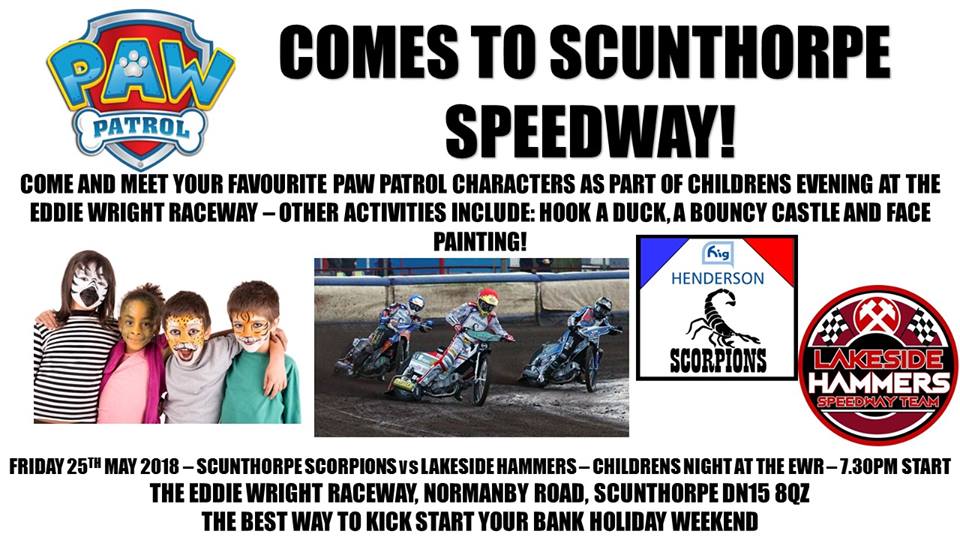 HENDERSON INSURANCE Scunthorpe Scorpions will be putting on a number of extra activities for younger supporters for their home clash against Lakeside Hammers at the Eddie Wright Raceway on Friday, May 25th.

The meeting takes place on the beginning of the Bank Holiday weekend, and planned activities include:
* Hook-a-duck
* Bouncy castle
* Face-painting
* Characters from Paw Patrol
Scunthorpe promoter Rob Godfrey says: "The younger fans are the future of speedway, and the sport has a lot to offer them. It's about the most exciting sport out there to watch – it's high-octane, exciting and anything can happen.
"Speedway also has a proud family tradition, where everyone can mingle together on the terraces.
"But it's all about getting the families through the turnstiles in the first place. That's why we're having a special night at the speedway, when the kids will have lots of fun things to do.
"We've done this for the stock cars at Scunthorpe and it's been a big hit, and I thought it was time we did it for the speedway.
"There will be plenty for the kids to do, while it will be a cracking start to the Bank Holiday weekend for families.
"We urge our supporters to spread the word to their friends, especially those with kids, who may be interested."
* HENDERSON INSURANCE Scunthorpe Scorpions entertain in-form Workington Comets at the Eddie Wright Raceway tomorrow (Friday, 7.30pm). Kyle Howarth comes in to replace the injured Steve Worrall.
Related Posts By Category