Scunthorpe Scorpions v Workington Comets preview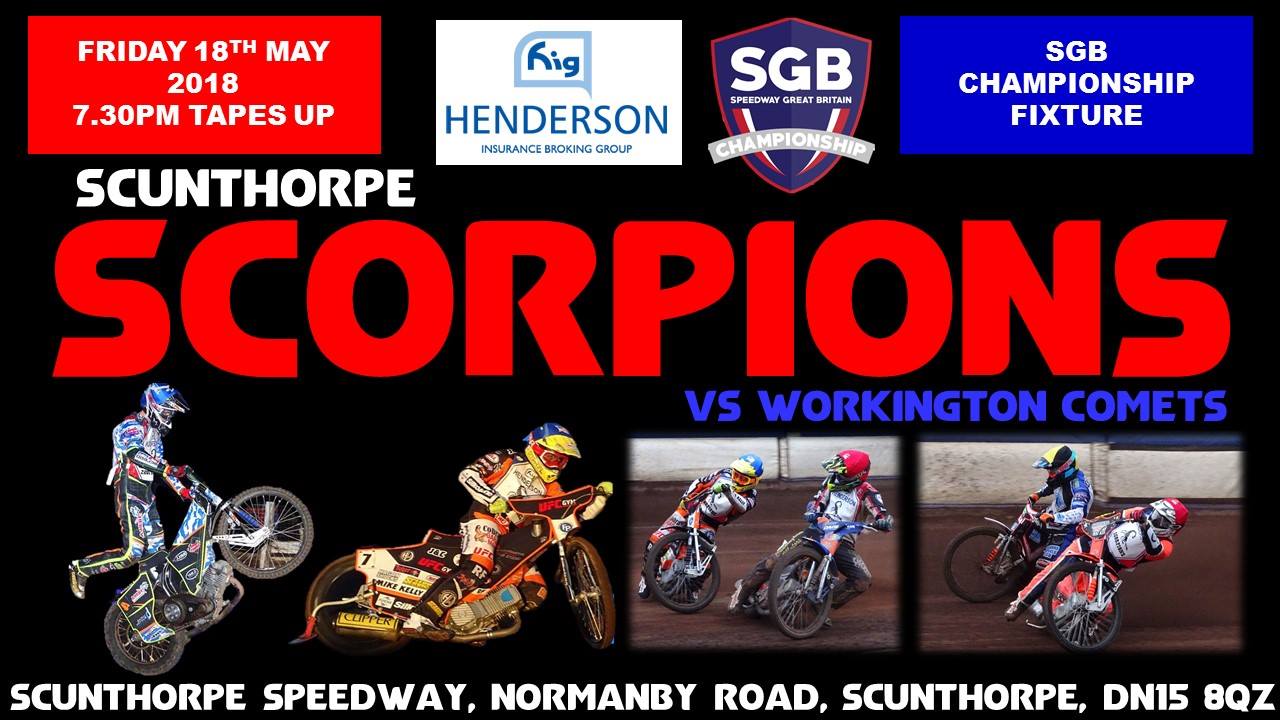 HENDERSON INSURANCE Scunthorpe Scorpions face their toughest test of the season, when they entertain bang-in-form Workington Comets in a league fixture at the Eddie Wright Raceway this evening (Friday, 7.30pm).
Workington amassed two massive away victories at Peterborough (57-33) and Glasgow (56-33) last weekend. Given that Scorpions have an 100% home record this season, something has to give on one of the two sides when they clash in what looks a mouth-watering meeting.
Kyle Howarth comes in a guest for Scorpions for injured skipper and No 1 Steve Worrall.
Scunthorpe promoter Rob Godfrey says: "It promises to be an absolute belter of a match, between two of the best teams in the league.
"I want to see good competitive meetings at the Eddie Wright Raceway, not one-speedway meetings, and it should be a very entertaining evening of speedway, and there's no doubt Workington will be a tough test.
"I still believe we'll be good enough to take care of Workington, despite them knocking up cricket scores at Peterborough and Glasgow last weekend.
"Rider replacement has served us very well the last couple of weeks, but I just have the feeling that if we had tried it against Workington, it may have worked against us.
"I'm thinking that we need a full seven-man team out this time, rather than using rider replacement. We can't afford to be dropping any league points at home and we need to put someone in there who can ride the track as good as Steve Worrall, which we know Kyle Howarth can."
Meanwhile, Godfrey has confirmed that the track will be totally different from last Friday, which saw a much slicker-than-usual surface.
He states: "I can promise the supporters that the track will be totally different to how it was last Friday.
"The wind was just too much for us to handle and took all the moisture out of the track, which unfortunately left us with very slick and dusty conditions as the match went on. I hate that and can only apologise to everyone.
"We had our motorway blade on the track last Sunday after the stock-cars on Saturday night and I'm confident we will have the circuit spot on again for some superb action against Workington."
Admission prices for tonight:
Adult: £16.00
Student/OAP: £14.00
Child (10 – 17): £5.00
Child (0 – 9) Free (accompanied by paying adult)
Family Ticket £37 (2 adults, 2 Children 10-17)
Match Programme: £1.00
Expected teams for tonight:
Henderson Insurance Scunthorpe Scorpions: 1. Kyle Howarth (guest), 2. Stefan Nielsen, 3. Josh Auty, 4. Jake Allen, 5. Jason Garrity (captain), 6. Danny Phillips, 7. Gino Manzares.
Workington Comets: 1. Rene Bach, 2. Rasmus Jensen, 3. Ty Proctor, 4. Nike Lunna, 5. Nicolai Klindt, 6. Kyle Bickley, 7. Tero Aarnio.
Related Posts By Category