Scorpions v Peterborough Panthers preview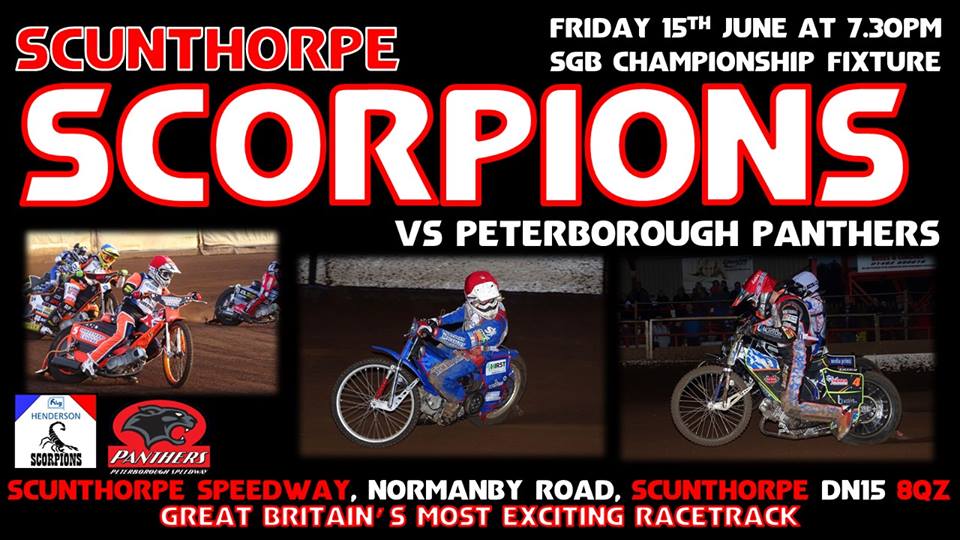 SILVERWARE-CHASING Henderson Insurance Scunthorpe Scorpions expect a stiff challenge from visitors Peterborough Panthers in what promises to be a complete humdinger of a league match at the Eddie Wright Raceway tomorrow (Friday, 7.30pm).
Scunthorpe No 1 and skipper Steve Worrall rode for the first time in over two months in the British Final at Belle Vue on Monday night, making his comeback from a broken leg.
While he did nothing to aggravate his leg, he was still forced to withdraw from the meeting after three outings.
Scunthorpe promoter Rob Godfrey explains: "In all three rides, Steve looked competitive, well in the mix and scored three points.
"But, as he admits himself, he does need more time to complete his recovery and get himself fit enough for a full-time return."
Rory Schlein comes in to replace Worrall against Peterborough, while Jordan Stewart rides for Gino Manzares and rider replacement will operate for Stefan Nielsen.
Godfrey says: "Peterborough's away form so far this season has been very good, so we need to be at the top of our game once more on Friday.
"Jake Allen, Jason Garrity and Josh Auty were truly outstanding last week against Newcastle, notching up a remarkable 37 points behind them.
"Hopefully, we can come out on the right side with another three league points to keep our unbeaten home run going and, more importantly, maintain our league position in the top half of the table, in the running for the all-important top four positions.
"It promises to be another Friday evening of outstanding speedway at the Eddie Wright Raceway", Godfrey concludes.
Admission prices for Friday:
Adult: £16.00
Student/OAP: £14.00
Child (10 – 17): £5.00
Child (0 – 9) Free (accompanied by paying adult)
Family Ticket £37 (2 adults, 2 Children 10-17)
Match Programme: £1.00
Expected teams for Friday:
Henderson Insurance Scunthorpe Scorpions: 1. Rory Schlein (guest), 2. Rider replacement for Stefan Nielsen, 3. Josh Auty, 4. Jake Allen, 5. Jason Garrity (captain), 6. Danny Phillips, 7. Jordan Stewart (guest).
Peterborough Panthers: 1. Scott Nicholls, 2. Ellis Perks, 3. Bradley Wilson-Dean, 4. Michael Palm Toft, 5. Ulrich Ostergaard, 6. Simon Lambert, 7. Tom Bacon.
Related Posts By Category