It's coming home to the Eddie Wright Raceway!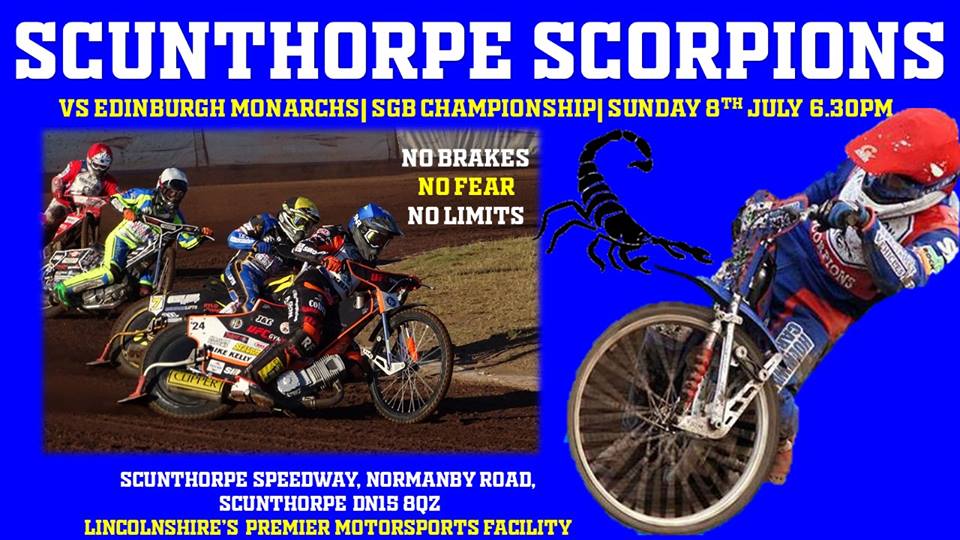 HENDERSON INSURANCE Scunthorpe Scorpions' boss Rob Godfrey believes his injury-hit side can show the same spirit by currently shown by the England football team to defeat Edinburgh Monarchs in a league fixture at the Eddie Wright Raceway this evening (Sunday, 6.30pm).

Scorpions are currently left with just three of three own riders, after both Jason Garrity and Danny Phillips crashed out during last week's two cup clashes with Sheffield. Despite those blows, Scunthorpe still won 95-85 on aggregate against the Tigers, although Scorpions then suffered a 38-52 defeat at Redcar on Thursday.
Garrity will require a couple of weeks off, after escaping a broken leg but slicing the top off his finger, while Phillips has to be out for a mandatory period of nine days after suffering concussion, which rules him out of today's clash.
Godfrey said: "Our lads demonstrated some tremendous spirit to defeat Sheffield at the Eddie Wright Raceway last week and get us through to the semi-finals of the cup.
"We've booked Rory Schlein as a guest again, after he scored a brilliant paid maximum in that meeting.
"Josh Auty, Jake Allen and Gino Manzares scored 31 (paid 34) between them against Sheffield, add in Rory's points and it becomes 45 (paid 49).
"We have those four back again this week, plus another very capable guest in Aaron Summers.
"It's not easy for us at the moment, with so many missing riders, but we can take inspiration from the England football team, who have shown with the right determination that anything is possible. We showed that kind of determination to dump out Sheffield out of the cup against all the odds, and we can use it to see off the Monarchs today.
"I'm expecting a cracking meeting. It's our first Sunday meeting of the year, and the weather looks absolutely superb again."
Admission prices for tonight:
Adult: £16.00
Student/OAP: £14.00
Child (10 – 17): £5.00
Child (0 – 9) Free (accompanied by paying adult)
Family Ticket £37 (2 adults, 2 Children 10-17)
Match Programme: £1.00
Expected teams for tonight:
Henderson Insurance Scunthorpe Scorpions: 1. Rory Schlein (guest), 2. Rider replacement for Stefan Nielsen, 3. Aaron Summers (guest), 4. Jake Allen, 5. Josh Auty, 6. David Wallinger (guest), 7. Gino Manzares.
Edinburgh Monarchs: 1. Ricky Wells, 2. Victor Palovaara, 3. Mark Riss, 4. Josh Pickering, 5. Erik Riss, 6. Max Ruml, 7. Joel Andersson.
Related Posts By Category