Precious point for Scorpions at Peterborough
Jul 13th, 2018
1194 Views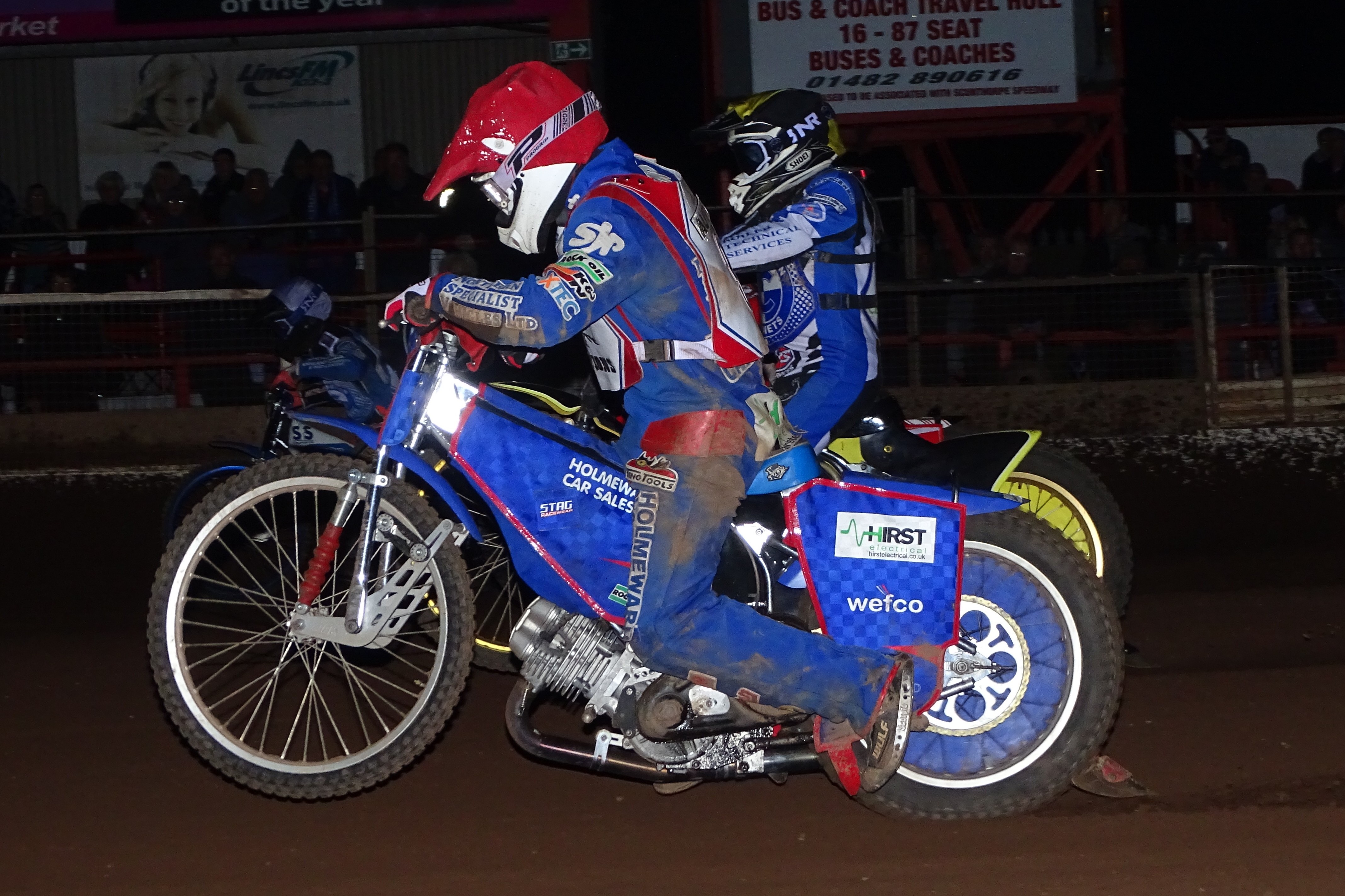 PETERBOROUGH PANTHERS 48 SCUNTHORPE SCORPIONS 42 (CHAMPIONSHIP)
HENDERSON INSURANCE Scunthorpe Scorpions gained a hard-earned league point at league leaders Peterborough Panthers last night (Friday), after returning skipper Steve Worrall just held off Bradley Wilson-Dean on the line in the final race, to leave Scorpions with a narrow 42-48 loss.
Josh Auty (14), Jake Allen (12+2) and guest Aaron Summers (9+2) were all in good form for Scorpions at the East Of England Showground.
On his return from a three-month injury lay-off, Worrall finished last in Heat 1, but improved as the meeting progressed, and ended with a highly creditable 6+3.
Peterborough raced into a 10-2 lead after two races, but Scorpions moved within two points after Heat 7, following a couple of 5-1s for Allen and Summers partnership.
Panthers moved back to 40-32 ahead, but Auty and Worrall took a key 5-1 from Heat 13, after the flying Auty produced a fine pass on home No 1 Scott Nicholls. Ulrich Ostergaard had crashed awkwardly at the first attempt to stage this race.
Panthers clinched the match with a 4-2 in Heat 14, and while Michael Palm Toft streaked clear in Heat 15, Auty and Worrall took the 3-3 that Scorpions required for a point, despite a late challenge from Wilson-Dean, who got level on the outside of Worrall on the final turn.
Speaking post-meeting, Worrall said: "I went into the meeting open minded – I wasn't expecting anything of myself. After such a long time out, it is hard to come back in and be competitive straight away.
"I had a slow start to the meeting, but I did settle down, find my feet and started pulling my weight.
"I did show in Heat 13 and Heat 15 that I could still do it. It doesn't go away, and physically I'm fine. But it's all about that mental block, of going up to the tapes alongside three other riders. It's a psychological thing and it's just about getting back into it.
"I didn't feel that fast in Heat 15 – I think I might have gone the wrong way with the set-up. But we did the damage in the first turn, and then I managed to keep Bradley Wilson-Dean behind, which sealed us a point.
"I need to catch up on the other riders, because I've missed half the season. It's good that I'm busy over the next few days, with another meeting for Scunthorpe at Berwick and then I'm riding for Belle Vue on Monday. It's enough to progress me and help me get back to where I want to be.
"We came here still with injuries, using rider replacement and with myself coming from a long-term injury. To get a point is a good result and I'm really pleased with the team performance. I feel it is only going to get better and better for us, as the rest of the team come back."
PETERBOROUGH 48: Michael Palm Toft 12+1, Scott Nicholls 8, Tom Bacon 7+1, Simon Lambert 6+2, Bradley Wilson-Dean 6, Ulrich Ostergaard 6, Emil Grondal 3+1.
SCUNTHORPE 42: Josh Auty 14, Jake Allen 12+2, Aaron Summers 9+2, Steve Worrall 6+3, Danny Phillips 1, Gino Manzares 0, Stefan Nielsen r/r.
* HENDERSON INSURANCE Scunthorpe Scorpions travel to Berwick tonight (Saturday), with Nico Covatti stepping in to guest for Jason Garrity, while Scorpions will again use rider replacement for Stefan Nielsen.
Related Posts By Category