Scorpions ready for the big one!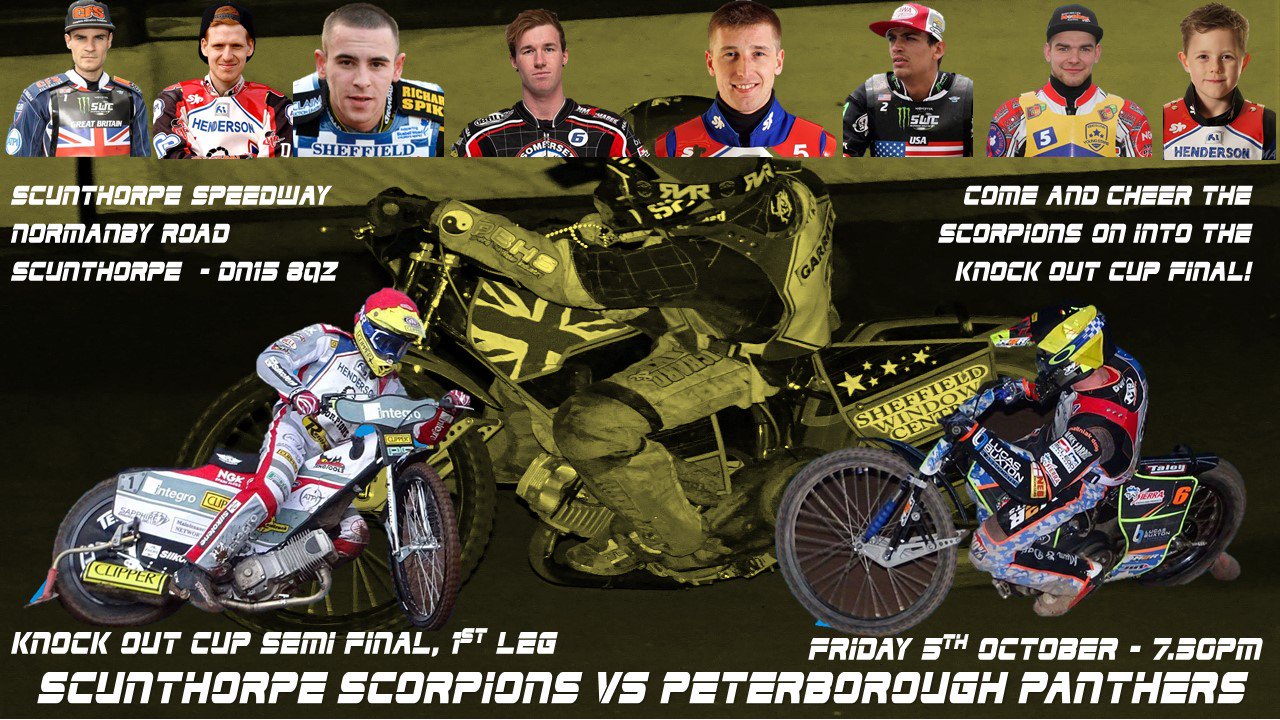 THE 2018 Henderson Insurance Scunthorpe Scorpions are looking to create their own slice of club history, when they entertain Peterborough Panthers in the first leg of their SGB Championship Knockout Cup semi-final at Eddie Wright Raceway on Friday evening (7.30pm).
Although Scorpions won the Premier League in 2012, success at second-tier level in the cup has eluded them, and they have never before reached the final.
Scunthorpe have only reached the semi-finals once before in 24 attempts, in 2009. On that occasion, they were defeated by the eventual winners, King's Lynn Stars.
It should be pointed out that Scorpions have twice won a Knockout Cup competition, but that was the Conference League KO Cup in 2006 and 2007, the third-tier competition.
Scorpions have been hit by the blow that Josh Auty has been ruled out for the rest of the season with an ankle injury, and Sheffield's Kyle Howarth will replace him against Panthers. Ironically, Auty had won the right to ride at No 1 in October, moving to the top of Scorpions' figures due to his season-long excellence.
The aggregate winners of the two legs at Scunthorpe on Friday (October 5) and Peterborough (Saturday, October 13) will face Workington Comets in the final.
Scunthorpe promoter Rob Godfrey said: "Our season has not gone anywhere near to according to plan, with the injuries that have decimated the team, but we have one last chance of salvaging something by winning the cup.
"We've first got to win the semi-final, and Peterborough have beaten us twice so far this season. But injuries in both camps mean the two teams being put out on Friday will be quite different to those that were on track for the league matches, so those results count for very little.
"It starts from all square in Heat 1, and then it's a race to 91 points over the two legs.
"Panthers have booked some highly capable guests on Friday and it will be a tough meeting for us but, fingers crossed, we can both win the meeting and get enough of a lead to give us a fighting chance down at Peterborough a week on Saturday (October 13) in the second leg. We'd love to get the chance of tackling Workington in the final.
"I urge our fans to come along to the Eddie Wright Raceway on Friday and get behind the lads, because their support really can make a difference, especially in a big meeting such as this one.
"It's the semi-final of the cup, it's a big meeting, and we hope we'll have an even bigger one at the Eddie Wright Raceway with the final of the competition. It's within our hands."
Admission prices on Friday:
Adult: £16.00
Student/OAP: £14.00
Child (10 – 17): £5.00
Child (0 – 9) Free (accompanied by paying adult)
Family Ticket £37 (2 adults, 2 Children 10-17)
Match Programme: £1.00
Expected teams for Friday:
Henderson Insurance Scunthorpe Scorpions: 1. Kyle Howarth (guest), 2. Stefan Nielsen, 3. Jason Garrity, 4. Jake Allen, 5. Steve Worrall (captain), 6. Danny Phillips, 7. Gino Manzares.
Peterborough Panthers: 1. Tero Aarnio (guest), 2. Rider replacement for Emil Grondal, 3. Theo Pijper (guest), 4. Ulrich Ostergaard, 5. Michael Palm Toft, 6. Simon Lambert, 7. Drew Kemp (guest).
Related Posts By Category