Tai Woffinden creates history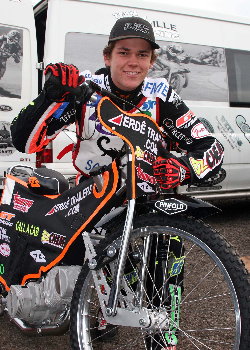 SCUNTHORPE-BORN Tai Woffinden has become the first-ever British Speedway rider to win three World Championships, after wrapping up victory in 2018 with first place in the Polish Grand Prix at Torun on Saturday night.
It wasn't all plain-sailing and Woffinden suffered a heavy fall in Heat 11, sustaining a suspected broken metatarsal.
At one stage, championship rival Bartosz Zmarzlik reduced the deficit to just three points. But Woffinden rallied with a superb victory in Heat 20, and then clinched the title by finishing second in his semi-final, while keeping Zmarzlik behind him.
Woffinden was born in Scunthorpe in 1990, before parents Rob and Sue took him over to Australia for his upbringing. He returned to Britain, and started his professional speedway career with Scunthorpe Scorpions, winning the Conference League and a myriad of other honours in 2006 and 2007.
He later rode for Rye House and Wolverhampton, and these days competes in the Polish and Swedish leagues, as well as his international commitments. His previous World Championships came in 2013 and 2015.
Scunthorpe promoter Rob Godfrey said: "I'm completely delighted for Tai. We've already had so much interest in his victory, which is extremely nice, but I think it's worth pointing out that this is Tai's achievement, not ours. Any congratulations should go to him, rather than us.
"Tai has won due to his determination and hard work. It's down to him and his mechanics and his support team.
"We are very proud that a lad born in this town has gone on to become the first British Speedway rider to become a triple World Champion. It shows that anything is possible, if you make the sacrifices and have the drive and the determination.
"I'm also so happy for his family – quite a few of the Woffinden family come to the Eddie Wright Raceway, although understandably many of them were in Poland this weekend, rather than watching our Knockout Cup victory over Peterborough on Friday evening!
"I know how proud Tai's mum, Sue, will be of him, and there's no doubt that his dad, Rob, will be looking down with a smile. Rob – who himself spent much of his career riding for Scunthorpe – was instrumental in Tai's early success in speedway, before he sadly lost his battle with cancer (in 2010). Rob would be delighted with everything that Tai has achieved.
"It's such a 'good news' story for the town of Scunthorpe and, quite rightly, Tai is a local hero and inspiration."
POLISH FIM SPEEDWAY GRAND PRIX, Torun
Tai Woffinden 15 (1st), Artem Laguta 20 (2nd), Emil Sayfutdinov 11 (3rd), Niels-Kristian Iversen 10 (4th), Bartosz Zmarzlik 15, Fredrik Lindgren 11, Greg Hancock 9, Martin Vaculik 8, Jason Doyle 7, Nicki Pedersen 7, Matej Zagar 6, Maciej Janowski 6, Chris Holder 5, Vaclav Milik 5, Daniel Kaczmarek 2, Przemyslaw Pawlicki 1, Igor Kopec-Sobczynski 0.
FINAL WORLD CHAMPIONSHIP STANDINGS (After round 10 of 10)
Tai Woffinden 139, Bartosz Zmarzlik 129, Fredrik Lindgren 109, Maciej Janowski 104, Greg Hancock 102, Artem Laguta 97, Jason Doyle 93, Emil Sayfutdinov 89, Patryk Dudek 84, Matej Zagar 79, Nicki Pedersen 74, Chris Holder 65, Martin Vaculik 52, Przemyslaw Pawlicki 36, Niels-Kristian Iversen 36, Craig Cook 30, Vaclav Milik 11, Szymon Wozniak 8, Krzysztof Kasprzak 7, Andreas Jonsson 7, Peter Ljung 5, Michael Jepsen Jensen 4, Oliver Berntzon 3, Kevin Wolbert 3, Maksym Drabik 2, Bartosz Smektala 2, Kai Huckenbeck 2, Daniel Kaczmarek 2, Mikkel Michelsen 1, Robert Lambert 1, Joel Kling 1, Martin Smolinski 1, Dan Bewley 0, Matic Ivacic 0, Nick Skorja 0, Igor Kopec-Sobczynski 0.
Related Posts By Category