Cup Final report: 18-point lead for Super Scorpions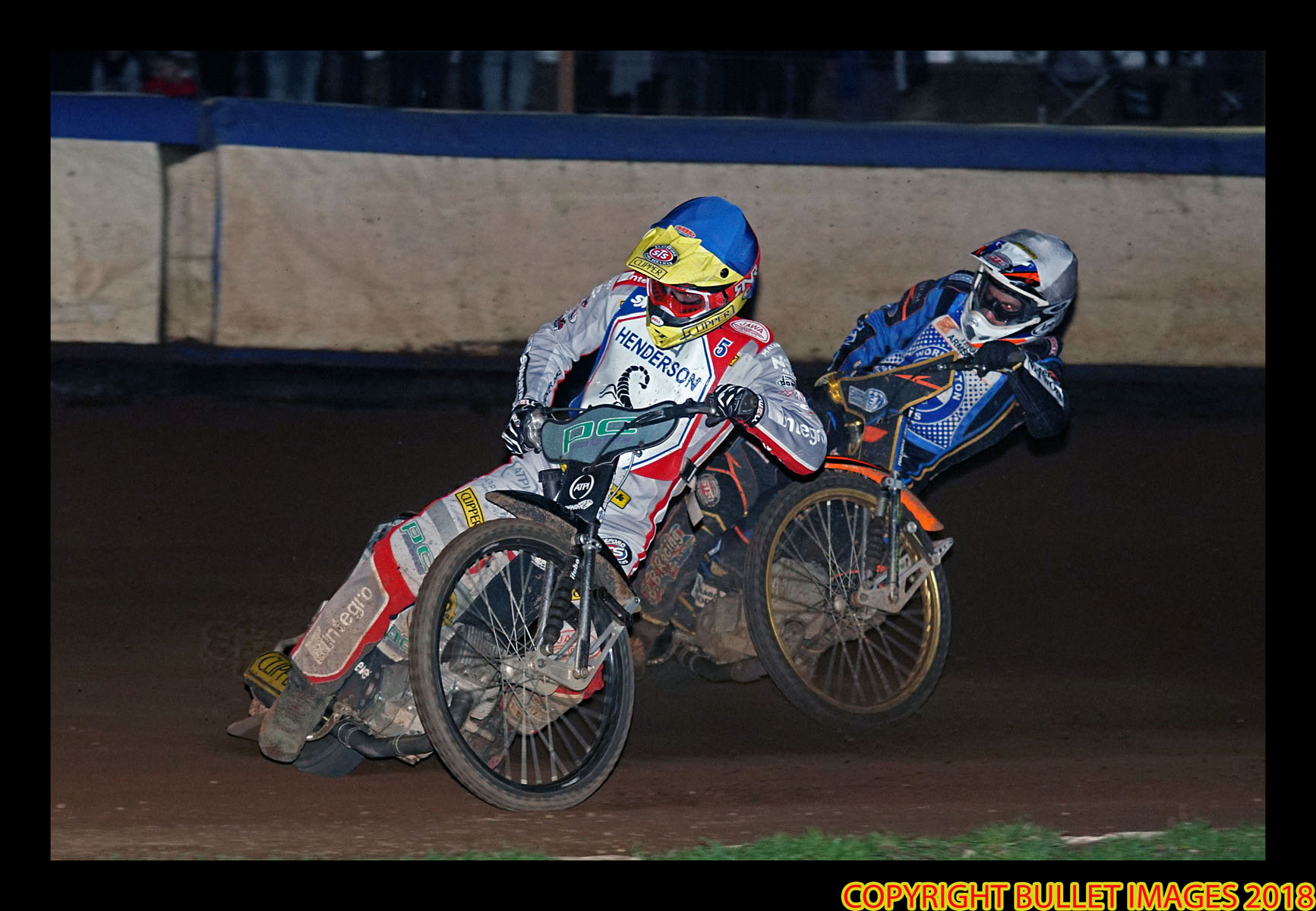 SCUNTHORPE SCORPIONS 54 WORKINGTON COMETS 36 (CHAMPIONSHIP KNOCKOUT CUP, FINAL, first leg)
HENDERSON INSURANCE Scunthorpe Scorpions have given themselves an excellent chance of lifting the 2018 SGB Championship Knockout Cup, after a superb 54-36 victory over powerful Workington Comets in the first leg of the final at the Eddie Wright Raceway yesterday evening (Sunday).
No-one at the club is taking anything for granted, with 15 heats still remaining at Workington's Derwent Park on Thursday. But Scorpions' riders did themselves proud last night, and with another professional and committed performance on Thursday, the silverware could be secured.
In front of a bumper crowd for the Cup final, there was terrific racing right from the off, with two tremendous scraps going on in Heat 1. Guest Ricky Wells eventually saw off Paul Starke to win the race, while a battling Stefan Nielsen made a late pass on Rene Bach to take third.
Scorpions took a 18-12 lead, with two early 5-1s from the Jason Garrity and Jake Allen pairing.
Workington also battled for every point, and they closed to back within four points after seven races.
But, crucially, Scorpions then took two back-to-back 5-1s. Firstly, a charging Nielsen came through to join Gino Manzares for a maximum heat advantage in Heat 8. And then a never-say-die effort from Garrity from Heat 9 saw him round Bach on the final lap of Heat 9, as he and Allen took their third 5-1 as a pairing.
Rasmus Jensen was Workington's most impressive rider, and he won a battle with Nielsen in Heat 10.
Skipper Steve Worrall won Heat 11, while Manzares almost defeated Comets' No 1 Bach, leading him for three laps and then just missing out in a frantic finish to the Dane. Nevertheless, the 4-2 stretched Scorpions' lead to 14 points.
Heat 12 was all action. Manzares led, while Garrity chased Mason Campton. Garrity found a way inside Campton, and Scorpions briefly held a 5-1. But Campton spotted a gap with a lap remaining and shot through to take a hard-fought race win.
Wells and Worrall took Scunthorpe's fifth 5-1 of the evening in Heat 13, with Worrall fighting past Bach on the second lap.
Comets threatened to hit back with a 5-1 of their own in Heat 14, but Allen thrust around Campton on the final lap to restrict them to a 4-2.
Worrall passed Jensen on the opening lap of Heat 15, while Garrity also made an early move on Campton, as Scorpions finished with a 4-2 and ended with an 18-point advantage.
Worrall top scored with 12+1, with Garrity (11+1), Allen (9+2) and Wells (9+1) also paid for double figures. Both Nielsen (7+1) and Manzares (6+2) were also right in the thick of the action.
For Comets, Jensen and Campton scored 23 out of their 36 points.
Jason Garrity said: "I'm happy with the performance that we put in – it's certainly nice to go to Workington with an 18-point lead.
"I had a good night, and only got beaten a couple of times by their riders, although I'd prefer not to be beaten at all!
"It was good to take the three 5-1s with Jake Allen. We both have respect for each other and both look out for each other, and that gets us heat advantages.
"We know we've got to go to Workington and keep scoring and keep the momentum going. We can go well around there, and we know what we need to do.
"It's going to be tough, because they'll be coming at us, but likewise we've got to go out there and nail our races.
"We're 18 points up, so let's go there and do the job and win the Cup."
SCUNTHORPE 54: Steve Worrall 12+1, Jason Garrity 11+1, Jake Allen 9+2, Ricky Wells 9+1, Stefan Nielsen 7+1, Gino Manzares 6+2, Danny Phillips 0.
WORKINGTON 36: Rasmus Jensen 15, Mason Campton 8, Rene Bach 5, Nicolai Klindt 4, Paul Starke 3, Kyle Bickley 1, Ty Proctor r/r.
* HENDERSON INSURANCE Scunthorpe Scorpions have booked ex-Scorpion Thomas Jorgensen as their guest in place of the injured Josh Auty for the second leg of the Cup final at Workington's Derwent Park on Thursday.
* YOUNGSTER Sam McGurk successfully defended his British 125cc Championship title in the second half last night.
PHOTO: Steve Worrall leads Rene Bach in Heat 11.
Related Posts By Category