Scorpions second best to rampant Comets
Oct 25th, 2018
1566 Views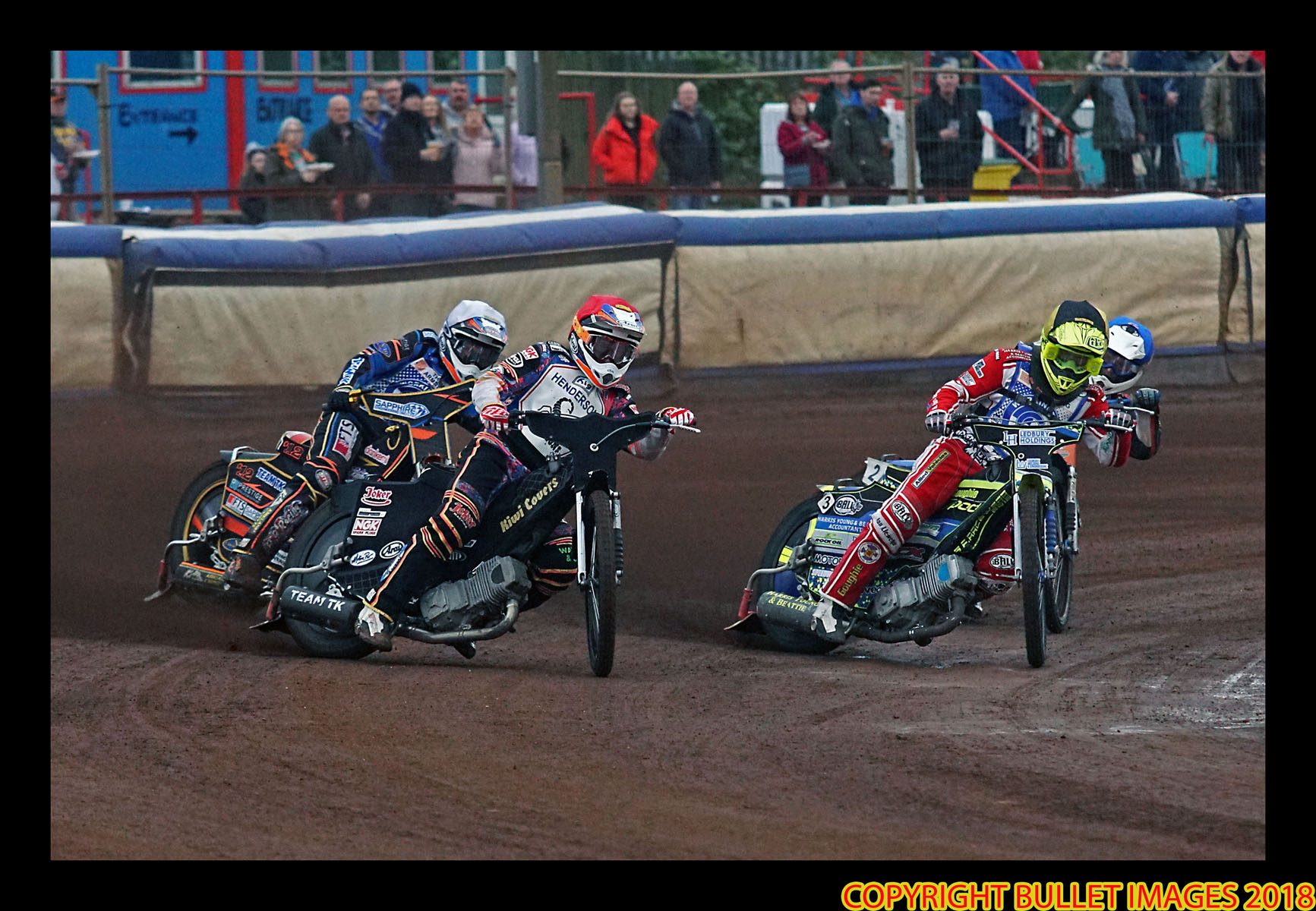 WORKINGTON COMETS 62 SCUNTHORPE SCORPIONS 28 (CHAMPIONSHIP KNOCKOUT CUP, FINAL, second leg)
Workington win 98-82 on aggregate
HENDERSON INSURANCE Scunthorpe Scorpions' dreams of winning the Knockout Cup at second tier level for the first time in their history bite the dust with a heavy defeat in the second leg of the final at Workington's Derwent Park last night (Thursday), with Jason Garrity forced to withdraw mid-meeting through injury.
Workington Comets, who could complete a clean-sweep of the major honours at Championship level, won 62-28 on the evening and 98-82 on aggregate, after a devastating performance.
Scorpions simply lost to the better team, and were up against it from the off, as Comets scored five heat advantages from the opening six races.
The exception was Heat 3, when Jake Allen and Jason Garrity took a 4-2, with some of the Scorpions' fans stood opposite to the starting tapes convinced it was actually a 5-1, as Garrity appeared to just hold off a late run from Rasmus Jensen.
Comets levelled with aggregate scores with a 5-1 in Heat 8, with the score on the night standing at 33-15.
A 4-2 for Comets followed in Heat 9, and then came the hammer blow for Scorpions when Jason Garrity crashed out after all four riders got too close on the opening bend of Heat 10. Garrity suffered an injury to his shoulder blade, while Scorpions was forced to carry on with injury rider replacement in his place.
Scorpions stayed just two points behind on aggregate with 3-3s in Heat 10 and 11, with Stefan Nielsen's earlier whole-hearted efforts finally rewarded with a heat win in the latter race, ruining the maximum of Nicolai Klindt.
Allen and Gino Manzares battled hard in Heat 12, but found themselves on the wrong side of a 4-2.
Comets were almost home after a 5-1 in Heat 13, and then were confirmed as cup winners after a further maximum in Heat 14, despite Allen's determined pursuit of Mason Campton.
A third successive 5-1 in Heat 15 left Workington with a 16-point margin on aggregate.
Stefan Nielsen said: "It was a tough night. Workington are a great team, especially around their own track, and they simply out-did us.
"I wanted a big ride in Heat 1, but it didn't work out for me, and the rest of the team were finding it tough as well. I found my set-up around my fourth or fifth ride, and by then we were behind on aggregate.
"Congratulations to Workington, they were worthy winners, while we just need to re-focus and come back stronger next season.
"It would have been really sweet to finish off the season with some silverware, especially after all the injuries we've suffered, but it wasn't to be.
"I started off the season really well, before I suffered my broken leg at Poole. It was then so hard to come back after missing three months – I was lacking sharpness, and just felt a bit behind everyone else.
"I had a good meeting in the first leg of the final, but, of course, that's right at the end of the season.
"I'm going to take a few weeks off and regain my hunger, but then start preparing for next season. I'll have the same fitness regime and start next season just as fit, as not fitter, and I hope to be back with Scunthorpe."
WORKINGTON 62: Rasmus Jensen 16+1, Rene Bach 15+3, Nicolai Klindt 14, Mason Campton 11+3, Claus Vissing 5, Kyle Bickley 1, Ty Proctor r/r
SCUNTHORPE 28: Jake Allen 10, Stefan Nielsen 6+1, Steve Worrall 5, Thomas Jorgensen 3, Jason Garrity 2+1, Gino Manzares 2, Danny Phillips 0
Workington win 98-82 on aggregate
EDIT: Jason Garrity broke his collarbone and finger in the Heat 10 crash. We wish him a speedy recovery.
Related Posts By Category