Night of woe at Armadale
May 11th, 2019
1626 Views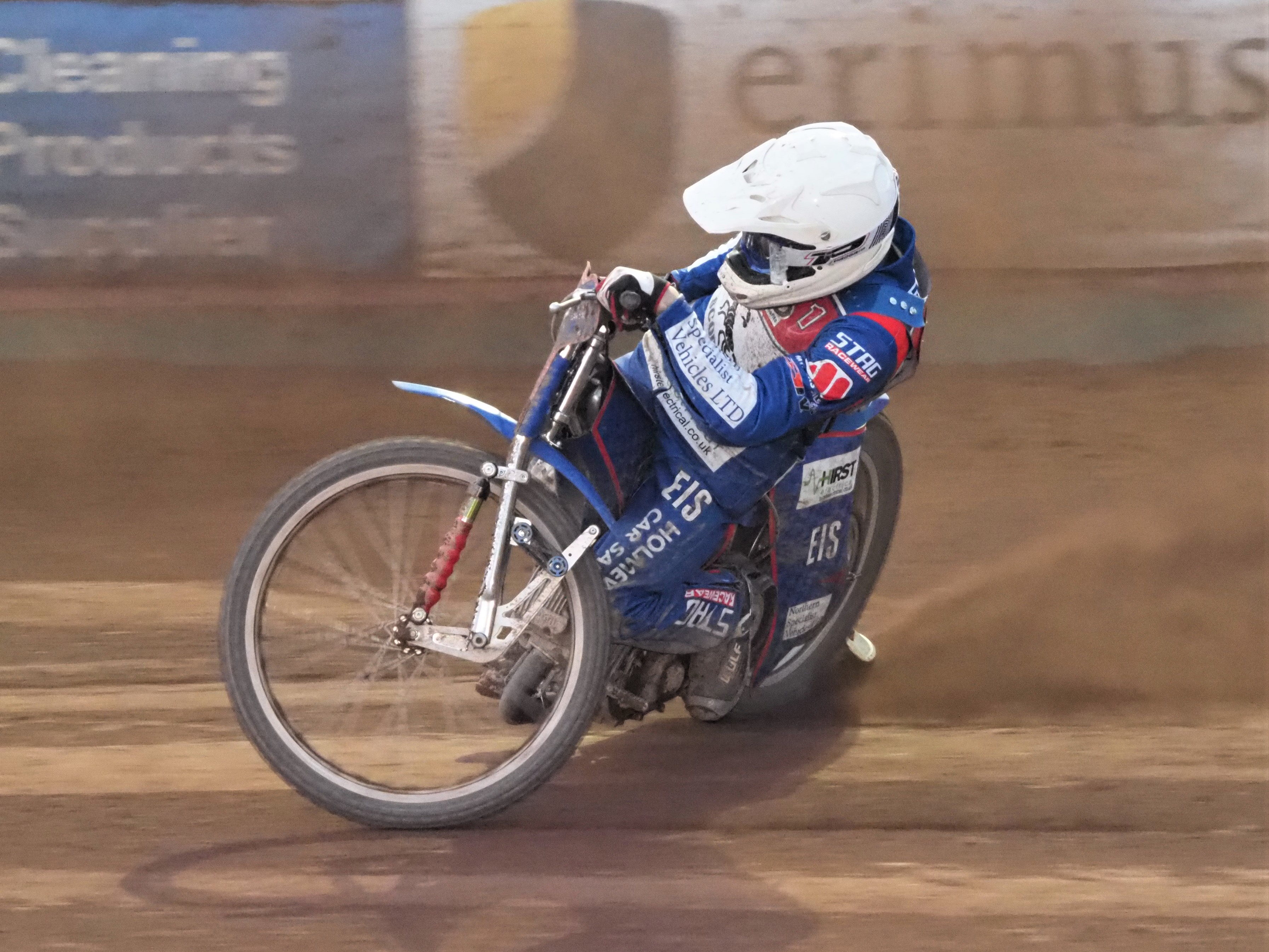 EDINBURGH MONARCHS 67 SCUNTHORPE SCORPIONS 23 (CHAMPIONSHIP KNOCKOUT CUP, second round, second leg)
Edinburgh win 108-72 on aggregate
HEB Scunthorpe Scorpions are sweating on the fitness of No 1 Josh Auty after he crashed out of the heavy 23-67 defeat at Edinburgh's Armadale stadium last night (Saturday) with a suspected broken scaphoid. The defeat signalled the end of Scorpions' participation of the 2019 Championship Knockout Cup.
Scorpions were already up against it, when Jason Garrity broke down en route, with only a junior rider (Lewis Millar) available as his replacement.
A mechanical failure caused Auty (pictured above) to crash in Heat 5, and resources were stretched to the limit, with Scorpions using Injury Rider Replacement in his absence.
Danny Ayres won two races (Heats 5 and 8), while Jake Allen won Heat 11, and Ryan Kinsley scored 5 points on his first-ever visit to the track. Ricky Wells scored a paid maximum for Monarchs.
Scorpions' team manager Dave Peet said: "It was a night to forget.
"We'll have a better idea if Josh Auty's scaphoid is broken once the swelling goes down a bit. He was on a 5-1 with Danny Ayres, when his engine failed and caused a heavy fall.
"If there are any positives to take from the meeting, it was the form shown by Danny and Ryan Kinsley.
"Danny fell in Heat 1, as the track was catching out a few of the riders early on, but then took two superb race wins, while Ryan was getting the hang of the track more-and-more with each outing."
EDINBURGH 67: Josh Pickering 14, Ricky Wells 13+2, Justin Sedgmen 9+2, Cameron Heeps 9, Joel Andersson 8+3, William Lawson 7+3, Luke Ruddick 7+3.
SCUNTHORPE 23: Danny Ayres 7, Jake Allen 7, Ryan Kinsley 5, Stefan Nielsen 3, Josh Auty 1, Lewis Millar 0, Josh Bailey 0.
* HEB Scunthorpe Scorpions are back in action next Friday (May 17th) when Somerset Rebels visit the Eddie Wright Raceway in Scorpions' opening league match of the 2019 season.
Related Posts By Category