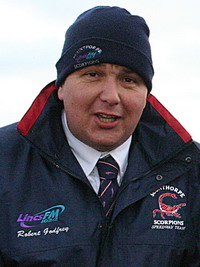 An archive of Rob Godfrey's programme notes from the Scunthorpe Speedway programme.
FROM SCUNTHORPE SCORPIONS V REDCAR BEARS
Friday April 24th, 2015
OUR League Cup programme reaches a conclusion tonight as we welcome the Redcar Bears to the EWR.
There may not be a great deal resting on the match in terms of semi-final qualification as we are already out of contention, but we certainly want to sign off with a win ahead of the Premier League campaign starting in earnest next week.
We are already off to a good start in the league after picking up an away point at Berwick in our opening meeting. It could quite easily have been more, as the only time we were behind in the match was after the last race unfortunately!
Before the meeting, if you'd asked me, I would have been happy with a point and we achieved that goal. A draw on the night would have been the fairest result I feel and we weren't very far away from winning either, so we have to be pleased with that.
Every club in the league will target winning all their home matches and picking up as many away points as possible the recipe for reaching the play-offs, so with an away point on the board already, we're up and running.
The point at Berwick was one of the highlights of our busy spell of four matches in as many days but I was also delighted with our first win of the season over Newcastle here last Friday and also the performance away at Newcastle on Sunday.
Our hectic weekend didn't get off to the best of starts at Redcar on the Thursday when we found ourselves 25-11 down after six races. We can take heart from the fightback after that, though, as we outscored the Bears over the remainder of the meeting, although it wasn't enough to prevent a defeat.
Last Friday, we got our first win of the season on the board when we beat Newcastle, which effectively was a dress rehearsal for our forthcoming KO Cup tie against the Diamonds. If you take the tactical ride points out of the two matches against Newcastle, it was 90-90 on aggregate so the KO Cup promises to be a real treat!
I thought the home match against Newcastle was one of the best meetings you're going to see in your life. You'd definitely rank it in your top 10 because the racing was out of this world You won't find any better racing anywhere in the country than what we had here last Friday night. It was a meeting that had everything and credit to Newcastle, too, for their part in it.
It was a fantastic match and I think we gave them a good meeting at their place on Sunday as well. Entertainment is what it's all about and both teams definitely entertained, so it was a shame the attendance was nowhere near as good as it had been for our opening meeting against Sheffield.
We had quite a few new supporters here last week who had not been to speedway before and from the emails we've received since, everyone thoroughly enjoyed themselves and couldn't believe what a great night out the speedway is.
Don't forget to keep banging the speedway drum amongst all your friends so we can get our crowd levels up to a decent average and safeguard the future of the club going forward.
Enjoy tonight's match which I'm sure will be another 'Passing-Fest' on Britain's best race track – and don't forget that our next home match is a week on Monday (3 pm) when our Bank Holiday visitors will be none other than the reigning Premier League champions Edinburgh.
We will also have a second match that day with the Stags taking on Halifax in a 15-heat National League standard challenge, so make sure you 'get your backside trackside' that day for a real speedway feast!
ROB GODFREY
FROM SCUNTHORPE SCORPIONS V RYE HOUSE ROCKETS
Friday May 15th, 2015
ONE point more at Rye House last Saturday night and we'd have been celebrating our first away win of the season.
But the way an exciting match swung first one way, then the other, a draw was possibly a fair outcome and we have to be happy with putting a couple more league points on the board.
It hasn't been the greatest of starts to the season results-wise, but the way the system is these days, all we have to do is make sure we're no lower than sixth in the table come September-time and we'll have as much chance as anyone else of being crowned league champions.
The League Cup didn't go according to plan but, as I've said many times before, the Premier League is the competition we want to win and target A is to make the play-offs.
It's not necessary to win every match or finish 20 points clear at the top of the table to do that. There is wiggle room and margin for error over the course of the season, so the odd defeat here and there is not the end of the world.
Once target A has been achieved, target B is to win the play-offs and to do that you need to have a team in form. We weren't far away from that at the end of last season until injuries wreaked havoc on our plans, so hopefully this year we'll get the rub of the green.
Of course, no one likes to lose matches, especially at home, so our defeat by Edinburgh last time out here at the EWR was not in our script. But putting things in perspective, Edinburgh are the reigning champions, are a very strong team once again and I'm pretty sure they're going to be involved in the end-of-season shake-up.
We gave them a good run for their money here and were far from embarrassed up at their place the previous Friday, so we can draw plenty of positive conclusions from how we fared in those two meetings against one of the strongest sides in the league.
While we may only have three league points on the board after our first four matches, we've only had the one home match so far (against the defending champions!) and we are still counting down the days to the return of Ryan Douglas, who is due to arrive back in Britain at the end of next week.
The injuries to David Howe and Ellis Perks have hampered our progress and with results not going our way so far, we will be looking to kick on once we get Ryan back in the ranks.
For the time being, it's a case of knuckling down and getting as many points as we can out of the forthcoming fixtures before reshaping the team.
That continues tonight with Rye House paying us a visit for what promises to be another tight meeting. Unfortunately, Nike Lunna is not with us this evening as he has been named as a reserve for the Finnish Grand Prix tomorrow night and will be at today's practice session. It's a great opportunity for Nike to mix with the best riders in the world and hopefully he may even get a ride, but it's not such good news for us as a team because we lose one of our key riders for the night.
It all means we will be tracking an unfamiliar reserve pairing against the Rockets, with Matt Williamson teaming up with Redcar's Rafal Konopka at the tail end.
Moving away from Scorpions' matters, I must say what a great meeting the youngsters put on last Sunday in the opening round of the British Youth Championship.
More than 50 riders, 55 races, all done in three hours… what a credit to all concerned, riders and officials alike.
Next week, we have no home meeting on Friday of course as it's Bank Holiday weekend. The Scorpions will be back on Bank Holiday Monday, May 25 when the Somerset Rebels are in town. For the second-half that day, we are currently working on a junior four team tournament over 16 heats, involving the Stags, Halifax Exeter and a fourth side still to be confirmed.
ROB GODFREY
FROM SCUNTHORPE SCORPIONS V NEWCASTLE DIAMONDS
Friday June 5th, 2015
IT would have been a long way down to Plymouth last Saturday just for a rain-off!
But fortunately, the Devils management took account of the bad weather forecast, made an early decision to postpone which proved spot on, and saved everyone a wasted journey (apart from Dave Peet, who was down in Torquay anyway having a few days' break!).
The wash-out was a disappointment because I felt we could have won that match to kick-start our league season. It was a good time to go to Plymouth seeing as they were without Jack Holder, who was away for the World Under-21 qualifiers, while Nike Lunna, whose own U21 round was on the Friday in the Czech Republic, would have been back in time for the match.
To be fair to Ashley Taylor at Plymouth, he was telling me the previous day that it was highly likely to be off so I got up at 7 o'clock on Saturday morning, by which time Nike was at Prague airport wanting to know whether he should catch a flight to England or a flight back home to Finland.
Credit to Plymouth, they made the decision early enough for Nike to get the flight to Finland instead of wasting time and money on catching a flight back here. So while it was a disappointment the match was off, the right call was made in the end.
Rearranging it is going to be   difficult, given that we're both Friday night tracks, so it may be that we go back there on a Saturday, or even a Thursday.
Getting down to places like Somerset and Plymouth these days is a journey in itself. You could just about get yourself to America in the time it takes to Plymouth from here! It took us seven hours to get to Somerset the previous weekend! Travelling anywhere on a Friday these days is a nightmare.
Anyway, back to matters in hand, and tonight we welcome Newcastle Diamonds to the EWR for the second time this season.We've already beaten them here in the League Cup and we all remember that match because it remains our only victory so far. I certainly didn't think I would be saying that in the first week of June!
The Plymouth postponement means tonight's meeting is the first action for the boys as a team since our last home match against Somerset, which is not ideal as we were hoping Ryan Douglas and Ben Wilson would have got as many laps under their belts as possible by now as they bid to get back up to match fitness after their late starts to the season.
The fixtures have been very stop-start, but now that we have six-sevenths of our team on track and only Josh out injured, hopefully we can start to put a run of good results together and climb the table.
No one is pretending that everything in our garden is rosy at the moment because one glance at the Premier League table proves
otherwise. Never in my worst nightmares did I think we'd be scratching around near the foot of the league at the beginning of June, still waiting to put our first win on the board. But, we are where we are, we have to deal with that, get our heads down and get ourselves up that league table.
The beauty of the play-off system is that our season is far from over and a quick burst of good results will soon put an entirely different complexion on things.
The league must wait, though, because tonight we will be aiming to get a KO Cup run going for a change. Only once in the club's entire history have we survived the first round in the Cup so, if nothing else, the law of averages dictates that we are due to make progress sooner rather than later!
The scheduled first leg at Newcastle last month was rained off, so tonight becomes the first leg and our Premier League visit to Newcastle on June 28 will now be the second leg.   Incidentally, if anyone fancies a weekend away supporting the boys, our away
match at Workington has been rearranged to June 27 so that means we have matches at Workington and Newcastle on successive nights.
ROB GODFREY
FROM SCUNTHORPE SCORPIONS V WORKINGTON COMETS
Friday June 12th, 2015
A WIN at last! While there was plenty to celebrate in terms of our victory over Newcastle in last Friday's Knockout Cup tie, everything was rather flat at the end as yet again we found ourselves counting the cost in injuries.
Ryan Douglas, in only his second match back following his belated start to the season, is going to be out for the foreseeable future after sustaining a small fracture to a vertebra in his collision with Nike Lunna. Then Alex Davies went down in the next race and picked up a thumb injury which ruled him out of Sunday's trip to Glasgow.
It never rains but it pours, as they say, and we can certainly vouch for that in 2015!
We are hoping that Alex will be fit to take his place in the team against Workington this evening but, even assuming
that is the case, we will still be going into the meeting with only four riders left from the seven which started the season.
It's fairly obvious that tonight is a match we must win if we are to get our play-off challenge back on course. Workington ought to be at full strength so it's going to be another test for the boys. With the number of injuries we have, it's a case of 'making do and mend' for the time being and we're grateful to  old friend Ashley Birks for coming to our assistance to take Ryan's place.
We have little choice but to go with rider replacement at No. 1 for Josh Auty but with Theo, Ash, Wilko and Alex all capable of stepping up to the plate, we should be able to cope.
It's incredible to think we're halfway through June nearly and have completed exactly a third of our league fixtures, but we're still waiting for our first win. Fingers crossed, we can put an end to that statistic against the Comets.
Injuries aside, at least we managed a victory last Friday in the KO Cup which gives us a shot at progression to round two for only the second time in the club's history.
Remarkably, our only two wins this season have both come against Newcastle and have both been by the same 53-37 scoreline. What must the odds have been on that?
We led from start to finish and a couple of 5-1s in the last three races gave us a more than reasonable 16-point lead to take up to Newcastle for the second leg at the end of the month.
Considering we lost Ryan and Alex, too, we have to be very happy with that and I was delighted with the performance of Ben Wilson at reserve. Ben, like Ryan, has given everyone else a headstart this season but he showed exactly what he can bring to the side with a paid 14 score. Between them, Ben and Nike were paid for 19 points and if your reserves are coming up with that sort of total every match, you're always going to be in with a shout of winning.
Mind you, we know the tie is far from over because we lost by 14 at Newcastle in the League Cup earlier in the season, so it perhaps wouldn't be a surprise if it all went down to a last heat decider on aggregate at their place!  Unfortunately, we will be without Theo that night, because he will be away in Germany for the Longtrack World Team Cup.
Don't forget we have another big date here next Friday when Glasgow Tigers will be providing the league opposition in what promises to be yet another closely contested fixture.
First though, we need to get the better of those Comets this evening so I'm just off to make sure there are no more black cats lurking round the back of the pits, ladders I can walk under or mirrors in the stadium I might break! Looking on the bright side, at least it's Friday the 12th today, not the 13th…
ROB GODFREY
FROM SCUNTHORPE SCORPIONS V PETERBOROUGH PANTHERS
Friday July 10th, 2015
A WARM welcome back to the Eddie Wright Raceway… it seems ages since we were last here for a Premier League match!
In fact, three weeks have passed since our previous meeting here against Glasgow and I hope you're all fit and raring to go again as we face another tough test against high-flying Peterborough.
Hopefully we can put another three points on the board to help our quest to get off the bottom of the table but, more importantly than that, hopefully we will see a few more faces on the terraces.
As I'm sure you will all have read in the press and on the internet by now, the future of the club is in doubt because we simply cannot make ends meet on the attendance levels we are currently getting.
Speedway is an expensive sport to put on and, like any other sports club, be it football, rugby or anything else, if we're not putting sufficient bums on seats as it were, then making the sums add up at the end of the season is an impossible task.
The last thing I want to do is close the club down and I must stress that no decision, one way or the other, has been taken. Our intention is to run again next season but I felt I needed to go public about our financial predicament while there are still two months of the season left.
That gives us all time to rally round and save the club. And by us, I mean me, you and anyone who has the Scorpions at heart. I've said this is a club worth saving and I mean that.
But I also want to be honest with you all and put my cards on the table. The simple fact is that we have not been attracting enough supporters through the turnstiles to make ends meet. And if that trend continues to the end of the current season, then I am going to be faced with having to make a very painful decision that I really do not want to make. In a nutshell, the Scorpions will not be running next season.
It may all sound like doom and gloom at the moment but, looking on the positive side, we do have seven meetings left in which to turn things around. I'm fully aware that our league position doesn't help matters and it's not easy tempting the 'floaters' out to support what has been a losing team but, against that, no one can dispute that we have one of the finest race tracks in the country and the entertainment served up at the EWR is second to none.
So I'm appealing to each and every one of you reading this… if you know of people who have stopped coming for some reason, see if you can tempt them back for a meeting or two between now and August Bank Holiday Monday. If you have family and friends who have never been to speedway before, now's the time to drag them along. Bring your aunties and uncles, your next door neighbours, your postman, your dentist, your dog (as long as it pays!)… in fact, get 'em all here.
We're not talking in terms of needing to add 2,000 to the gate every week (though that would be very nice!). An extra 100 would be a big step in the right direction for starters, an extra 200 would be fantastic, and an extra 300 and there would be no need for me to be writing any of this at all.
I'm sure you all get the picture. The bottom line is that we have until August 31 and our scheduled final meeting against Sheffield to turn things round. And it would give me no greater pleasure than to be able to go on the mike at the end of that meeting and tell you all that we can put a nightmare 2015 season well and truly behind us and look forward instead to rebuilding afresh for a Premier League title challenge in 2016. Between us, let's make that happen…
ROB GODFREY
FROM SCUNTHORPE SCORPIONS V IPSWICH WITCHES
Friday July 17th, 2015
IT'S a start – but there's still a long way to go.
That would be a fair summary of last week's meeting against Peterborough, which attracted a much-improved crowd of around the level we need to be getting every week.
Thank you to everyone who turned out – and I hope you're all here again this evening for another attractive-looking fixture against Ipswich.
If we can keep the crowd numbers at something like the figure we had last week, then it will help to make my decision over whether we run next year or not that bit easier.
But last Friday was merely the first step of seven  between now and the end of the season and we must keep things going for the next six. What the Peterborough meeting did do, attendance-wise and result-wise, is give us all renewed hope that the Scorpions can be saved. There was so much positivity and energy and those last three heats especially lifted the spirits no end.
What a finish it was to the match and I bet Peterborough couldn't believe what hit them. Neither could I, come to that!
Top, top marks to all the boys who rose to the occasion, including our magnificent guest Tommy the Gun. It was a meeting that will live long in the memory.
With Redcar beating Somerset the night before, the last thing we needed was another home defeat, which would really have cast us adrift at the bottom of the table. Our main target for the rest of this season is simply to save the club but at the same time we don't want to finish bottom of the Premier League for the first time in the Scorpions era either, so that does give us at least something to aim for on-track in our remaining matches.
I think we're all realistic enough to know that our chances of making the play-offs this season are now, how shall I put it, slim at best! But when we get entertainment like Heat 14 last Friday for instance, there's still every reason to get yourself track-side on a Friday night for our remaining matches.
Despite the uncertainty over our future, one thing I am certain about is that if we do run next year, it will not be on a Friday night. We will switch race-day to a Sunday, which is what it was when we first started at the EWR in the Conference League in 2005.
I've thought long and hard about it, and we still need to get to that point where we're definitely running again, but if we do, I think we could encourage more people to come on a Sunday. I'm sure we'd get more away support for another thing.
Friday has just got worse and worse and worse in terms of travelling these days. It takes hours to get anywhere because of the amount of traffic on the roads and I'm sure we suffer because of that.
It would be a late Sunday thing too, probably a 6.30 pm start or something like that, certainly not 3 pm. We have a good race track here and we want to keep it as a good race track, so I reckon a half six start would be about right.
We had a fantastic amateur meeting here last Sunday, attended by God knows how many riders. There was something like 105 races and it all helps to boost the club coffers, so a huge thank you to the riders who came, the people who run it, anyone who comes and picks up a flag, everyone in fact, because it is all a big part of what we do.
If we run next year, and switch to Sundays as our race-day, we wouldn't be running every single Sunday for sure, so it would not impact on the amateur events and the practices and everything else. There'd be plenty of opportunities for them to be slotted into the fixture list.
Let's hope we get that far, eh. There's still a long way to go before we can commit ourselves, but we'll keep the faith – and keep battling!
ROB GODFREY
FROM SCUNTHORPE SCORPIONS V PLYMOUTH DEVILS
Friday July 24th, 2015
IN the ten-and-a-half seasons we've been running here at Normanby Road, I don't think we've ever had a meeting as daramatic and controversial as last Friday's against Ipswich.
In welcoming our friends from Plymouth to the EWR this evening, I think I'd be quite happy just to have a run of the mill, straight forward, nothing-much-happening kind of a match for a change after the last two! Let's get all our blood pressures back to normal, eh…
I think most of what needed to be said about last Friday and the Josh Auty/Rohan Tungate incident in particular, has been covered in the press this week, so I don't intend to repeat it all here when I'm sure you've all read my views in the Scunthorpe Telegraph and Speedway Star.
We have had our say on the matter to the Speedway Control Bureau and the video evidence has been submitted, so it's all out of our hands now and we await their verdict with interest.
Whatever the rights and wrongs, the bottom line hits home again tonight and that's the fact that will be without our No. 1 yet again through no fault of the club or Josh's.
Just when we had our full one-to-seven back for the first time since April, it lasted for no longer than 10 races.
AT the beginning of this week, Josh still didn't know the full extent of his injury and how long he would be out. On the night, his hand was so swollen, the doctors couldn't even tell if it was broken or not but they suspected that it was. It was a right mess, that's for sure, and Josh had an appointment at the hospital yesterday after which the picture should have become much clearer. We can only cross our fingers and hope for good news.
The drama surrounding Josh detracted a little from Nike, who had some dramas of his own with Ashley Morris. After being the innocent victim, Nike ended the night with a fine for £200 from the referee so we will be holding a collection for him tonight so that he's not left out of pocket for something which was not of his doing.
In all the shenanigans last week, the fact we lost the meeting as well means that we are now adrift a little at the bottom of the table thanks to Newcastle, Workington, Plymouth and Redcar all winning their home matches.
We were forced to put out a very makeshift team for the away match at Newcastle last Sunday, which had been rearranged at short notice after we agreed to do the Diamonds promotion a favour by filling a blank date in their fixture list. That resulted in a heavy defeat and with us having only nine fixtures left, we have got our work cut out now if we are to avoid the wooden spoon.
Tonight's match is a big one against the team immediately above us in the table and we also have to visit Plymouth next month too. With Redcar and Newcastle still to come here, I'm confident we can get clear off bottom spot.
Thomas Jorgensen comes in as a guest at No. 1 for Josh and we also welcome back old friend Benji Compton at No. 7 as Nike is away competing in the Finnish Under-21 Championship.
Get behind the lads and I'll see you from the centregreen.
ROB GODFREY
FROM SCUNTHORPE SCORPIONS V NEWCASTLE DIAMONDS
Friday August 7th, 2015
A WARM welcome back to the Eddie Wright Raceway after another enforced break in our fixture list.
We've not raced here since that most dramatic of nights against Ipswich three weeks ago when virtually everything that could happen, did!
A wash-out against Plymouth a fortnight ago, which was extremely frustrating given that all the weather forecasts proved well wide of the mark, and a blank date last Friday that we were unable to plug by rearranging another fixture, has left the lads largely twiddling their thumbs.
We had an away match at Ipswich on Thursday of last week, which thankfully was incident-free in comparison to the meeting here, and we were due at Sheffield last night, but no doubt the boys will be itching to get back into it on home shale tonight.
Newcastle make their third visit of the season to Scunthorpe and we have to be aiming to record our third victory over them if we possibly can in our bid to climb away from the foot of the league table.
In the grand scheme of things, though, all on-track results are something of an irrelevance at the moment as the speedway world pulls together and offers its prayers to Newcastle's Lewis Kerr and his family after his terrible accident during the PL Fours at Peterborough last weekend.
I was at Peterborough and it was extremely upsetting. Absolutely no blame could be attached to anyone or anything because it was a pure racing accident.
At the time of writing my notes for this programme, Lewis was still in an induced coma in hospital so our thoughts remain very much with him and his family. I truly hope we have some positive news to pass on tonight.
Getting back to Scunthorpe matters, I trust you will all give a big, warm welcome to our new signing all the way from the Czech Republic, Zdenek Holub. He is 19 and comes to us highly recommended by Keith Chapman, the King's Lynn promoter.
We scoured everything and everywhere in an attempt to make a new signing to replace Josh, whose season is now over after the Rohan Tungate affair, and it was not easy, I can tell you.
Unfortunately, Zdenek, who comes in on an assessed seven-point average, won't get enough matches in between now and the end of the season to qualify for a proper average but our thought process is that if we are running next season and he impresses enough between now and the end of this season, we could build a team around him for next year.
We will announce a second new rider on Monday of next week, so keep an eye out for that. When signing No. 2 arrives, we'll be back up to a full seven-man team again – so we'll see how long we can keep it for this time… hopefully longer than 10 races!
Finally, I'd just like to wish David Howe a happy retirement. As I'm sure you will have read in the press, David has decided to hang up his kevlars after a long and distinguished career as recent injuries have taken too much of a toll on his body.
He has been a fantastic servant and a loyal clubman to Scunthorpe since joining us for our second season in the Premier League in 2009 and he will be welcome at the EWR any time.
ROB GODFREY
FROM SCUNTHORPE SCORPIONS V REDCAR BEARS
Friday August 14th, 2015
LAST week's win over Newcastle has given us real hope of climbing clear of the bottom of the table – and with our next two home meetings being against the two sides immediately above us in the table, Redcar and Berwick, two more victories will really boost our chances.
Never, in my worst nightmares, did I think the limit of our ambitions for this season would be to not finish bottom of the league! But sadly that's the position we're in and that's all we've got left to aim for.
It has undoubtedly been our worst season since speedway came to Normanby Road in 2005 and I think our year was totally summed up in one night when we went to Sheffield last week and Ryan Douglas broke his leg.
We had new signing Zdenek Holub making his debut and with another new face in Andreas Lyager arriving this week, we expected to at least be able to track a full seven-man team for the remaining weeks of the season.
Putting a full team out has been a real rarity for us this year, what with one thing and another, so when poor old Ryan got badly hurt, it was just typical of the way the cards have been dealt to us in 2015.
Even new boy Zdenek had a right old purler on his debut and if he'd been injured as well, that would have really topped it off! Thankfully, he was all right and what a performance he put in here last Friday in the win over Newcastle.
Eight paid 10 from his first four starts was a terrific effort and I was really pleased for the lad. He got passed in one or two races but only because he hasn't got the track craft round here yet. Once he's figured it out, he won't be getting passed, that's for sure.
With only six matches to go, starting tonight, and with a real lack of suitable riders to plug the latest gaps in our ranks, we will have to battle on to the end of the season using rider replacement for Ryan.
Andreas Lyager arrives from Denmark for his debut tonight in a match we really must win if we want to avoid bottom spot. I'm told Scunny have not finished bottom of the Premier League (or the National League as it was then) since 1979 and, in fact, we've only ever finished bottom twice in our whole history, the other time being the Saints' first-ever season at Quibell Park in 1972. So we definitely don't want to add a third wooden spoon to our 'collection' and if we can get the better of the Bears this evening, and Berwick next Friday, things will be looking up.
There's no pressure tonight on Andreas, who is only 17 and has not ridden in Britain before. He's an unknown quantity but any points he scores will be a real bonus and if he performs anything like Zdenek Holub did last Friday, I'll be over the moon!
It's a gamble slinging him straight into the team but, in our current situation, we've got nothing to lose. Andreas, like Zdenek, is on an assessed seven-point average and that pushes Alex Davies down to reserve. We may look a little vulnerable in the top five, having to use rider replacement for Ryan as well as tracking two teenage newcomers, but with Alex and Nike Lunna at reserve, we ought to be fairly potent at the tail end if nothing else.
Give Andreas a warm Scunny welcome tonight and really get behind the lads in their hour of need.
ROB GODFREY
FROM SCUNTHORPE SCORPIONS V BERWICK BANDITS
Friday August 21st, 2015
THE season seems to be rapidly drawing to a close, but the weather is not helping us to complete the fixture list.
Two postponements in our last three scheduled home meetings means we will be running into the middle of September – always assuming we don't have any more wash-outs between now and then!
Last Friday, we left it until lunchtime before calling off the Redcar match and, unlike the Plymouth postponement in July, the forecast was spot on this time. There was no way we could have gone ahead with it. We've already rearranged that match for Friday, September 4 and with Plymouth to come the following Friday, that will wrap things up for 2015.
The win over Newcastle in our last home meeting has given us a decent shot at getting off the bottom of the table, especially with Redcar and Berwick, the two sides we have the best chance of catching, both losing last week.
Berwick are at the EWR tonight and with Redcar still to come here as well, if we can take three points from both matches, we can be optimistic that we can dodge the wooden spoon.
Berwick, like ourselves, have been hard hit by injuries so I am expecting another close match. Unfortunately, Zdenek Holub, who made such a big impact on his home debut against Newcastle, is missing because he is in the Czech Republic's team for the World Under-21 Team Cup semi-final in Poland this weekend. Luckily, we have been able to book our old friend Nicolai Klindt as a guest.
We will have our second new signing, Andreas Lyager, making his debut at No. 3 so give him a big welcome. He is very keen to make a big impression so let's hope he can get amongst the points against the Bandits and for the rest of the season for that matter.
There is no meeting next Friday because it's Bank Holiday weekend, so as usual we'll be in action on Monday afternoon. I'm hoping for some nice, sunny weather and a big crowd for the visit of our local rivals Sheffield. There will be plenty of speedway for you to feast upon because we have the Midland Development League Riders' Championship following the Premier League match – so that's a whopping 38 races in one afternoon for you!
ROB GODFREY
FROM SCUNTHORPE SCORPIONS V SHEFFIELD TIGERS
Monday August 31st, 2015
THREE home meetings to go and they're all 'must win' if we are to get ourselves clear of bottom spot in the table.
The toughest of the three comes this afternoon as we welcome Sheffield to the EWR. The Tigers have had a pretty good season, certainly considering they've been without star rider Simon Stead through injury for the bulk of it, and are all but assured of a play-off place.
Last season, we held the upper hand, winning five of the six matches between the sides, but this year, the Tigers have claimed the local bragging rights as they've won all three contests so far.
The victory over Berwick in our last home meeting moved us to within three points of both the Bandits and Redcar, and with five matches left, every point will count as we try to get clear of bottom spot.
There was some terrific racing in the Berwick match – as there always is here – and what a debut Andreas Lyager made. His first ever race at the EWR and…bang, he's out of the gate and gone, first race win in the bag, thank you very much!
I must admit, I wasn't expecting that and neither was he probably. But six points in his first meeting in Britain was a great start so let's hope he can keep it up until the end of the season.
Our other new signing, Zdenek Holub, should be back today after missing the Berwick match because of his appearance in the World Team Cup semi-final for the Czech Under-21 team. If both Zdenek and Andreas can repeat the scores they managed on their home debuts and Alex Davies can continue where he left off against Berwick, we should be able to give the Tigers a real run for their money. The last thing I want to hear tonight is Damien Bates and Co. banging on about beating us four times this season!
We have a packed programme today with the Midland Development League Riders' Championship following on from the Premier League match. That's another 23 races, making 38 in all, so you can't say it's not value-for-money this afternoon.
Some of the country's most promising young riders will be in action so I hope you all stay on to offer your support. All of the officials will be doing their best to ensure the meeting runs as smoothly and efficiently as possible and we will be doing our utmost to keep any delays down to a minimum.
Finally, we'll see you all again this Friday for another 'must win' match when the Redcar Bears are here.
ROB GODFREY
FROM SCUNTHORPE SCORPIONS V REDCAR BEARS
Friday September 4th, 2015
WE'RE off the bottom of the table at last after Monday's win over Sheffield – and let's hope we can stay off the bottom.
Tonight's match against Redcar is going to have a massive bearing on the eventual destination of the wooden spoon with the Bears having replaced us at the foot of the Premier League on race points difference.
Redcar were due to race their last home match against Workington last night and tonight will be their final fixture, so it's fair to say that this evening's meeting is speedway's equivalent of football's six-pointer (whatever that may be – a seven-pointer perhaps given speedway's scoring system!).
Even if Redcar beat Workington last night, a win for us tonight will put us level again and with us having a much better race points difference, that ought to be enough to keep us off the bottom. Certainly, one point from our three remaining matches after tonight would do it as long as we beat the Bears.
It was a relief to a) get Bank Holiday Monday's meeting on and b) get a win over Sheffield for the first time this season. We were the only club to run on Monday as the wet weather decimated the speedway programme around the country and that's testament to what a great track we have and also our fantastic EWR staff who worked their backsides off.
Conditions were not perfect but we have proved several times before that a bit of rain isn't going to put us off and that we can get meetings on in the wet. There are times when the rain is too heavy and too prolonged for us to do anything about it and we are forced to postpone, but there are also times, like Monday, when we can take on the bad weather and win.
The last thing either side wanted was a wash-out and with the Midland Development League lads going on second for their Riders' Championship, which would have been a tricky meeting to rearrange, we knew we had to do our utmost to get it on.
Congratulations to Jack Parkinson-Blackburn on his win – what a fine prospect he is – and to all the MDL boys for giving us some great entertainment.
As long as tonight's meeting doesn't fall foul of the weather, we have only one more meeting to come at the EWR this season. That will be next Friday night when Plymouth make the long journey north. In fact, it will be 'a long journey north' for both teams because we are away at Plymouth on Thursday night.
It will be a busy weekend for the lads because we then wrap up our Premier League fixtures with a rearranged away match at Peterborough on Sunday the 13th, starting at 3 pm.
After that, Gail and I have some serious thinking to do in the coming weeks as we contemplate what the future holds for speedway here in Scunthorpe. I've said all along that I hope we will be back for another season in 2016 but we must weigh up all the pros and cons and see what happens at the annual promoters' conference before we can commit ourselves.
ROB GODFREY
FROM SCUNTHORPE SCORPIONS V PLYMOUTH DEVILS
Friday September 11th, 2015
FOR the final time this season, but hopefully not ever, it's a warm welcome to the Eddie Wright Raceway for tonight's Premier League match.
Our friends from Plymouth have made the long journey north to provide the opposition for the concluding home fixture in what has been a very turbulent season.
It's not the lads' last outing of the year, however, because we have still got to go to Peterborough on Sunday afternoon (3 pm start) to fulfil our 24th and final league fixture.
The good news is that we definitely can't finish bottom after last Friday's victory over Redcar and, if things go our way, we might be able to move well clear of the foot of the table as we still have the opportunity to climb above teams like Rye House, Berwick and Newcastle if we can finish with a flourish.
The Redcar meeting summed up our season to a tee, when Zdenek Holub and Nike Lunna were ruled out because of injury and Finnish league commitments respectively. Even when we think we'll be able to put a full one-to-seven out for a change, it never seems to happen!
In their absence, the boys all rallied round to ensure we got the win, though it wasn't looking too promising at 24-24 after eight races, I must say. A special mention for Wilko, who was in vintage form with four wins, and also to Theo, Alex and new boy Leigh for their double figure scores.
Matt Williamson chipped in with a vital third place at a crucial time of the meeting and Andreas continues to impress after being thrown in at the deep end. Unfortunately, Andreas and Zdenek will both be missing tonight, so once again we are forced to put something of a makeshift side out against the Devils.
Let's hope all the riders on both sides came through last night's match in Plymouth without any injuries and we can finish the season on a high with the sort of top quality Premier League meeting the EWR has become renowned for.
It's a very important match for Plymouth in their bid to sneak into the play-offs at the expense of Ipswich, so we are certainly assured of some competitive opposition.
As for next year, there's not a lot I can say at the moment. I wish I was in a position to say right here, right now that, yes, the Scorpions will be entering the Premier League in 2016 but until we know what decisions are taken at the promoters' annual conference next month, we will just have to bide our time.
I can say, however, that our crowd levels have improved in recent weeks and that is at least one big step in the right direction towards us being able to run again. If that had not been the case, then the decision would have already been made for us.
It does show that there are enough people out there who want speedway to continue in Scunthorpe so, fingers crossed, let's hope we're all back here again next spring ready and eager to mount a strong challenge for the Premier League title.
ROB GODFREY