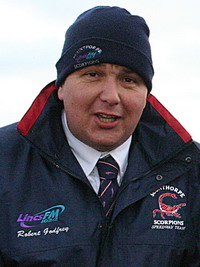 An archive of Rob Godfrey's programme notes from the Scunthorpe Speedway programme.
FROM SCUNTHORPE SCORPIONS V IPSWICH WITCHES
Sunday March 20th, 2016
A WARM welcome back to the Eddie Wright Raceway – well, as warm as it's likely to get for this time of year anyway!
I trust everyone has wintered well and is pumped up for the start of the new season here at the EWR, which begins for us this afternoon with a League Cup match against Ipswich.
As long as the weather didn't interfere, it will be our second meeting of the season as we were due at Ipswich on Thursday night when ourselves and the Witches contested the first official fixture of 2016 anywhere in the country.
It's certainly an earlier start than normal for us. Last season, we didn't get going until March 26.
We find ourselves in a very tough League Cup group alongside the Witches, Peterborough and Sheffield but we're keen to hit the ground running and set ourselves up for the long league campaign ahead.
As usual, it's all but impossible to predict how the Premier League will pan out and which teams are likely to be the frontrunners for honours. Perhaps the only certainty is that it will be hotly contested by some evenly-matched sides serving up some top notch entertainment.
For starters, I'm expecting a close encounter today against an Ipswich team that looks more than useful. The Witches' last visit to Scunny back in July last year was, how shall I put it, 'eventful' and if we get even half as much entertainment this afternoon as we did on that Friday night, we'll be in for a treat!
I'm just looking forward to getting the season underway and seeing how the Scorpions get on. Every promoter at this time of year has faith in his own team building and is full of optimism about his team's chances. I'm no different and I genuinely think we have a side that will, first and foremost, be very entertaining to watch and, just as importantly, be up there challenging for honours.
We all know that 2015 did not work out how we'd envisaged and it will go down as a season best forgotten. Every team has them but it's how you respond that matters.
Injuries played a key role in wrecking our plans last summer, although they weren't the sole reason for our disappointing year. That's all behind us now, it's a new season, a fresh start, and looking at the seven riders we are putting out on track today, I am very optimistic about our chances.
Our winter team building didn't go exactly as planned, with new signing Taylor Poole catching us by surprise when he suddenly announced his retirement from speedway. To be fair to Taylor, at least he didn't dither over the decision and suddenly drop us right in it on the eve of the season, he gave us plenty of notice and that allowed us to bring old favourite Nicolai Klindt back into the side when his circumstances changed and a proposed move to Rye House fell through.
Nic will only be with us for about a month until his Polish league commitments kick in and there will be too many fixture clashes to contend with. Young Dane Andreas Lyager, who looked very promising in the handful of meetings he had for us last season, will then take up the baton.
In fact, the side has a familiar look about it, with young Josh Bailey, our new signing at reserve, being the only rider in the team who has not worn a Scunthorpe body colour before.
I have high hopes for Zdenek Holub, based on the brief glimpse we had of him last season, while we all know what we're going to get from the likes of Josh Auty, Alex Davies, Ryan Douglas and Carl Wilkinson, four very dependable, and very entertaining, riders.
If we can steer clear of injuries, unlike last year, I think we're definitely going to be in the mix at the right end of the table this season.
Don't forget, your weekly speedway fix will be on a Sunday this year, as we have changed our regular race-day from Friday at 7.30 pm to Sunday at 6.30 pm.
The feedback I've had so far has all been very positive, so let's hope it leads to some bumper attendances this summer. For today, and next Sunday's match against Sheffield, we are starting at 3 pm but from April onwards, it will be 6.30 every week.
Here's to a good start to the season today…and a good year ahead! See you from the centre green!
ROB GODFREY
FROM SCUNTHORPE SCORPIONS V SHEFFIELD TIGERS
Sunday March 27th, 2016
AFTER a very encouraging start to the new season in home and away matches against Ipswich, we are looking forward to keeping the momentum going this afternoon against our good friends from Sheffield.
The Tigers are one of the teams fancied to do very well in the Premier League this year so if we can hold our own against them today, it's going to give us a real confidence boost early in the season.
Our one big worry at the start of the week was the fitness of Carl Wilkinson after his crash last Sunday. There were fears that Carl had broken his collar-bone, but early indications were that he would endeavour to continue riding.
He was due at the fracture clinic on Tuesday so we'll see where that takes us. Certainly, he will be a huge loss to the team if he's out, that's for sure, because the team is built around him. It will have to be a guest if he's out but we're hoping he's going to be fit.
As for the two Ipswich matches, I was spot on with what I said in Speedway Starbefore the meetings when I said we were going to Ipswich to win, but I wouldn't be surprised if we did and then they hit us back in the match here at the EWR – and that's exactly what happened!
At Ipswich, I thought we looked really good from one to seven but back here last Sunday, we had mechanical issues for three riders, which proved a big handicap.
Josh went out in Heat 1 and set the world alight, passing Danny King to get the win, but his bike was smoking and he had to retire it. Unfortunately, his second bike was just like a moped, so that was basically the end of him. He tried his heart out to get going but just couldn't make it go anywhere.
Carl had similar issues, his bike just had so much power, he could not stop it spinning, and Zdenek also had too much power, but we're going to address all of the problems. It was opening night after all and we know what we've got to do.
Despite being held to a draw by Ipswich, we've got a bit of confidence in the air. We've had an away win, we've got five points on the board and if you'd told me that before we travelled down to Ipswich, I'd have snapped your hand off.
Of course, it would have been nice to have had the full seven points but's let's not be greedy. Ipswich gave us an absolutely fantastic match, with 31 passes I've been told – which is probably more than some tracks see in a year! – and Heat 15 was one of the best races you'll see all season.
A draw was probably a fair result in the end and I don't mind admitting that I wasn't too unhappy to see Ipswich go away with something. We did catch them with their pants down at their place on the Thursday and they came in for some criticism from their supporters after that, but to me you've got to look at the bigger picture. They are a far better team than we saw in the opening meeting because we did catch them cold that night – and that's opening night for you. Anything can happen and it usually does.
Riders go away for the winter, they buy these super-duper, powerful engines and they bring them along for the first meeting and they think they're working. But then they get out in the real match and they don't work properly, and that's the stark reality of opening night.
All in all, it was probably a good time for us to go to Ipswich.
On to today and Wilko's fitness could be key for us but the riders have had had a week to get themselves sorted out mechanically, they know what the deal is, I don't need to tell them, so I'm sure they'll be back on it.
Holub has got an engine specifically for the UK now and Josh will sort his problems out, so I'm looking forward to another great meeting.
Finally, a quick word about our new reserve Josh Bailey, who I thought was fantastic in his first two meetings for us. He got a paid win at Ipswich and three paid four in the home match. Three points a meeting is his goal and anything more than that is a bonus, so what more could we have asked for in his first meetings? Well done, Josh, keep it up!
ROB GODFREY
FROM SCUNTHORPE SCORPIONS V PETERBOROUGH PANTHERS
Sunday April 10th, 2016
I SAID before the start of the season that we were aiming to hit the ground running – and we did just that at Ipswich with a terrific away win in our first match.
It's just unfortunate that things have gone a bit wrong for us since then!
The Witches came here three days later and held us to a draw; Sheffield were fairly comfortable winners here a fortnight ago; and then we took a bit of a hammering at Peterborough a week last Friday.
I would agree that we maybe had a bit of good luck in the first meeting at Ipswich when we got a good result down there, but since then we just haven't had the rub of the green. We have not had seven riders scoring as they should in the three meetings since Ipswich and that's something we have to look at putting right.
At Peterborough, I thought we missed Nicolai Klindt because I'm sure he would have revelled in the slick track conditions, whereas the rest of the lads certainly didn't. Peterborough were simply getting out of the gate ahead of us and that was pretty much the story of the night on a track that was very difficult to pass on.
The lads also seem to be having a few mechanical issues at the moment, which are not helping.
When a rider buys an engine, and I can use Carl Wilkinson as an example, he buys it for a grippy King's Lynn track and a grippy Scunthorpe track. But Carl's engine is not actually working on either of them at the minute, so he's having real problems.
We know he's better than his scores have shown so far. He got off to a good start at Ipswich but it was a damp night, it was grippy, and the track suited what he'd got under him. We just haven't had the tracks to suit since then.
To compound our misery on a very bad night at Peterborough, we lost Zdenek Holub to injury when he was flattened by ex- Scorpion Michael Palm Toft in his first race.
Zdenek has hurt his shoulder and could hardly move it earlier this week, although the one piece of good news is that it doesn't sound as if he's broken anything. He was, however, ruled out of Thursday's scheduled match at Sheffield and will be missing again today.
That leaves us having to turn to the rider replacement rule to plug the gap in what is bound to be another tough match for us against a Peterborough side that has started the season well.
By now, I would hope we have a clearer picture of the likely length of Zdenek's absence and we can begin to figure out the best way forward for the club. Obviously, Nicolai's deal was only a short-term one to cover the opening weeks of the season and we had Andreas Lyager waiting in the wings to make his return, but with the Holub injury complicating things, we are going to have to look at the bigger picture and consider every option open to us.
One bit of good news in the last week concerned young Josh Bailey, who qualified for the British Under-21 Championship through the semi-final at Kent last Monday.
Josh has done himself proud so far after stepping up from the National League and we can all see the potential in him. If any of you want to support him in the Under-21 Final, that meeting takes place at Sheffield on Thursday.
Right, on with the action and let's see if we can get the better of the Panthers and get our first home win of the season on the board!
ROB GODFREY
FROM SCUNTHORPE SCORPIONS V PLYMOUTH DEVILS
Sunday April 24th, 2016
AFTER the disappointment of the League Cup, it's down to business this evening as we welcome Plymouth to the Eddie Wright Raceway for our opening Premier League fixture.
The best we can say about the League Cup is that it's now behind us and we can forget about it.
Things got off to a great start away at Ipswich but quickly went downhill after that, culminating in a very disappointing defeat by Peterborough in our last home match when we were well beaten.
There have been extenuating circumstances, such as the injury to Zdenek Holub and Nicolai Klindt's short-term spell really not working out as we'd all hoped, but we can't use that as an excuse.
Looking at the team's performance so far, Ryan Douglas has been excellent, Ashley Morris came in and did well against Peterborough and we can't expect too much, too soon from young Josh Bailey at No. 7. He's given his all and really got stuck in, and that's all we can ask of him.
But the other lads have been up and down and we really need to start finding some consistency if we're to make an impression in the league this year.
The boys all know that and have been working hard to put things right. We've had a positive reaction from Carl Wilkinson, who has sorted all of his gear out and that resulted in a positive performance for King's Lynn against Coventry in the Elite League when he won Heat 2 and managed seven points altogether. I heard he was pretty good all the way through that meeting, although he messed one ride up when he went too wide for the big blast round and there was nothing out there.
Certainly, if Carl has got his early season mechanical troubles sorted out, I'll be very pleased about that and I'm expecting him to kick on.
We're expecting Zdenek Holub back in time for next weekend's away match at Berwick and after that, once Zdenek has dropped down from his assessed 7.00 average to a true average, we can take a look at things and see where we are.
We're expecting Holub to move down to reserve and a quality performer like him at the bottom end will help us. We just need him to be fit again and that's why he's not coming back today against Plymouth.
We want to give him an extra week to get his shoulder sorted out and that will basically be a month in total on the sidelines since he injured himself at Peterborough. He'll be having some skids in Czecho this week and he may even do a meeting over there, but we need him back for Berwick, fit and raring to go.
Without Holub, it means we will take on Plymouth today with six riders and rider replacement again. We were heavily outscored at reserve by Peterborough a fortnight ago but I believe our reserves will be a match for the Plymouth two.
It goes without saying that we are determined to break our duck tonight and get our first home points on the board. What with the KO Cup match against Newcastle, the British Youth Championship and British Championship semifinal coming up, we don't have another league match here until Sheffield visit on May 22, so it's important we take every league point available to us right now.
Maybe a bit of David Howe magic can rub off on the team this evening and help us to those three points! As you've probably read in the press, we have appointed our former captain as our new coach and he will be passing on the benefits of his experience to some of the younger members of the side.
David was keen to stay involved in the sport since his retirement, he's Scunny through and through and he was a top quality rider who has raced at the highest level, so I'm sure bringing him on board in an official capacity can only be a win-win situation for everyone.
ROB GODFREY
FROM SCUNTHORPE SCORPIONS V NEWCASTLE DIAMONDS
Monday, May 2nd, 2016
AFTER three home meetings without a win, it was important we finally broke our duck against Plymouth in our last match here at the EWR – and thankfully we managed it to get three Premier League points on the board at the first attempt.
I wouldn't necessarily say things have improved greatly but we got the win and we got a rider back who has not made the greatest of starts to the season.
In fact, we got Carl Wilkinson back on big style form, very close to a six-ride paid maximum in fact, and that was a massive relief – both to Wilko and myself! I knew from two weeks prior to the Plymouth match when we lost to Peterborough that once we made sure his engine went back to the tuner, we'd get things sorted. I just needed Wilko to prove it on the track and he certainly did that against Plymouth.
Josh Auty was flying as well with five excellent wins and when your two riders at No. 1 and No. 2 score 29 paid 31 points between them, you ought to be in with a reasonable chance of winning the match!
The rest of the team were steady scorers and did enough for us to win the match, which was the main thing. Young Josh Bailey at No. 7 got his first race win in the Premier League and once again kept us all entertained with his determination and efforts to pass people.
Ashley Morris started well with a paid second behind Josh in the reserves' race but finished up making a much closer inspection of the air-fence on turn two than he intended. Thankfully, he was all right after what looked like quite a nasty crash.
It's a funny track, Scunthorpe, you've got to be so committed when you go round turns one and two. Ashley looked like he was going to go round everyone and if he'd made it, it would have been spectacular but unfortunately he didn't – and ended up costing me 500 quid for a new panel for the air-fence instead!
Never mind, that's what the air-fence is there for and it's money well spent if it means the rider gets up and walks away with just a few bumps and bruises afterwards.
The boys were up at Berwick on Saturday night for our first away league match of the season, so let's hope we have some good news to relay this afternoon about that meeting. I know Berwick had a few injury concerns before the meeting, one of which concerned the fitness of ex-Scunny favourite Thomas Jorgensen, so with a bit of luck we may have been in the right place at the right time to cash in and get some more points.
Zdenek Holub was due to make his return after injury at Berwick and that was the last of the matches he needed to ride in to qualify for a true average. Seven days after that, we are permitted to make a team change if we wish, which means Andreas Lyager comes back into the reckoning in time for the away meeting at Glasgow this coming Sunday.
The kid has invested a lot this year to make it in speedway and his family has invested in him too because they believe he is going to be pretty special. We want him in our team but we have made the right decision in waiting. We couldn't take Zdenek out unless he was long term injured, and he wasn't, so we just have to bide our time.
Newcastle are our visitors today and I can't believe we've drawn them again in the KO Cup for the second year running. They're a strong team, no doubt about that, so it's a tough draw and we're going to need everyone on the gas if we're to have a chance of getting through to the second round. Everyone knows how bad our KO Cup record is, right through the club's entire history, and it's so bad that it wouldn't surprise me if it was in the rules that Scunthorpe must be knocked out in the first round! Maybe we can snap the losing streak this time, who knows?
There will be no predictions from me though. It is what it is at the moment and it was just a relief for us to get the win over Plymouth. Once we make a change and get going, providing we stay lucky, there is no reason why we can't push on.
Enjoy today's meeting and I hope you will all stay on after Heat 15 to watch the cream of Britain's youngsters in the British Youth Championship at 500cc and 150cc level.
ROB GODFREY
FROM BRITISH SEMI-FINAL
Friday, May 13th, 2016
WELCOME to the Eddie Wright Raceway for a meeting that I'm sure will be one of the highlights of our season.
Tonight's British Championship semi-final will be hotly contested as the riders chase a place in the British Final itself at the new National Speedway Stadium at Belle Vue next month.
Only the top seven point scorers at the end of proceedings this evening qualify automatically for the Final, in which they will be joined by seven qualifiers from Sunday's second semi-final and two seeds.
We have a very, very good lineup here for you tonight with a lot of track specialists. Anyone can get that top seven position and I think it will be a cracking meeting.
If you're making your first visit to Scunthorpe tonight, we hope you enjoy yourselves and will be back for more, because I can guarantee some fantastic racing on what I believe is the best race track in the country.
We've prepared the track as we normally prepare it, which means it won't be slick, it will be as grippy as it normally is at Scunny and I expect there will be passing from Heat 1.
It's going to be set up for everybody and with out-and-out racers like Chris Harris and Josh Auty in the field, we can expect speedway of the highest quality tonight.
It's a shame it's not the Final because it would be a great meeting for TV, this one!
Back to Scorpions matters, and we're all still smarting from that terrible result away at Glasgow last weekend. It was our heaviest-ever league defeat and as I've said in the press this week, it was an embarrassment to us as a club.
We can all accept losing matches but the riders were hurt by that performance and they know that scorelines like 71-19 are just not acceptable.
Glasgow are a very, very strong team, probably the best in the league, and we certainly won't be the only team to get a right hiding at Ashfield this summer, but there are no excuses when you can only score 19 points in 15 races.
I don't want to dwell on that hammering though, we need to put it behind us and concentrate on what's coming up, starting with Sheffield here at the EWR a week on Sunday.
There will be one team change for that match for sure, as we bring Andreas Lyager back in to replace Ashley Morris.
I'd like to thank Ash for his efforts during his short stay with us, he's scored points and done the job we asked of him. I'm sure he will get another Premier League team place very soon.
As for Andreas, we had a brief glimpse of what he's capable of last season and I really do think he can hit the ground running when he gets here. The kid's only 18 years old, he's desperate to ride for us and he's been riding in Denmark and on the continent so far this season and had some good scores.
He's one for the future, he's our asset and hopefully he's going to be another Thomas Jorgensen, if not better. No disrespect to Thomas, I want to find another Peter Kildemand, as Workington did a few years ago, and maybe Andreas can be that man, who knows?
He wants to come here and we want him here, so once he gets here, does some meetings and gets a true average, that brings another dimension to it, which was always part of the plan.
But we have to get him in and get him settled. All his equipment has been here for a month and it was only the unfortunate injury to Zdenek Holub that stalled him.
At the moment, we may be down after the Glasgow result but we're certainly not out because there's a long, long way to go in this Premier League season yet.
Finally, a couple of fixture amendments for you. We are not away at Peterborough on Friday, June 17 now, that match is going to be rearranged following the Panthers' switch to a Sunday race-day.
And our away match at Somerset, which was rained off in April, will now take place on Tuesday, August 2.
ROB GODFREY
FROM SCUNTHORPE SCORPIONS V SHEFFIELD TIGERS
Sunday, May 22nd, 2016
IF Carlsberg did speedway meetings, they would do them like that!
The British Championship semi-final here at the EWR was speedway at its very, very best and Gail and I are so proud of all the rave reviews we've received since from fellow promoters and fans around the country.
Hopefully, Sky Sports will be paying attention and deem us worthy of another visit!
If you looked down the line-up before the meeting and thought about how those riders ride at Scunny, you just knew that the meeting had the makings of something very special and, to be honest, it did not disappoint.
League matches are something totally different. You don't always get an individual meeting that lives up to its billing but when you get something like qualification for a national final at stake and the opportunity to go to Belle Vue for a British Final for the first time ever, it means the riders really have something to fight for. It was something that all 16 riders wanted and you could tell that by the way they rode their bikes.
I've said it before and I'll say it again – our track is, without doubt, the best race circuit in the UK and long may it continue.
I'm sure we're in for another belter this evening as we welcome Sheffield for the second time this season. They turned us over in the League Cup and will be looking to do so again, but against that, we've won our last two home matches against Plymouth and Newcastle and will be doing our utmost to make it three in a row against the Tigers.
We arranged a team practice session earlier today to get the team back to a point where everyone knows the new riding order, everyone can make starts, everyone will have their set-up sorted and so by half past six, we're one step ahead of the game and all fired up, ready to go.
Tonight, we get a first glimpse of our new-look team which boasts two new signings. The new arrivals are certainly no strangers to Scunthorpe, though, and I'd like to offer a big Scunny welcome to both Michael Palm Toft and Andreas Lyager.
Michael was part of our title-winning team in 2012, whilst Andreas made four appearances for us last season and showed plenty of promise.
Michael became available when Peterborough made a move for Craig Cook and there's a funny story surrounding his return to the EWR. When I got hold of him and asked if he wanted to join us, he said yes because he needed a team, but he did admit that he had been talking to other clubs as well as us. I said, 'that's okay, I'll be honest as well because I've been talking to Nicklas Porsing!'
We did make inquiries about signing Porsing when he was dropped from the Peterborough side at the same time as Michael, but he couldn't make a commitment to our Sunday matches. He couldn't do all our fixtures as he's got a Polish team and he's committed to them now he's not riding at Peterborough.
But, hey, Michael is a quality performer, we all know that, and I'm delighted to bring him back. He's figured his early season mechanical problems out and I know that for a fact because he came to practise on our track recently. He definitely knows his way around our track, he knows everything about it, so it's like putting an old team member back in.
Andreas has also been to Scunny a few times, all his gear is here and I think we've got him at a good time. I spoke to Thomas Jorgensen recently, who said he rode against Andreas and he reckoned he was flying. We brought him in last season when he was very young and raw and within the last six months, he's developed even more. We're never going to be able to afford the really top riders and get them to come to Scunny but we are committed to signing raw talent and putting on the most entertaining speedway meetings we possibly can.
Our next two home matches are both against teams who have already been to, and won at, the EWR this season in the League Cup, so it gives us the chance to settle old scores, get the new-look team firing as we want it to, and put some league points on the board.
We've got Peterborough coming up on Bank Holiday Monday next week (don't forget, that one is a 2 pm start, not our usual Bank Holiday 3 pm!) but we've got to deal with Sheffield first.
The problem is they ride our track better than their own and potentially that's a real problem for us, so we have to look at what we can do to stop that happening and land ourselves another three points.
Let's hope for some fine, sunny weather; a big Bank Holiday crowd; three league points; and a meeting just as good as the British semi-final… then we'll all be going home happy!
ROB GODFREY
FROM SCUNTHORPE SCORPIONS V SHEFFIELD TIGERS
Monday, May 30th, 2016
IT may have been disappointing to lose to Sheffield last weekend, but given the circumstances leading into the match, we did pretty well to only go down by six.
 What should have been our first glimpse of our new-look one-to- seven failed to materialise after Carl Wilkinson crashed at Swindon whilst racing in the Elite League on the Thursday night, and had to withdraw from the match. Wilko didn't break anything but he was badly shaken up. He's as hard as nails normally, so when he told me he wouldn't be able to ride last Sunday, I knew he must have been hurting.
Then, to really make matters worse, new signing Andreas Lyager dropped out because of illness. That was a huge blow because he'd not made an appearance for us this season, which meant we were not entitled to a facility for him, and had to use a National League rider instead.
Andreas had been battling a virus since the previous Wednesday and had been on antibiotics. He gave it a go in the World Under-21 Championship qualifier in Germany on the Saturday because his No. 1 target for this season was to get through to the final stages of the competition. Unfortunately, he fell just short of qualifying, but having given everything in his bid for World Under-21 glory, it was a step too far for him to come over and ride here on the Sunday evening.
When I heard Andreas would have to pull out because of sickness, I even considered pulling some leathers on myself, things were getting that desperate!
In the end, we turned to Ryan Burton, who races for National League Buxton, and threw him in at the deep end at No. 2. For him, it was a fantastic experience and, for me, it was a pleasure to see after we'd chucked him in. He knows what the National League is and he now knows what the Premier League is.
To go into Heat 1 when he's only ridden at National League level before and to actually be in front for a time was a great effort.
As for the meeting itself, halfway through, we were getting hammered and things weren't looking very good at all. But full credit to the boys for the manner in which they rallied and took the meeting to a last heat decider.
What a fantastic guest Stefan Nielsen proved to be for Wilko. There was only one guest I wanted from the start and that was Stefan. If you could get someone in to do what Wilko does, Stefan was the man because he battled, he passed and he raced and that's what you'd expect of Wilko anyway.
Stefan and Ryan were on a 5-1 until Stefan just overcooked it and Ryan ran into him, so we lost a 5-1 there; and we lost a possible 5-1 in Heat 14 when Michael Palm Toft had the most favourable gate but suffered engine problems, just when you'd have put your house on him to win that race.
All in all, we had some bad luck but it was a battling performance in the second half of the meeting. Josh Auty passing Simon Stead and Dimitri Berge in Heat 13 was 'world beater' stuff again and it gave us a chance going into Heat 14, so on the plus side, we battled back very well after a very poor start. On the down side, we lost the match and we cannot afford to be losing many matches at home at all.
On to today and we fully expect both Wilko and Andreas will be taking their places in the team as we welcome Peterborough to the EWR for the second time this season, this time in the Premier League.
They turned us over big time in the League Cup but both teams have a very different look about them now – for starters, Michael Palm Toft has swapped sides! – and I'm sure we're capable of giving them a spanking this time.
We have been working with Josh Auty and Alex Davies this week to try and get them firing on all cylinders again as they are the two riders we really need to get back to their best form. We are working on them, we're not doing nothing, we are trying, trust me.
After this afternoon's Premier League match, we have another round of the British Youth Championship for you when the 125cc and 250cc boys will be strutting their stuff. And don't forget we're back here again in just four days' time when Berwick will be Friday night visitors to the EWR with league points at stake.
ROB GODFREY
FROM SCUNTHORPE SCORPIONS V BERWICK BANDITS
Friday, June 3rd, 2016
IT'S not often I'm lost for words but I'm struggling to come up with something to say this week as our dismal run of form continues.
Another home meeting, another home defeat. Both Sheffield and Peterborough have now won here twice this season – and we've only had seven matches! No one needs to tell me that's not good enough, or the riders either.
I went ballistic after last Monday's match, so they had the wrath of me that day. I was convinced before the meeting that we'd get the win because Peterborough had riders unavailable and were using guests, and we had our new-look one-to-seven in place for the first time.
It wasn't to be and the most worrying aspect was that we never, ever looked likely to win. Both of Peterborough's wins here have been by comfortable margins and they also walloped us at their place in the League Cup. They went to the top of the table after the Bank Holiday Monday matches and if they are the yardstick by which the standard of this season's Premier League is to be measured, then I'm afraid to say we're a very, very long way away from where we need to be right now.
It is still early days and we've only raced five of our 24 league matches so there is time to turn things around. But by the same token, I'm not stupid and we have to be realistic. The league table doesn't lie and we're at the wrong end of it, so if things are going to change, then they are going to have to change pretty quickly.
Trying to look on the bright side, at least we don't have Sheffield and Peterborough coming here again for a while – and, boy, are we glad to see the back of them!
To be honest, Monday was not the best match we've ever seen here and it was actually pretty poor by our high standards.
We thought we were going to have a good race track but we struggled to provide one this time. The morning was dull and drizzly but come about 1.30 pm, it came over really bright and windy which just dried it and dried it and that was the problem. The weather conditions were a nightmare for the track preparation and there's not a lot you can do about it when it's like that but, with hindsight, 10 years down the line, I suppose we ought to be learning from it, so maybe we'll have to think about starting Bank Holiday meetings at a different time. We'll suck it and see for now but we'll definitely try and learn something from Monday in terms of track prep. And figure out where we can go.
A warm welcome this evening to our friends from Berwick, who are venturing south for the weekend with matches here and at Rye House tomorrow.
They look to have a very interesting line-up on track, with ex- Scorpions Theo Pijper and Thomas Jorgensen certain to be a major threat; Sheffield's Kyle Howarth is guesting and top scored for the Tigers in their win here at the end of last month; Kevin Doolan joint top scored for Peterborough as a guest on Monday; and then there's an unknown quantity at reserve in their new signing from Holland, Romano Hummel.
For sure, we're going to have to come up with a better performance than the one against Peterborough if we're to get the three match points, but I'm sure the lads are going to feel they have something to prove.
I know Andreas Lyager, for one, was bitterly disappointed with his display against Peterborough. Unfortunately, he'd brought the wrong gear with him and was using an engine that really didn't prove up to the job around Scunny. He went back to Denmark after the Peterborough meeting to get himself sorted out and will be back tonight with a motor that we all hope will do the trick.
The annoying thing was that Andreas has been on fire and scoring points for fun in Europe so far this season. In a Danish Super League match on the Wednesday before our Peterborough meeting, he scored 12 paid 13 and in the opposing team were guys like Chris Harris and Ricky Wells. Then he comes here and scores one!
No wonder he was frustrated – I was too, and I'm sure you all shared in our frustration!
Anyway, roll on tonight's match, let's try and forget about the Peterborough result and hope the boys can get back to winning ways against the Bandits.
ROB GODFREY
FROM SCUNTHORPE SCORPIONS V EDINBURGH MONARCHS
Sunday, June 12th, 2016
AS the league points continue to slip from our grasp, we have to be realistic and admit that our chances of reaching the play-offs are becoming slimmer with every passing week.
I'd be fooling no one if I came out right now with the 'we can still make the play-offs' line. Mathematically, yes, we can; but realistically, we're bottom of the league, we've only won one match out of six and it's going to take something extraordinary for us to finish in the top six.
But that's not to say our season is over. Far from it. We still have 18 matches to go, by my reckoning we have 64 points available to us and so our target has got to be to take as many of those 64 points as we can and see where that takes us.
I hate losing as much as the next man and I particularly hate it when we are not just losing, but getting well beaten every time, as has been the case in our last three home matches.
Going down with a fight in a closely-fought match is acceptable but what we've seen lately isn't, which is why I have been doing everything in my power to strengthen the team up.
I can't make riders ride for us, riders will understandably choose to chisel out as much money as they can from a deal, but I am doing my utmost to turn things round.
Since the Berwick defeat a week last Friday, there has been a lot happening behind-the-scenes, firstly the totally unexpected departure of Andreas Lyager which we didn't see coming at all – and neither did he. Andreas is on an apprenticeship in his native Denmark as he attempts to get a trade behind him as another string to his bow alongside his speedway career. His employer won't let him have anymore time off work to pursue his speedway at the moment, which means flying over to the UK to race for the Scorpions every week has become a real no-no.
Andreas hopes he will be available again by the summer of next year and we have an agreement in place with him that commits him to rejoining Scunthorpe.
He hasn't quite done enough meetings yet to qualify for an average but with another year under his belt, hopefuly he can come back in 2017 and prove to be the trump card we still think he can be. Although it's sad for Andreas, it will make the team stronger in the short term because we have already managed to sign a very good replacement in the shape of Lewis Kerr from Ipswich.
Lewis was very unlucky to lose his team place at Ipswich when the Witches signed Ben Barker from Glasgow last week and inevitably was being chased by a number of Premier League clubs as soon as he became available. I'm delighted to say that Lewis chose to sign for us and considering that he was Ipswich's second top scorer with 11 points when they were here in the League Cup at the end of March, we know we've got a rider who is going to score points for us straight away.
That's just what we need right now because, as a team, we were shocking against Berwick. And yet four of the riders then go and ride individually for other clubs on the Saturday and have bloody good scores, all four of them.
Nobody goes out to ride badly on purpose, the lads all want to be earning money by scoring good points and winning matches, but when results are going as badly as they are at the moment, I have a duty to look at all my options and make changes if I think I can strengthen the team.
Alex Davies has been really struggling and has asked me if he's going to get the sack. All I can say is that I'm considering anything and everything and I've told him that. The sad thing is, we all know Alex can do it. He's a great lad and a quality rider and I know he's trying a million per cent but he's just not being lucky at the minute, it's not happening for him. Look at Heat 14 against Berwick, he was going round them all on the first two corners, he was gone…and then his chain snapped. That's what happens when your luck is out.
This evening, we go again and it's only the reigning league champions Edinburgh standing between us and three points! Hopefully, our luck will turn and today can be 'turn round day', when we finally start winning again. Get behind the lads and keep the faith!
ROB GODFREY
FROM SCUNTHORPE SCORPIONS V RYE HOUSE ROCKETS
Sunday, June 19th, 2016
WE'VE done pretty well to get this far into the season without a rain-off at home, but the weather finally got the better of us last weekend. It's been wet, wet, wet all around the country lately, it seems, and our scheduled match against the reigning Premier League champions Edinburgh last Sunday had little chance of getting off the ground.
We were up at Workington on the Saturday and the rain had an impact on that meeting, although we managed to get through it, but the weather forecast totally changed for the Sunday. It rained all around us, though not really in Scunthorpe, but certainly to do enough damage to a speedway meeting.
We'd had torrential rain the night before so we took an early decision to save everyone from travelling so they could have a Sunday at home with the kids and the family.
It was the right decision. It didn't particularly rain a lot in Scunthorpe but all around us, in Doncaster and Lincoln, etc., it was hammering down.
Past experience tells you that your fanbase doesn't all come from Scunthorpe and as much as you tell people the meeting's on, when it's raining elsewhere, they don't believe you.
You end up running but there's no one there to watch, which turns it into a financial disaster, so a million per cent it was the right decision to call the match off this time.
It was only our second postponement of the season following a wash-out away at Somerset in April, so let's hope that's the end of it for this season and we get a clear run weather-wise to the end of the season now.
Going back to the Workington meeting for a moment, we suffered another heavy away defeat but, to be honest, we were grateful just to get out of there with seven riders in one piece.
The rain was fairly consistent throughout the match and we had to have a couple of breaks to give the heavier rain chance to pass through, but it was top marks in the end to the riders on both teams for getting on with it and completing the match.
We had a scare when Lewis Kerr had to take his goggles off in one race because he couldn't see where he was going – and ended up crashing over his handlebars. It could have been a very nasty incident but thankfully Lewis was all right.
Today, you will get your first chance to see Lewis in action on his new home track as we welcome Rye House to the Eddie Wright Raceway. The defeat at Workington was our sixth on the spin, so it's certainly about time we called a halt to that bad run and got another three points on the board.
The Rockets are a good side and are sure to give us a great match, but if we can get everyone firing, we are fully capable of winning and starting to climb up the table.
A reminder that there is no home meeting here next Sunday because we are away at Newcastle. That match was originally a league fixture but since our Knockout Cup, second leg tie against the Diamonds up there had to be called off earlier this month, we need to get that meeting run so we don't hold up the cup competition for the rest of the Premier League. The upshot is that next Sunday's match will now be the KO Cup tie, with the Premier League meeting being put back to a later date.
Our next home match will be against Ipswich two weeks today, on Sunday, July 3. That will be a very attractive fixture, given that we have just signed Lewis Kerr from the Witches and they have the newly-crowned British Champion Danny King spearheading their attack, as well as Ben Barker, who took Lewis' spot when they signed him from Glasgow.
We all remember last summer's home match against Ipswich, which was 'lively' to say the least, so let's hope for a repeat of that in the entertainment stakes, with the right result this time.
ROB GODFREY
FROM SCUNTHORPE SCORPIONS V IPSWICH WITCHES
Sunday, July 3rd, 2016
RAIN, rain, go away is the message from the whole of British speedway at the moment.
In what should be one of the peak months of our season, a very wet June has been playing havoc with the fixtures and there are already a number of clubs wondering how they're going to cram everything in between now and the fixture deadline ahead of the play-offs in September.
We ended up with just two meetings last month and it is exactly a month today since we last completed a home match against Berwick on June 3. Our away match at Workington on June 11 was rain-affected and since then, we've managed a rain-off at home against Edinburgh, two heats against Rye House and a cancellation away at Newcastle last Sunday, which was made all the worse by the fact we'd agreed to take part in a double header to get both our league and cup visits to Newcastle out of the way in one go.
All we can hope now is that the sun finally makes a belated appearance from behind the rain clouds and gives us a bit of hot weather for the next two or three months.
In terms of rearranging fixtures, we have already agreed to go back to Newcastle on Monday of next week (July 11) for the KO Cup match. If the weather plays ball for once, it means the lads won't be complaining about the lack of meetings – they will have four in six days!
We're at Redcar this Thursday (July 7), at home to Glasgow next Sunday (July 10), Newcastle on the Monday (July 11) and go to Peterborough on the Tuesday (July 12).
We've been struggling to get teams back here, that's been the other problem since the Edinburgh and Rye House matches were rained off. Even though we own our own track, we're struggling because of the amount of other commitments we've taken on here, what with stock-cars and everything else. I know a lot of other clubs who rent their stadiums are really struggling.
We've agreed a new date with Rye House, who will be coming back on a Friday night in September (the 9th) but as this programme went to press on Wednesday, we were still working with the Edinburgh management on a date for the Monarchs to come back.
There are a whole host of factors to take into consideration, not least of which is rider availability these days with the riders frequently racing here, there and everywhere, but it looks as if Edinburgh will now be here on the Sunday after our July stock-car meeting, which would be Sunday the 17th.
It's not ideal from a logistical point of view because it involves a huge amount of hard work for us to prepare the track for a Sunday speedway meeting after Saturday stocks. If everything goes okay, it is do-able, and we have done it before, once or twice maybe, but it does take a massive amount of effort from everyone.
Anyway, we will confirm that date once everything has been firmed up with the Edinburgh promotion.
On to today, and we welcome Ipswich to a hopefully 'Sunny' Scunny for what is an important match for both sides. Neither of us has had a good season so far and the Witches, like ourselves, have been making team changes in a bid to start climbing up the Premier League table. One of their moves was to release Lewis Kerr in order to sign Ben Barker, and we immediately stepped in to sign Lewis when he became available, which means he will be going up against his former team-mates today.
He signed for us in the first week of June but a month later, he's still only managed four laps of the EWR in Scorpions colours – and that was in the aborted match against Rye House, which didn't count! Fingers crossed, he can improve on that today.
Finally, don't forget the start-time change for next Sunday's meeting because of the British Grand Prix in Cardiff on the Saturday. It will be tapes-up at 4 pm, not 6.30 pm, to help the Tigers riders, management and supporters on their way back to Scotland from Cardiff.
ROB GODFREY
FROM SCUNTHORPE SCORPIONS V GLASGOW TIGERS
Sunday, July 10th, 2016
IT was a good feeling to finally get another win on the board with what was our best performance of the season against Ipswich.
Having gone more than two months without a league win, it was important to halt that bad run although, at 13-17 after Heat 5, it would only have been natural if a few doubts had started to creep in!
Having said that, I've got to be honest, at that stage, I saw we'd had three race winners out of five and once we continued to get race winners, I thought, 'if it's tight at the end, we'll be all right'.
So it proved and looking down our scorechart, it was great to see some solid scoring and plenty of heat winners.
Carl had a bad start, but then came good with three paid or full wins; whilst Alex was much, much improved, he was battling very hard for his points and got a race win in the end which was well deserved. He's been changing engines and trying different stuff, so hopefully it is now paying off for him.
Poor Josh Bailey tried ever so hard for one point, but he's got another engine so he needs to sort that out and he'll be right.
Having waited all season for one of our riders to score a maximum, two came along at once with Ryan and 'big' Josh going through the card. It made such a huge difference to the team, having not one but two riders performing like genuine, out-and-out number ones.
Our new signing Lewis Kerr is still adapting to a new home track as he's had only limited opportunities to race on it so far, given the recent spate of rain-offs we've had. He ended the Ipswich match with a win, although he was caught out in one race because of the issues we had with the starting gate.
It was the first time I've ever known us to have any problems with the gate, but the tapes just seemed to be going up by themselves for no apparent reason. Lewis said the green light didn't come on and that the referee let the tapes go but our system is such that the green light has to be on, because if you press the button and the green light is not on, the tapes won't go up. I reckon they went up by themselves and that's what caused the confusion.
Everyone said the green light didn't come on, though, which I thought was impossible, but I've rooted the source of the problem and Lewis was right, it could happen, so he had a valid case.
On to today, and we face what will be one of our biggest tests of the season against the pre-season title favourites Glasgow, who are currently top of the table.
I'm sure the pundits will have marked this one down as an away win, but after the confidence-boost of our victory over Ipswich, I have every faith in the lads giving the Tigers one heck of a match and hopefully we'll get the right result out of it at the end.
I'm expecting the usual tip-top entertainment because we've been working hard on the track, trying to make it even better than it already is… if such a thing is possible! We had the motorway blade on it for two days and we've got it exactly how we want it. It's perfect now.
We've added 20 tons of clay and the feedback last Sunday was what I wanted to hear from the riders. We've done exactly what they wanted, so there's no excuses for today!
Today's match is the start of a very busy spell for the lads as tomorrow night, we're up at Newcastle in the second leg of the Knockout Cup and then on Tuesday, we go to Peterborough in the league, where I'm expecting to see a huge improvement on our dismal effort there in the League Cup!
We will also be back here next Sunday, which was originally a blank date in the fixture list because we have stock-cars on Saturday night. Getting the track ready for a speedway meeting straight after stock-cars can be a bit of a drama, but because of the rain-offs we've had, we are just going to have to do it on this occasion because we need to get fixtures rearranged. Edinburgh have agreed to come back next weekend, so we'll see you all again then.
ROB GODFREY
FROM SCUNTHORPE SCORPIONS V EDINBURGH MONARCHS
Sunday, July 17th, 2016
WOW… what a difference a week makes!
After going two whole months without winning a league match in May and June, we've now won three in 10 days.
Tuesday night's away victory at Peterborough was by far the pick of the bunch and must have sent a few shockwaves around the rest of the Premier League, to say the least. Who saw that result coming, eh!
But let's not forget the fantastic win over Glasgow here last Sunday either.
I've got to say the lads were a bit concerned beforehand because it was day-time speedway again but obviously I did that for the commercial aspect, agreeing to a 4 o'clock start with the Glasgow management so that we could attract supporters on their way back from Cardiff the previous day.
We got quite a few Glasgow fans here, which is what their promoter Stewart Dickson had promised me. They delivered on that and that's why we changed the start-time to let them get home at a decent hour. On track, the lads responded, too, and did a great job on what was not our normal track. We even got a bit of dust, which I wasn't happy about, but it was that windy and hot, you couldn't help it.
The 51-39 win over the team at the top of the table was undoubtedly our best performance of the season – until Tuesday night, that is.
Peterborough had walloped us at their place in the League Cup in April and also beaten us comfortably here twice, in the League Cup and the league. So we were probably the only ones who actually believed we could get a win there on Tuesday, especially as we'd been beaten heavily on Monday night up at Newcastle in the KO Cup.
We were never behind at Peterborough and there were some truly fantastic performances, especially from Michael Palm Toft, with his top scoring paid 16, and Josh Auty, for his last heat heroics to secure the vital second place we needed.
But Carl Wilkinson and Ryan Douglas played their parts to the full, too, and even though Lewis Kerr, who had terrible trouble with his bikes, and young Josh Bailey were not piling up big points, the points they did score were absolutely vital to the outcome.
All in all, it's a massive well done to all the lads and team manager Dave Peet and let's hope it marks a real turning point in what has been a very disappointing season so far. The three points we got at Peterborough moved us off the bottom of the table and incredibly, looking at the table on Wednesday morning, we were only six points behind Rye House who were in the final play-off position!
While things seem to be on the up and up in terms of results, thank goodness, on the downside, we were all gutted to hear of Alex Davies' injury.
Poor Alex has fractured two vertebrae in his back after his crash here last Sunday and that's a nasty injury that will keep him on the sidelines for a while. Alex is talking about being back on a bike and returning to the team in around six weeks, which, if it happens, will roughly be about the end of August, so we will have to consider our options as to the best way forward. We had to use rider replacement at Newcastle and Peterborough, but whether we can run with that or will have to look at making a new signing is something we are going to have to think about.
On to today, and we welcome our friends from Edinburgh to the EWR for a rearranged fixture following the rain-off last month. The Monarchs normally go very well here and have won each of their last two league visits to Scunny, but with our new-found form, I'm more than hopeful that we can put a stop to that today!
ROB GODFREY
FROM SCUNTHORPE SCORPIONS V SOMERSET REBELS
Sunday, August 7th, 2016
WE'RE just past the halfway point of the season as I write these notes and it's fair to say that it's not been as successful a year as we would have liked so far. It's been very much the same as last season, such a slow start again, and we've not really got going properly at all.
The positives are that we've had some cracking meetings here at home yet again. Maybe there's been one or two matches in which we've been convincingly beaten but in all the others, we've really battled. I like winning as much as the next person but this year has just been so tough in terms of making changes.
Since we brought Lewis Kerr in, there has been a big improvement and Michael Palm Toft has been fantastic since he rejoined the club from Peterborough.
But we've since lost Alex Davies to injury and it seems to be that we can never get a sustained run going with the same seven riders every week.
Rider replacement has been killing us, although it was good away at Edinburgh the other Friday because we brought Matty Wethers in for Alex and that actually made us stronger.
The boys put a real shift in up there, I don't think many people – me included! – would have expected us to score 40 on a track we traditionally don't seem to do very well on. We were leading for most of the match and it was only three 5-1s to Edinburgh in the last three races which did for us. The final scoreline of 49-40 to them really did not reflect the meeting in the slightest!
Having put up such a great fight, it's very disappointing when you reflect on it afterwards and realise, 'for all that, we didn't even get a bonus point out of it'.
How different our league position might now be if it hadn't been for that last heat disaster at home to Edinburgh and then the last three heats up there.
Reaching the playoffs really is a long shot now but we've still got five league matches to come at home, so that's five three-pointers and 15 potential points on the board.
If we got them, there are still a few away matches to come where we think we can nick points, places we can definitely do a job at, so while it's still mathematically possible, we keep on going and keep trying to pick up every point we can.
Even if we don't make the playoffs, I hope we can get much higher in the table than we are at present and step our game up, but the matches don't get any easier. Somerset today, you don't get any tougher than this!
The Rebels have probably been the best team in the Premier League so far and it will surprise no one if they end up finishing top of the table and winning the play-offs.
But they're all there to be beaten and we've already proved against Glasgow and against Peterborough away, the formbook is there to be ripped up…so let's see if we can do it again!
We've also been working on potential new signings to freshen things up a bit, as well as relieving the six lads in the team of all the extra rides because of rider replacement.
Things are never easy and straight forward on the new signings front, of course, and whatever we do, we need to ensure we keep a strong rider at reserve alongside young Josh Bailey, as that was how the side was built this season.
Maybe there will be developments in time for this evening's match against the Rebels, maybe there won't, but either way, rest assured we are doing our level best to bring you the most competitive, attractive and entertaining side we possibly can.
Finally, big congratulations to Flyin' Ryan Douglas for winning the PL Fours individual meeting at Peterborough. Great stuff, mate, keep it up!
ROB GODFREY
FROM SCUNTHORPE SCORPIONS V WORKINGTON COMETS
Sunday, August 21st, 2016
ONLY four home matches to go this season, and it looks almost certain that we're going to have to win all of them to stand a chance of dodging the wooden spoon.
We welcome Workington to the Eddie Wright Raceway this evening and they will be followed by Newcastle on August Bank Holiday Monday, and then Redcar and Rye House in the first two weeks of September.
As I write, none of the four were in a play-off place, although Workington and Newcastle both have a decent shot at qualifying, so we have to believe that all four meetings are very winnable.
We have been much improved in the second-half of the season, although results have not always reflected that. Our last two home matches both resulted in the agony of defeats in last heat deciders, most recently by Somerset two weeks ago.
The Rebels had not lost a match when they arrived, so for us to be leading by eight points with only four races to go was great credit to the team. You just knew we were up against it in the closing stages, though, and it's a shame we lost the match, but that's life, I guess.
Josh Auty and Ryan Douglas have been phenomenal for us all season and they tried their hearts out but on this occasion, they just didn't get the points. They have carried us through most of the season, though, so we have to allow them an off-day now and again.
Our new signing, Fritz Wallner from Austria, made his debut against Somerset and I thought he showed a lot of promise. He doesn't race league speedway anywhere else, only here at the minute, which is good for us. I thought he was going to pull it out of the bag for us in Heat 14 and get the win, but it wasn't to be.
Now he's had three meetings for us and had chance to get dialled in a little bit to British racing, he has a real opportunity to make a name for himself in the closing weeks of the season.
We put up a very good showing in the away match at Somerset two days later, where we only lost by 52-41. Not many visiting sides have scored more than 40 there this year, but we managed it without Josh and Wilko, who were both ill.
At Ipswich on the Thursday, we had a lot of bad luck because Ryan crashed out of the match in his first race when he damaged his wrist and young Josh Bailey would have withdrawn too after a tumble, but bravely soldiered on because we were so short-handed.
The defeat at Ipswich left us seven points adrift at the bottom of the Premier League table at the beginning of this week, which is definitely not where we want to be.
The good thing is that we're confident we can get ourselves off the bottom before the end of the season. We've just got to win our home meetings, which are all do-able because we've got the hardest ones out of the way.
The stop-start nature of the fixture list possibly hasn't helped us lately, as today's match is only our second at home since mid-July.
But to be honest, Scunthorpe is so dead in August, it's crazy to run any meetings at this time of year. It suits us not to run because it's like a ghost town, everyone goes away on holiday, no one's doing anything, so the little break is probably good.
Starting today, though, we have a run of four consecutive weekends of speedway at the EWR so get behind the lads and let's see if we can start climbing that table!
Finally, can I say a big thank you to Nigel Franklin, who has refurbished the mini-track for me by putting new boards up and repainted it all, which has been a great help.
ROB GODFREY
FROM SCUNTHORPE SCORPIONS V NEWCASTLE DIAMONDS
Monday, August 29th, 2016
A FEAST of racing for you today, as we tackle Newcastle in the Premier League, then host the Midland Development League Riders' Championship for the second time.
In all, that's 38 races on this afternoon's itinerary so we should be in for a treat.
First up, it's the Scorpions v the Diamonds and with Newcastle looking strong contenders for a play-off position, we know the size of the task facing us.
Unfortunately, due to the number of other meetings taking place on this Bank Holiday Monday, our visitors are unable to track a full team of their own riders and have had to call in guests, so what effect that will have on the match remains to be seen.
We go into today's meeting boosted by the result of our last home match, which turned out to be a comfortable, and much-needed, victory over Workington. I said in last week's programme notes that we really needed to win all of our last four home matches to improve our chances of avoiding the wooden spoon, so we're a quarter of the way towards hitting that target already.
We took the lead with a 4-2 in Heat 1 and never looked back, despite losing young Josh Bailey after that nasty accident with Matt Williamson. Josh has broken his collarbone, but as this programme was going to press, we were still unsure as to how long he might be out. Obviously, there are not that many more matches to go and with our home fixtures due to end in a couple of weeks' time, you have to think that we might not see Josh in action at the EWR again this season, but who knows…
Fritz Wallner also took a bit of a wallop when Workington's Rasmus Jensen came off right in front of him on the third bend in the last race, just as the rain was starting to fall.
Fritz had been one of our star performers and really looked a decent signing with his paid double figure score, so when he went down in what was a nasty-looking crash, I was thinking it would be just typical of the way things have gone for us this season if he's broken something. But fortunately he was all right and soon back on his feet, and he would have gone in the rerun if the rain hadn't turned heavy very quickly and left the referee with no choice but to abandon the match there and then.
With Lewis Kerr ruled out of the match by illness, and young Josh getting injured, we were indebted to Fritz, 'big' Josh, Michael, Ryan and Wilko for a sterling effort between the five of them to see off the Comets. They all rode very well and you would have to go a long way to see better passing manoeuvres than those performed by Ryan and Josh at the end of the first lap in Heat 13.
With us winning and Redcar losing at home to Newcastle, we cut the gap on the Bears to just four points ahead of this week's meetings, giving us hope in the battle to avoid the wooden spoon.
Both Rye House and Plymouth are still catchable, too, and with four of our last five matches being against Rye House (home and away), Redcar and Plymouth, you have to say that it's very much in our own hands if we are going to get off the bottom.
We are back here on Sunday at 6.30 pm when Redcar are the visitors, which is going to be a big match for us so bring all of your family and friends, let's get a big crowd in to cheer the lads on, and let's get those three points.
And if anyone fancies a day out on Saturday, don't forget we're away at Rye House where all support would be welcome. Rye is a track we haven't done too badly on in recent seasons and we drew down there last season. We usually give the Rockets a decent run for their money, so let's hope we can do so again. A win is obviously the main target but a bonus point would be more than handy in our fight to get away from the bottom.
After today's Premier League match, we have the MDL Riders' Championship which is always entertaining, so I hope you will be staying on to watch after the main match.
ROB GODFREY
FROM SCUNTHORPE SCORPIONS V REDCAR BEARS
Sunday, September 4th, 2016
WE have some pretty big meetings coming up in the next fortnight, which will determine whether we can dodge this season's wooden spoon or not.
That's not a sentence I thought I would be writing when we began the season just under six months ago, with a team I believed was more than capable of challenging for honours.
But for one reason and another, things have not panned out how any of us had hoped and as we go into September, we find ourselves where no one wants to be…at the foot of the Premier League table.
A couple of weeks ago, things looked very bleak when we were seven points adrift but home wins over Workington and Newcastle have given us a real boost and the opportunity to get off the bottom.
Newcastle were without a number of their regular riders because of injury and Bank Holiday Monday commitments in the Elite League, but they still put a more than handy side out that was capable of winning the match.
We made a great start, though, with three 5-1s and a 4-2 and from then on, it was just a case of capitalizing on that, not letting them back into it and getting the three points, which we managed fairly comfortably in the end.
All seven of our riders, including young Jack Smith who was guesting for Josh Bailey at No. 7, had either a win or a paid win and that's the sort of solid scoring effort throughout the team that you want to see.
Going into the Workington match a fortnight ago, our target was to win all of our four remaining home meetings. We're now halfway towards achieving that goal, but with two massive fixtures to come against the teams immediately above us in the table.
It's Redcar this evening, who are two places and three points better off than us, then on Friday night, Rye House are here, and as I write, the Rockets are only one place and two points ahead of us.
Barring intervention from the weather, that will have changed by now – hopefully for the better! – because we were due at Rye House last night.
Aside from our home matches, we have some 'biggies' away as well.
Following the trip to Rye last night, we have a huge match away at Plymouth on Saturday the 17th and with the Devils being fourth from bottom at the start of this week, they are another team we have in our sights as one we can catch.
After the recent rain-off at Sheffield, that meeting has been rearranged for Wednesday, September 14. Note the unusual, for Sheffield, Wednesday night staging, which is due to maintenance work taking place at Owlerton that has necessitated a move from Tigers' customary Thursday.
We also have to visit Newcastle in the league but the date for that fixture had still to be determined as this programme was going to press. The Diamonds are working their way through something of a fixture backlog caused by a number of rained-off matches earlier in the summer, so as soon as we have a confirmed date for our trip up there, we'll let you know.
Realistically, no one will be expecting us to get anything from Newcastle away, although with the unpredictable nature of the Premier League these days, who knows? Sheffield away will be a toughie, too, as they're going for the play-offs, but we have enough riders in the team who go well there to think that we can take something from that match. Clearly, though, the four matches which are likely to determine whether we can get off the bottom or not are against Redcar this evening, Plymouth away and the two Rye House fixtures.
Interestingly, Redcar and Rye House have still to face each other up at Redcar, so that match is one we will definitely be keeping a keen eye on.
Anyway, first things first, we know we need to beat the Bears tonight for starters so get behind the boys and let's get those three points.
ROB GODFREY
FROM SCUNTHORPE SCORPIONS V RYE HOUSE ROCKETS
Friday, September 9th, 2016
AND so another exciting season of speedway at the Eddie Wright Raceway comes to an end…
It only seems like last week that we were starting out full of hope against Ipswich, but here we are, in September already and the season is all but over for us.
We've got no chance of winning any trophies but there's plenty resting on tonight's match against Rye House as we continue our battle to get away from the bottom of the table. Night-time racing does suit us, we'll have a grippy track, some good racing, some fireworks and hopefully three points to round things off.
It's stating the obvious to say that our season has been nowhere near as good as we'd hoped in terms of results but the one consolation we all have here at Scunny is that whether the team wins, or whether it loses, we are guaranteed to be watching some of the best speedway racing you'll see anywhere.
Results-wise, things may have gone against us but we have still had some amazing entertainment here at the EWR, the finest race track in the country in my opinion, as well as many other people's.
Last Sunday against Redcar, we got our third win in a row – best effort of the season, lads! – and even more importantly, those three points lifted us not one place in the table, but two. Yes, we're off the bottom at last and now the challenge is to stay off the bottom.
Redcar got a 4-2 in the first race but there was no panic on our part. I always think, 'give it four races' before you see how the match is panning out and once you've had four races, if you've had race winners, you know you've got a chance. After four races last Sunday, we'd had three, so things were looking good.
In the end, we won quite comfortably and everyone chipped in, which is pleasing to see. Young Jack Smith has done well in the two matches he's had for us and we would have given him the opportunity to see out the season with us, but unfortunately he has another commitment in the National League tonight so misses this one.
He won't be able to ride for us at Sheffield next Wednesday either because that one clashes with the British Under-19 Championship. Jack has done a decent job and he had some right battles against Redcar, but who knows what the future holds for him in 2017?
Having said that, we still believe in Josh Bailey, I've got to say, and we wish he was still with us. But he's done for the season because of injury now, which is a blow. I think Josh maybe needed a break anyway but he's there or thereabouts in his progression and I've got no qualms about bringing Josh back next season.
I'm quite pleased and relieved we're off the bottom and the way things have worked out with the team we've ended up with has been good. I'm going to do my best to try and take it forward to next year because I believe it will be good for Scunny, good for continuity and good for winning things.
As it's the end of the season, I'd just like to say a few thank you's to everyone who has helped us to stage speedway at the EWR this year. We don't just open the gates on a Sunday evening and wander in, you know! There are a heck of a lot of people who put a heck of a lot of hard work and man – and woman – hours into making it all happen.
So thanks go to all of our track staff who turn out every week and the ones that help us all year round at the track; thanks to the St John's and our paramedics Mike Collins, Steve Pratten and Justin Petch; thanks to Eddie Wright, Fluid Air, Joe Henderson and Henderson Insurance and all of our valuable sponsors because without them, we wouldn't be able to do the things we do at the track.
Thanks to Scorpions team manager Dave Peet, MDL team manager Nigel Hinchliffe, Wayne Carter for his work on the minitrack, press officer Rob Peasley, track man Graham Trollope and our tireless club servants Richard and Anne Hollingsworth.
Thanks, too, to the riders who must be sick of Gail texting them after rain-offs with rearranged dates but they all do their best to get them sorted for us.
To mention everyone by name would probably require an extra four pages in tonight's programme, but suffice to say a big thank you to one and all and we'll see you all back here again next spring for the start of the 2017 season.
ROB GODFREY